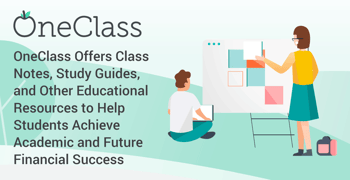 Experts share their tips and advice on BadCredit.org, with the goal of helping subprime consumers. Our articles follow strict
editorial guidelines
.
In a Nutshell: Professional and financial success increasingly depend on academic achievement, but not everyone can keep up with the demands of higher learning. For those who need help — or want to assist their peers — OneClass offers a variety of academic solutions. On the platform, users can find lectures, textbooks, and exam guides uploaded by fellow students who earn rewards for sharing their diligent work. OneClass also offers GPA, final grade, and budget calculators, to ensure students maintain focus and prepare themselves for financial success after graduation.
While it's common knowledge that college graduates enjoy greater professional and financial success than those who only complete high school, the statistics bear repeating.
According to the Association of Public and Land-Grant Universities, workers who hold a bachelor's degree earn $32,000 more per year than non-college graduates, totaling an extra $1 million over their lifetimes. They are also half as likely to be unemployed and 47% more likely to have health insurance provided by their employers.
Those with a bachelor's degree earn, on average, 57% more than workers who have only completed high school. And the Bureau of Labor Statistics reports that doctoral and professional degree holders earn about $1,000 more per week than workers with only a high school diploma.
In short, college success is a reliable indicator of financial and career success. But higher education can also be stressful and time-consuming, and although everyone may want the benefits of a degree, not all find college a natural fit. For those with high ambitions for the future, but who struggle with the routine of studying and exams, OneClass presents an efficient solution.
"OneClass is an education technology company that offers resources for university and college students. We provide lecture notes, study guides, textbook notes, and homework help," said Jerry Zheng, Regional Growth Specialist at OneClass.
OneClass, which currently operates in North America, Australia, and New Zealand, was born when a group of University of Toronto graduates decided to crowdsource a library of resources that could help students get better grades. That library continued to grow until the group founded OneClass, and it now boasts millions of study guides used by 2.5 million scholars hailing from more than 1,000 schools.
Students can quickly browse by school and see the resources offered for each class. OneClass provides all students the information and assistance they need to succeed. And it gives others the opportunity to earn a little extra money — all in the interest of preparing them for professional and financial success after graduation.
Detailed Class Notes Contribute to Academic Achievement
College success depends on effort; going to class, taking notes, and studying for exams are the pillars of academic achievement. However, not everyone is equally adept at all of these tasks. Visual learners may have more difficulty extracting relevant information from a lecture. Dyslexics may not parse important details found in assigned readings as efficiently. And many simply struggle to keep orderly, useful notes.
OneClass documents and study packets help all sorts of students eliminate their weaknesses and grasp the larger academic picture. The platform offers class notes, textbook notes, and study guides for midterm and final exams, helping students tackle tests equipped with everything they need to know.
"Students come to us not only for specific lecture notes they may have missed but also for a comprehensive overview of all the notes they need for that class," Zheng said. "Sometimes, students come to us before the class has even started so that they can get a quick, comprehensive overview of the type of notes they should be writing."
OneClass ensures posted materials correspond to the correct college, course, and teacher by verifying syllabuses and resource content. These measures ensure students are getting the appropriate information they need to meet the expectations set by individual institutions and professors.
Rewards for Notetakers Incentivize Diligent Study Habits
All OneClass resources come from student notetakers. The platform provides credits that notetakers can redeem for gift cards and prizes to compensate them for their efforts and incentivize them to continue providing high-quality notes.
Notetakers can contribute as little or as much content as they want. Casual notetakers can work on a freelance-style basis, submitting notes whenever they wish. The premium notetaking squad, on the other hand, posts notes weekly. These notetakers are carefully vetted and educated through orientation sessions at the start of each semester.
"We're very clear about what we expect from them and the type of notes and how often they should contribute notes," Zheng said. "They're part of our elite notetaker crew who earn more for their notes."
To get started as a OneClass contributor, students can sign up on the site and immediately begin uploading content. By doing so, they earn credits to use in multiple ways. The first is to unlock sets of notes to use for other courses. And they can redeem credits for gift cards.
But adopting the role of a OneClass notetaker provides more than just monetary benefits. Being responsible for compiling academic resources can also help students remain studious and organized for their own benefit while they earn rewards for their efforts. It's a win-win: notetakers get paid for being good students, and they can help their peers who need some educational assistance.
"I think we do a good job of helping them maintain their financial sanity while they're in school," Zheng said. "They earn a fair amount of cash from being a notetaker, and so they're delighted."
Offering Additional Resources for Navigating College
Beyond study guides, OneClass can also help students who find themselves on the spot, struggling to solve a particularly tough equation or answer a problematic homework question. In these situations, OneClass empowers students to turn to their peers and qualified experts for assistance.
One avenue is the Solvit app, a free tool that allows students to crowdsource assistance from their peers. They enter their question, and other app users provide support and solutions.
If a problem stumps even the Solvit community, students can turn to OneClass Homework Help. There, they can submit questions for a fee of $1.99 each, and a qualified expert will answer these queries. The service currently offers answers in 12 subject areas for students ranging from ninth grade up to their senior year of college. All questions are answered within 24 hours.
OneClass Textbook Solutions also offers answers to questions and problems presented in textbooks. Students can enter their book's information, and OneClass searches its database to see if solutions are available for that particular text. This resource helps students check their work and master the material rather than getting poor grades on assignments.
Students can take advantage of OneClass study guides, homework assistance, and textbook solutions in pursuit of achieving good grades. But abstract weighting and calculation methods can often leave students guessing at their final grade.
To ease these worries, OneClass offers a free final grade calculator. It also provides a free GPA calculator for students attending Simon Fraser, Pennsylvania State, University of Missouri, and the University of Toronto — St. George.
"Students are very concerned about what grade they have, and what academic goals they need to meet to obtain the grade they wish to have by the end of the semester," Zheng said. "We wanted to provide this crucial tool to lighten the worries heading into exam season."
Encouraging Students to Take Financial Responsibility
Positive study habits and a strong knowledge base can make all the difference in positioning students for bright financial futures after college. But managing money while in college can be a challenging and time-consuming task — one that can easily fall by the wayside.
Once again, OneClass has students covered with its interactive budget template, which is free. As with its grade and GPA calculators, OneClass published a blog post that explains the tool's functions so students can get the most out of the budget template — and their money.
"The more information you enter, the more it can help you. You can set a desired budget or how much money you want to have left at the end of the semester," Zheng said. "It's neat. Anyone can just copy it and get it going right away."
Students who use the tool can get in the habit of actively managing their finances while still in school, helping them avoid undue stress during and after college — just as OneClass helps them avoid academic pitfalls in their coursework. OneClass helps students develop their subject-area knowledge, and through its interactive budget sheet, it helps them develop positive financial habits, both of which will allow them to secure an even stronger start to their successful lives after college.