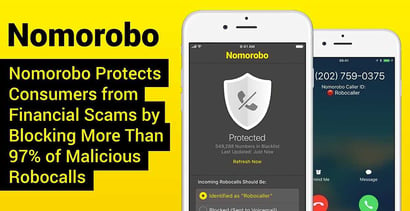 In a Nutshell: Anyone who has a phone number is probably familiar with robocalls — prerecorded messages that attempt to threaten, cajole, or dupe consumers into falling for fraudulent schemes. Nomorobo is designed to prevent those spam calls from ever reaching a user's phones by analyzing call metadata and detecting calling patterns. Automated calls from legitimate companies and government organizations are allowed, while illegal and predatory robocalls are blacklisted and blocked. Despite legislation and ongoing enforcement, robocalling continues to be a problem — but Nomorobo provides a safe and economical solution.
It is an all-too-common story. You answer the phone or listen to a voicemail from an unknown number only to discover a prerecorded message. It's the IRS telling you that you're behind on your taxes, and unless you pay up right now, executive agents are going to come to your home, arrest you, and take you directly to prison.
When I heard this last year, my first thought was that taxes weren't due for another month. My second thought was that this sort of strong-arm tactic was a bit much even for the IRS. That's when I realized this message wasn't from the IRS; it was a scam trying to trick me into surrendering my money.
That is just one example of the illegal robocalling that indiscriminately targets people across the nation. CNBC reported that an estimated 40% of robocalls are fraudulent attempts to steal from unsuspecting consumers. In 2018, the frequency of illegal robocalls rose 60% to reach the 48 billion call mark.
That's why Aaron Foss created Nomorobo, a filtering service that leverages advanced algorithms and machine learning to detect and block robocalls. As of 2019, the service boasts 3.5 million users on both Voice-over-IP (VoIP) lines and mobile devices.
"The problem is just huge. According to our data, 43% of all calls are these unwanted, illegal robocallers and telemarketers," said Foss.
And the problem goes far beyond mere inconvenience. While only 3% to 5% of scam robocalls succeed, even that low percentage purportedly costs American consumers $9.5 billion annually. By preventing malicious robocalls from ever reaching consumers, Nomorobo can eliminate those threats before they start.
"I think robocalls are the number one threat to people's financial security," said Foss.
Accepting the Challenge of Protecting Phone Lines from Illegal Calls
The National Do Not Call Registry — also known as the Do Not Call List — was instituted by the Federal Trade Commission (FTC) in 2003. The registry established compliance with the Telephone Consumer Protection Act of 1991, which restricts telemarketing and automatic calling aimed at the public.
But malicious robocalls are fundamentally criminal, so it's unsurprising that they disregard this legal limitation on solicitation. As a result, the FTC announced the Robocall Challenge in 2013 and offered a $50,000 prize for fresh solutions to the robocalling problem. Foss was one of the challenge's two winners.
"I had a very unique way of doing it that went around the carriers and could go directly to consumers with VoIP lines, and I gave it to them for free," Foss said.
Building the informational infrastructure necessary to detect and block robocalls required a massive database to help establish calling patterns and develop a blacklist. Foss couldn't obtain the information he needed from mobile carriers, so he offered the service for free to landline users in exchange for access to the metadata from their calls.
"The way we get that data is a quid pro quo," Foss said. "You use our service for free, and in exchange, you're letting us see that data, which is helping to build a better product."
When smartphone operating systems began allowing developers to build call-blocking apps, a Nomorobo app was developed and released for both iOS and Android. No data is collected from mobile users.
How Nomorobo Identifies Illegitimate Robocalls
Although many robocalls are fraudulent, some are legitimate. One such category is debt collection calls, which consumers can request not to receive; government regulations mandate compliance with such requests. Other legitimate robocalls come from organizations including schools, police and fire departments, and cable companies or other private service providers. These organizations use robocalls to provide valuable information to citizens and customers. Nomorobo whitelists calls from organizations like these, allowing them to reach consumers.
The illegal robocall scams include fake IRS calls and fraudulent Microsoft calls that try to trick people into granting scammers remote access to their computers. The scammers then lock the hacked computer and hold access for ransom. There are innumerable other scams that take similar approaches to defraud people.
Those are the robocalls targeted by Nomorobo. When collecting data, Nomorobo cannot listen to user conversations. Instead, it only collects metadata on who's calling who and with what frequency. Based on that information, Nomorobo identifies high-frequency calling patterns characteristic of automated scams — including calling 100 people in an hour or calling several people simultaneously from one phone number.
Watch on
To facilitate data collection and expand its data set, Nomorobo also employs honeypots — a term spy-thriller fans will recognize as a ploy to lure in a target. Nomorobo acquires old phone lines that have been disconnected after being overrun by robocalls. Since these lines have been long out of use, no legitimate calls would be coming to these numbers, only illegitimate ones.
These lures help Nomorobo gather a large data set that becomes part of the service's algorithms. The information collected allows Nomorobo to quickly identify new threats and prevent them from connecting with users.
Subscribers can also report problems to Nomorobo, including illegal robocalls that slip through the filter, and legitimate calls that are accidentally blacklisted. Based on this feedback, the system can self-correct or be adjusted manually.
"We're over 97.5% accurate. We only miss about 2% of the robocalls. And our false positive rate — which is the good robocalls that get stopped — is less than 0.1%," Foss said. "Last month, we analyzed 110 million calls, and we stopped something like 40 million calls. Of those, only a couple thousand were incorrectly stopped."
Building a Comprehensive Protection System
Nomorobo is available for free on VoIP lines, and mobile users can download the app and try the service free for two weeks. After the trial period, the app costs around $2 per month.
"A couple of years ago, most people didn't get a lot of robocalls on their cellphones because they were mostly hitting the landlines. These guys are criminals, and they're going to go where the victims are," Foss said. "If you're going to be peddling student loan reductions and health insurance, you're going to target mobile users."
Rather than diversifying the service's offering, Nomorobo focuses on performing its singular mission well. The service detects more than 1,500 new fraudulent numbers each day, and its blacklist currently spans 1.3 million numbers. But, in any given 24-hour period, between 75,000 and 100,000 numbers are making illegal robocalls.
As a result, Nomorobo continues to improve the accuracy of detection and the speed with which updated blacklists are rolled out to users. On VoIP, Nomorobo's blacklist is updated in real time, providing up-to-the-minute protection. Currently, updated blacklists are pushed out to mobile accounts once an hour. But soon, Nomorobo will bring those updates to mobile phones every 15 minutes, improving the app's efficiency and accuracy for all users.
Technology is the Future of Consumer Safety
Nomorobo set out to solve the rampant problem of malicious robocalls, like IRS scams, and it continues to keep consumers — and their finances — safe. And staying ahead of scammers has brought the company close to some significant milestones.
"In March 2019, we're on track to block the 1 billionth robocall," Foss said. "But that's not even a drop in the bucket. In five years, the number of these robocalls out there are orders of magnitude bigger than that."
And there are only so many ways to address the problem. Legislation has already outlawed the types of robocalls Nomorobo targets. The FTC, which enforces the existing law, does go after fraudulent robocallers, but doing so consumes time, energy, and resources. These are scarce in comparison to the efficiency of current robocalling technology.
"It's a whack-a-mole game. You shut down one guy, and seven others pop up," Foss said. "I don't think that regulation or legislation is going to stop this. But I think technology will."
Foss predicts that future anti-robocalling measures will mimic the history of email spam blocking. The solution to the latter problem was ever-evolving spam filters, which are now a standard feature in email services. As more people are assailed by robocalls and shielding against these calls becomes more sophisticated, service providers will feel more pressure to implement solutions.
In the future, automatic detection and blocking of illegal robocalls will likely become standard and integrated in-phone service; if you have a phone, you will have a robocall-blocking feature. But in the meantime, Nomorobo presents a safe and economical way for consumers to stop scams before they start and safeguard their financial well-being.
Advertiser Disclosure
BadCredit.org is a free online resource that offers valuable content and comparison services to users. To keep this resource 100% free for users, we receive advertising compensation from the financial products listed on this page. Along with key review factors, this compensation may impact how and where products appear on the page (including, for example, the order in which they appear). BadCredit.org does not include listings for all financial products.
Our Editorial Review Policy
Our site is committed to publishing independent, accurate content guided by strict editorial guidelines. Before articles and reviews are published on our site, they undergo a thorough review process performed by a team of independent editors and subject-matter experts to ensure the content's accuracy, timeliness, and impartiality. Our editorial team is separate and independent of our site's advertisers, and the opinions they express on our site are their own. To read more about our team members and their editorial backgrounds, please visit our site's About page.