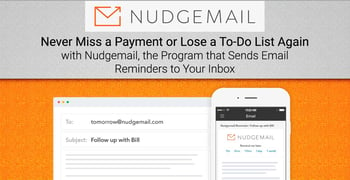 Experts share their tips and advice on BadCredit.org, with the goal of helping subprime consumers. Our articles follow strict
editorial guidelines
.
In a Nutshell: Once a source of productivity and efficient communication, email inboxes have become home to the clutter of unwanted emails, unread to-do lists, and reminders. Nudgemail is a simple solution to help users declutter their inboxes and send themselves timely reminders to pay bills and complete other tasks. Simple commands in the "To" field or subject line of an email let users specify when they want to receive their emails even if it's years in advance. The service is free, but the company offers a series of Pay-What-You-Want plans for users who want to offer monetary support.
Once email began to see mainstream adoption, the new tool became a valuable form of communication for its efficiency and speed of delivery. Businesses also quickly took notice of its value as a marketing tool.
And for a while, everything was great. Family members stayed in touch more often and work projects were completed more quickly and easily.
At some point, email reached a tipping point. In recent years, some workers have begun to receive hundreds, if not thousands, of emails each day. And, even if you're not among those inundated with email, personal inboxes have still become a difficult beast to manage.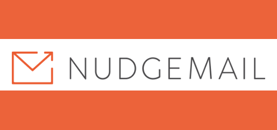 Personally, I have used my email inbox as a reminder to pay bills or do other timely tasks. Unfortunately, the emails to myself tend to get lost in the fray. I'll email myself a reminder about an upcoming expense or a link to an interesting article to read later, but within days, the email will be buried beneath up to 100 more emails.
The bill due date comes and goes; the article goes unread.
Nudgemail is a simple and free solution to help users tame the email beast and become more organized.
"Like so many people, my inbox had become sprawling; it was just going crazy," said Jeremy Toeman, who co-founded the company with Adam Burg. "I heard someone make a comment that your inbox is just a to-do list that other people control. Other people throw all this stuff at you and you have to deal with it, whether it's deleting it or whatever."
Toeman said he brainstormed ideas on how to regain some control over his inbox and to make the various reminders and notes he emailed to himself more effective.
The main idea Toeman settled upon was to integrate functionality into his email that allowed him to tell certain emails to come back on a particular date or time. This puts important reminders, deadlines, and to-do lists back at the top of the ever-growing email pile and keeps it from remaining buried.
An Anti-App That Removes Inbox Clutter and Helps Users Stay on Top of Commitments
Toeman said the core idea that powered Nudgemail in the beginning was simply a personal solution to allow him to push emails that he wasn't going to deal with at the moment to a point in the future.
"And an essential part of it was that it had to work anywhere I accessed my email," he said, "so, if I'm at your house, and I need to log in really quick on your laptop; or if I'm on my phone. Also, it had to work with any email service, from AOL and Yahoo to the latest and greatest providers."
When Toeman first began using his new creation, he said it served as a tool to keep his inbox clean and to see the satisfying notification that he had zero unread emails — a goal that some believe to be impossible.
But he said the Nudgemail team quickly realized that the program is a great tool for anybody who needs reminders in the same place they do their work.
"And I'm actually really passionate about this. One of the most challenging things about being productive is we have all these different tools, but the problem with reminder systems and to-do lists is, if you don't go into them, they just kind of sit there."
Toeman said he's tried various reminder apps and other services in the past, but, because he already has so much on his plate, they get neglected and aren't really impactful in his daily life.
"Having it all in my inbox, which is where I do most of my work, just feels a lot more organic and natural to the flow of my productivity," he said.
Toeman said not only is Nudgemail handy to postpone emails until they are more relevant or actionable, but it is also valuable as a safety net. Nudgemail can send a reminder to let him know when an automatic credit card payment will be drafted from his account, and he can then ensure that the appropriate amount of funds will be available in his account at that time.
The Program is Easy to Use and Offers Up a Variety of Features to Suit User Needs
Using Nudgemail is surprisingly simple. And Toeman said that, in his personal experience, regaining control over his inbox has led to having a clearer mind — a similar benefit accompanies decluttering a house for many people.
Nudgemail users have a variety of ways to implement the service.
One common approach is for users to send an email to nudge@nudgemail.com and include the day, date, or time when they want the email to be delivered back to them. Then, the user populates the body of the email with any notes, to-do lists, or other information he or she sees fit.
Users can also specify a day, date, or time for Nudgemail to send an email by using the "To" field. "For example, monday@nudgemail.com or tomorrow@nudgemail.com or feb12@nudgemail.com or 2hours@nudgemail.com are all good ways to send a Nudgemail," according to the website. "Enter anything you want in the subject and body of the email, then hit Send!"
Nudgemail understands a broad range of commands. Users can apply commands such as nextuesday@nudgemail.com, noon@nudgemail.com, EOD@nudgemail.com, nextweek@nudgemail.com, nextmonth@nudgemail.com, or nextyear@nudgemail.com.
"We've tried to build our system to make it as easy as possible for anyone to fire up their email and set reminders quickly in any way they like," according to the company.
The program also accepts nearly any format to specify a specific date to send an email. Recurring emails and emails sent at regular intervals can also be scheduled.
The program also includes advanced features, such as sending any email to snooze@nudgemail.com, and Nudgemail will send it back to the user in one hour. Users can also easily see a list of active Nudgemails and view the Nudgemails they've sent over the last 30 days.
Users who are interested in using a command that isn't supported by Nudgemail and think it would make a valuable addition to the commands can email support@nudgemail.com to send their recommendations.
Nudgemail is a Free Service with Pay-What-You-Want Options for Those Who Want to Provide Monetary Support
Unlike many online productivity services, Nudgemail promotes itself as being free forever, with no strings attached. But there is one caveat.
"So it turns out forever is a pretty long time, and it's pretty hard to actually guarantee a thing will last forever (just ask anyone selling productivity tools to dinosaurs)," according to the company website. "So when we say forever what we mean is this: as long as Nudgemail exists, you can use it for free."
With email such an integral part of so many people's lives, the Nudgemail team believes everyone has a right to a better email experience without having to install plugins or learn how to use new tools.
For those who want to support Nudgemail, the company does offer several Pay-What-You-Want plans, which are suggested prices based on how often someone uses Nudgemail.
The "I Like" plan is $5 per month and is recommended for people creating around 10 Nudges per month. The "I Love" plan is $10 per month and is best for those who use Nudgemail about once a day. Then there's the "OMFG" plan, which is $20 per month and is "for people whose world is rocked by the existence of Nudgemail.
Nudgemail is a passion project for him and the small team that works on it, Toeman said.
"The way I look at it is, unless I hire people to work on this full time and users are going to full support in real time, I think it's hard to say people have to pay," Toeman said. He added that there is a network of people providing support for Nudgemail users, but they are not full time.
Toeman said Nudgemail also takes user security and privacy very seriously.
"Your temporarily stored information will never be accessed, shared, or sold by anyone at any time," according to the website. "Once an individual Nudgemail has been sent, it is permanently removed from the Nudgemail system after 30 days. We take best industry standard practices to maintain our users' security and privacy at all times."
And, even as a free service, Nudgemail looks for ways to improve and provide a better user experience when possible. The company is working on offering support for emails with attachments in the near future.
So, if you're like me, and those email reminders about bills and other important things slip right by you because you email it to yourself a month before they're due — Nudgemail offers a free and convenient solution.