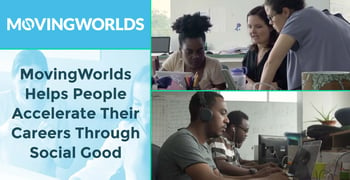 Experts share their tips and advice on BadCredit.org, with the goal of helping subprime consumers. Our articles follow strict
editorial guidelines
.
In a Nutshell: MovingWorlds connects skilled professionals with organizations around the world that need help improving communities. That means individuals — with expertise in areas including marketing and engineering — can grow their résumés while contributing to important work. The MovingWorlds Institute also teaches workers best practices and in-demand skills for working with social impact organizations. The approach helps workers grow personally and professionally while making contributions to communities around the globe.
When Dorene and Troy — a married, multimedia team specializing in video production and marketing — decided to expand their horizons and help a community in need, they ended up at Peepal Farm in India. There, stray animals receive care for injuries, and the staff educates community members on animal welfare, responsible consumption, and self-sustainability.
Dorene and Troy helped advance this mission by using their skills to create videos that shared Peepal Farm's philosophy and helped it recruit supporters, partners, and other experteers — like them.
Experteers are volunteers who offer their time and professional skills to organizations in need in exchange for living and travel expenses. In this capacity, they contribute to community development while traveling the globe. And many professionals — from accountants to IT consultants — can take advantage of these opportunities thanks to MovingWorlds.
MovingWorlds is an organization that facilitates the use of that human capital to alleviate some of the problems plaguing the modern world. It connects professionals with opportunities to volunteer their time and expertise to support small organizations that are making a significant impact.
"Impact is created when local entrepreneurs or community groups identify local solutions," said Mark Horoszowski, CEO and Co-Founder of MovingWorlds. "Not only are those local organizations the best at creating solutions to their problems, but they can also create jobs in the process — if they're empowered the right way."
But they are often left short-handed, especially in crucial technical areas. MovingWorlds helps identify the greatest needs and connect those organizations with professionals who can help advance their missions.
"We're helping build the skills, confidence, and know-how of leaders and doers behind these grassroots initiatives that have the greatest potential to create long-term change," Horoszowski said.
Professionals not only gain the satisfaction of contributing to worthwhile projects, but they can also improve their résumés and learn skills while directly addressing pressing problems.
"We provide professional development training, networking, and even coaching to our members so they can be prepared to have an effective impact, and use that experience to grow their own careers when they return home," Horoszowski said.
Advancing a Skill-Based Approach to Social Impact
Social impact organizations often approach tasks with an emphasis on obtaining funds that will allow them to pursue their work. But MovingWorlds believes that the most valuable resources are people with professional experience that can help advance those tasks. These individuals can help organizations grow, scale solutions, and create jobs in their communities.
"Early-stage organizations chase capital, but sometimes they just need an accounting system or a research assistant or an engineer — someone who can help them cross over the next line without needing to go through funding processes," Horoszowski said.
Establishing the scope of a project early on is critical. For example, one of the first tasks may be getting finances in order; or it may involve improving marketing, storytelling strategies, or digital media and branding design.
The time frames for these different projects vary based on the organization, its mission, and its needs. Some might require a week's worth of help establishing best practices or training on digital platforms. On the other hand, large-scale projects — including overhauling marketing efforts — may require a consultant to work with a team for a month or more. And more complicated tasks may call for even longer stints, with the experteers embedding themselves in the organization and its community to learn how to accomplish their goals.
"We set the stage for those conversations," Horoszowski said. "The average length of trips either fall into the short term — one to two weeks — or longer consultative projects that take four to eight weeks. Sometimes we'll see organizations in which somebody is embedding a little bit more like a team member for a while. Those can be six months or more."
Experteers Leverage Professional Experience to Support Local Initiatives
Aspiring experteers can apply to become a MovingWorlds member and start getting involved. They can browse projects and narrow their search to those that fit their abilities and capacity to assist. MovingWorlds will vet both the experteer and the organization, ensuring they're a good match before putting them in contact with each other. Once introduced, the parties engage in a more meaningful conversation about problems and potential solutions.
"Local organizations have many needs, but they may not have the best idea of what skill sets are required," Horoszowski said. "They may see marketing at a high level, but they don't know if that's content, digital, advertising, or email. We find it's healthy to get in a conversation with somebody who's a subject-matter expert and learn more. We support that conversation because we think that if experts and the local organizations can talk, they're going to realize the best possible road map."

Most experteers are 25-34 years old, and at a point in their careers where they're eager to travel and build their résumés. Additionally, they're often more open-minded about solutions that will fit in with international communities and cultures.
"They've been working long enough to deliver professional value, but because they're supporting small organizations, they're not so far away from execution that they don't know how to provide tactical support," Horoszowski said. "Workers are looking for more purpose and impact in their work. They're realizing, 'I'm at a point where it's still very possible for me to pivot my career a bit, and so I can use an experience like this.'"
Institute's Global Fellowship Helps Trainees Prepare for Productive Engagement
The MovingWorlds Institute's career growth fellowship program offers another path for motivated professionals to contribute their time and skills to the greater good. The training course focuses on education in social enterprise, human-centered design, and social-impact career opportunities. It provides in-person training with like-minded peers and features best practices, goal setting, coaching, and a matching process that helps them find a project relevant to their skill set.
The three-day course encompasses three significant areas. First, participants dive deep into the social impact industry, where it's going, and the most common frameworks employed. That is done in the context of cohort building, the second objective.
"You're joining a group of people that, like you, are impact-minded professionals looking to grow and develop," Horoszowski said.
The third benefit is the personalized purpose assessment. Participants establish goals and discover ways to leverage their training and talents toward positive ends through interactive, reflective, peer-based activities and evaluations.
After the in-person education concludes, participants remain involved through the MovingWorlds online community, which provides further learning and coaching. At the end of the course, the participant's task is to find a project that will help build on his or her strengths and shore up weaknesses. To help with this process, they receive personal mentorship and coaching from in-house educators, and they enjoy access to industry leaders via monthly or semi-monthly webinars.
"By the end, people are walking out with a very high-level fluency in the social impact industry, where it's going, and the frameworks that, if you use them, will be successful," Horoszowski said.
Contributing to Change Through Work and Career Choices
MovingWorlds helps experteers like Dorene and Troy contribute their expertise to social good around the world while enhancing their own skill sets. It also helps them discover ways to pursue those same positive goals in their careers.
"If you change the course of somebody's professional contributions to be a net positive for the world, throughout a long career, it's one of the most significant impacts somebody can make, far above their volunteering or donations," Horoszowski said. "If their career contributes to the greater good, the impact is massive."
The average person will spend a third of their lives working. That time investment allows them to achieve financial wellness for themselves and their families, but it can often leave us unfulfilled, and we may never realize why. For many, it's because they're not making a lasting impact on a world they know faces profound problems.
"When you create change, you are changed in the process. After going on an experience like this, just like our amazing alumni, you will be more likely to find a career path that contributes to the greater good." — Mark Horoszowski, CEO and Co-Founder of MovingWorlds
MovingWorlds experteering offers one solution to this issue. Through training and volunteering, people can realize their potential and make meaningful contributions to change through the skills they use every day.
"When you create change, you are changed in the process," Horoszowski said. "When professionals come back, they're more likely to pursue careers that contribute to the greater good. Whether that's switching from marketing to marketing consulting for social impact clients – or maybe they come back and still work at a company, but they empower that company to create social good projects."
That's why impactful careers aren't confined to nonprofit initiatives dedicated to social impact. They can be found in government bodies, corporations, educational institutions, and community organizations. All of these are avenues to contributing to change while maintaining financial stability and, just as importantly, achieving personal satisfaction and fulfillment through work.
"People will like their next job if it has a balance of purpose, autonomy, and mastery in a way that works for them," Horoszowski said. "If you don't get purpose out of your work and you're not working in an environment that's supportive of you and your needs, you're going to be miserable."
MovingWorlds helps professionals avoid these doldrums by giving them opportunities to grow personally and professionally. At the same time, organizations around the world receive the support they need to improve their communities. These efforts combine to create financial and social well-being for people both next door and around the world.