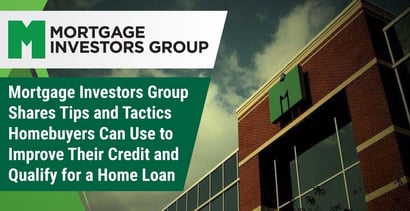 In a Nutshell: Homeownership has long been the strategy for building a brighter financial future for individuals and families, but for those who have made past credit missteps, this option may appear out of reach. The lending experts at Mortgage Investors Group have nearly three decades of experience advising borrowers on ways to improve raise their credit scores and achieve the dream of homeownership. By better understanding the factors that lower credit scores, consumers can take steps to raise them by paying off debt, correcting errors in their credit histories, and making timely payments. And, certain specialized loan programs have more relaxed credit requirements than conventional loans, and these can help even non-prime borrowers buy a home and improve their financial standing through a track record of responsible mortgage payments.
Building equity in a home is one of the most effective ways for borrowers to improve their overall financial health. Unfortunately, consumers with past credit issues often don't meet the minimum credit requirements to be approved for a home loan. And when that happens, these consumers are also denied a powerful personal finance tool.
Imagine for a moment a 30-something Knoxville man we'll call Rick, who, like many Tennessee residents in his age group, is looking to take the next step in his financial life. Rick is recently married and has always dreamed of owning a home where he can take in all of those amazing autumn colors in the hills. But when it comes time to start looking at houses, Rick finds that his credit score isn't quite up to par and he has difficulty getting approved for a traditional mortgage.
While Rick's story is hypothetical, his financial status is not uncommon in Tennessee, where the average credit score falls into the subprime category at 662, according to Experian. This means that many Tennessee residents are denied approval because their credit scores are too low.


Luckily for people like Rick, many resident mortgage lending firms, like Knoxville-based Mortgage Investors Group (MIG), remain committed to helping Tennessee residents achieve their dreams of homeownership — even if it takes a bit of effort to get them in better shape to buy homes. MIG has seven branches in the city, and 18 more throughout Tennessee and has been helping prospective homebuyers for nearly three decades now.
Even with adequate income and savings, a poor credit score can stand in the way of home loan approval. In many cases with first-time homebuyers, the first step is raising credit scores.
"Credit is going to be one of the more important pieces of the puzzle whenever it comes to getting a mortgage," said Andy Munsey, Senior Loan Officer at MIG.
To overcome credit obstacles, MIG provides potential buyers with information on credit scores, how they're used in lending, and how to improve them. The MIG team is also well-versed in loan options, such as FHA and VA loans, better suited to buyers with credit issues. By helping clients better understand what's available to them and the relationship between credit and lending, they can improve their scores, their chances of approval, and their overall financial picture.
Understanding Credit and Its Role in Loan Approval
"The key components for credit approval are going to be the credit report and corresponding credit score," Munsey said. "The actual credit score can determine the program availability and interest rate."
In the US, credit records are maintained by three major reporting bureaus: Experian, TransUnion, and Equifax. Reports contain information supplied by creditors, including payment history, outstanding debt, and defaults; and information from public records, like declarations of bankruptcy.
Credit scores are generated directly from the information contained on a credit report. A person's debt repayment history accounts for 35% of the score; 30% represents the current amount owed; 15% is for the average age of credit accounts; another 10% is based on the credit mix or the variety in the types of credit used (installment loans, credit cards, and mortgages); and the final 10% is based on recent activity, such as new accounts and credit inquiries.
Altogether, a credit score indicates the level of risk that a borrower will not repay a loan. A high score shows the ability to manage debt responsibly, which can garner better terms on loans and other financial products. A high-risk borrower with a low score, though, may not qualify for a loan or may be charged a higher interest rate on loans.
A person's score can vary from bureau to bureau since each keeps its own records. When considering a loan application, lenders will typically use the median score value derived from the three bureaus.
Negative credit information stays in a credit record for seven years, and bankruptcy can remain for 10. However, recent information is more relevant to lending decisions. The older the negative information, the less impact it has, especially if the recent record shows responsible borrowing and timely repayment.
By understanding the key factors that influence their credit score, aspiring borrowers will be better prepared to take the steps necessary to improve it along with their chances of qualifying for a home loan.
Improve Your Score by Reporting Errors and Reducing Debt
Those considering taking out a home loan should begin preparing at least six months before applying. To maximize their chances of approval, they'll need to work toward paying down their outstanding debts, mitigate negative marks on their record, and ensure their credit reports are free from costly errors.
Consumers can obtain a copy of their credit reports — one from each of the three credit bureaus — annually at no charge. They can also request free copies of their reports after they've been denied credit, employment, or insurance due to their credit history. MIG recommends consumers use AnnualCreditReport.com to obtain their reports.
The next step is examining reports in detail, comparing them to personal records of accounts, balances, payment history, and other information. Creditors provide this information to the reporting bureaus, and mistakes do happen; typos, outdated or incomplete account information, and inaccurate account histories are a few errors that can damage a score.
However, consumers can dispute and correct these issues by providing accurate documentation to the reporting company. Corrected information can take from 30 to 60 days to appear on a report, so it's important that homebuyers take these steps early.
Another effective way of improving a credit score is paying down existing credit card debt. For successful loan applications, MIG recommends keeping cards at no more than 15-20% of their limits and keeping total debt below 20% of the total credit limit. After doing so, avoid using more than 30% of available credit at any given time. Monthly debt payments should not exceed 10% of someone's income.
If possible, it's helpful for some to consolidate card and loan debt into a few accounts with low payments.
This demonstrates an understanding of responsible debt management. However, beware not to consolidate debts to the point that a single account carries a debt ratio outside the acceptable range.
It can also be helpful to keep multiple accounts open to increase the available credit total. As long as it isn't being used excessively, it will improve your credit score, since a lower percentage of available credit will be used.
On the other hand, it's not recommended to open several accounts within a short period of time. This can indicate financial hardship, a day-to-day need for credit, and that a consumer will be taking on more debt in the future. All of these factors lower a score and negatively affect your chances of getting a loan approved.
Other Features of Strong Loan Applications
Aspiring borrowers can practice a few other tactics that will make them more attractive to lenders.
Establishing long-term, timely repayment histories demonstrates financial stability and the ability to repay debts. Homebuyers should also save as much money as possible to put toward a down payment, which expresses a strong commitment to homebuying and also reduces the amount you'll have to pay interest on. Maintaining a single job for at least two years before applying is also a good sign of financial stability. Finally, paying bills on time will prevent recent negative marks from hampering a credit score.
Before applying, borrowers need to evaluate their budget and decide the home price and payments they can afford. After all, you may be able to qualify for a higher mortgage loan that could lead to overreaching. "What you can afford and what you can qualify for are two different things," Munsey said. "The affordability factor is what they need to determine up front. We may be able to qualify them for a payment they're not really comfortable with."
In some cases, buyers may negotiate with sellers to lease with the option to buy. This is especially useful for people still in the process of improving their credit.
"If someone's in a position where they can't qualify now, but they're expecting in six to 12 months that they can, the lease is essentially a rent-to-own," Munsey said. "It comes down to an agreement with the seller that you can rent the home that you're in hopes of buying down the road, giving yourself some time to improve your credit."
Recommended Loans for Credit-Challenged Buyers
Borrowers who have experienced credit difficulties may be able to take advantage of more specialized loans. These entail other conditions applicants must satisfy but carry lower credit score requirements.
For example, an FHA loan is insured by the Federal Housing Administration (FHA). This allows a lender to provide more assistance to low-income borrowers with less-than-stellar or credit scores. Similarly, the Veterans Administration (VA) insures loans at better rates and terms than typical loans for active-duty service members, veterans, qualifying reservists, and sometimes spouses.
"Traditionally, a loan such as an FHA loan or a VA loan can have more lenient underwriting and credit score requirements than, for example, a conventional loan," Munsey said.
Tennessee residents may be able to qualify for a loan administered by the Tennessee Housing Development Agency (THDA). This government body helps people with limited incomes purchase homes and maintain long-term ownership through its Great Choice Home Loan Program, which offers 30-year fixed rate loans.
Finally, the United States Department of Agriculture (USDA) offers home loans to individuals who meet certain income guidelines. While the loan can only be used to purchase a home in a specified area, it carries perks like full financing with no down payment, financed closing costs, low fixed rates, and lenient credit requirements.
Even when pursuing a loan with low credit requirements, a higher score makes applicants more eligible borrowers. By paying down debt and improving credit history, borrowers improve their likelihood of approval. In turn, responsible loan repayment and building equity in a home will further improve a consumer's overall financial state.
Advertiser Disclosure
BadCredit.org is a free online resource that offers valuable content and comparison services to users. To keep this resource 100% free for users, we receive advertising compensation from the financial products listed on this page. Along with key review factors, this compensation may impact how and where products appear on the page (including, for example, the order in which they appear). BadCredit.org does not include listings for all financial products.
Our Editorial Review Policy
Our site is committed to publishing independent, accurate content guided by strict editorial guidelines. Before articles and reviews are published on our site, they undergo a thorough review process performed by a team of independent editors and subject-matter experts to ensure the content's accuracy, timeliness, and impartiality. Our editorial team is separate and independent of our site's advertisers, and the opinions they express on our site are their own. To read more about our team members and their editorial backgrounds, please visit our site's About page.