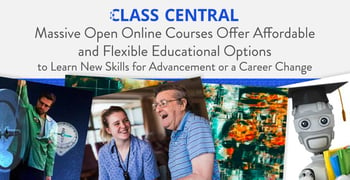 Experts share their tips and advice on BadCredit.org, with the goal of helping subprime consumers. Our articles follow strict
editorial guidelines
.
In a Nutshell: With the expansion of digital technology in recent years, massive open online courses (MOOCs) present new ways for people to gain access to knowledge and skills previously reserved for on-campus students. The courses are presented by universities and other educational institutions for free or at a low cost to anyone interested in taking them online. MOOCs offer flexible and affordable options for people looking to advance in their careers or move into a new industry. Certificate courses can be particularly effective in assisting with career advancement. With so many MOOCs available these days, Class Central provides a quick and easy way to search through the thousands of courses available and serves as an all-around guide for all things MOOC.
For more than a thousand years, students have attended universities to gain access to the knowledge and expertise held within by professors, libraries, and curricula. It is believed that the earliest degree-granting universities were established as early as the ninth century in places like Africa and Asia.
Higher education was a privilege of the few for centuries, as literacy rates across the world were much lower than today. As recently as 1820, only 12% of the world could read. As the modern world developed, so did universities, providing more opportunities than ever before for people to advance their education.
Still, geographic confines, monetary constraints, and admission standards limited access to the world of higher education for many.
Today, more people than ever can have the opportunity to study advanced topics no matter where they are or what their financial situation is thanks to the internet and the rise of MOOCs.
MOOCs are, just as the name implies, courses open to nearly anyone with an internet connection. The courses are often offered by accredited universities and other established institutions to provide learning opportunities for those who can't attend a formal, in-person program.
The term MOOC was coined in 2008 to describe the Connectivism and Connectivity Knowledge course at the University of Manitoba. Course participants consisted of 25 tuition-paying students who attended in person and more than 2,200 students from around the world who took the course for free.
MOOCs evolved quickly from there and gained widespread popularity several years later. They have become great ways for people to gain expertise in nearly any subject matter. People have used MOOCs to change their financial situations by advancing their careers or entering entirely new careers.
We recently spoke with Laurie Pickard, Partnerships Lead and MOOC Report Editor, for Class Central, an online search engine and resource guide that aggregates thousands of MOOCs from across the globe.
"MOOCs really took off around 2012 or 2013, and we were kind of in that first wave of MOOC education," Pickard said. "People were enrolling by the tens of thousands and earning free certificates."
Pickard said many MOOCs have evolved into more formal roles within institutions in recent years, but they still present great opportunities for people interested in furthering their education.
MOOCs Can Lay a Solid Foundation for a Successful Career or New Direction
Pickard said MOOCs can hold a lot of value for anyone looking to make a career change, advance in their current career, or simply for personal enrichment. But even in the brief time that MOOCs have been offered, they have already evolved quite a bit.
Pickard said that, when MOOCs first gained popularity, they were faithful to their description of being truly open, with no costs to participants. The courses also included a strong social element among participants.
"The early days felt sort of like a social movement in a sense," she said. "The social element has waned a bit as MOOCs have become a more common feature of the higher education landscape."
Overall, this is a positive evolution for those interested in taking MOOCs though. Several years ago, a university may have offered one MOOC as an experiment but they are now somewhat integrated into the business models of universities, Pickard said.
This means many more options are now available for MOOC participants to choose from.
And while many MOOCs today contain some paid element within them, students can still access a lot of information without having to pay vast sums of money.
"There's a lot of free content out there but you're going to hit some paywalls around certain things, like graded assignments, quizzes, or certificates," she said. "Some are time-based; you get two weeks for free with the material, then you have to pay to continue."
Most MOOCs today are around four to six weeks in length and cost from $50 to $100, Pickard said.
MOOCs can offer certain advantages over the more traditional methods of pursuing higher education. Participants can conduct their studies on their own schedules, and they can also focus on the courses they are most interested in without having to spend time on other classes to meet degree requirements.
Pickard said the people who get the most out of MOOCs are highly self-disciplined and creative, and they are able to translate their MOOC experiences into positive moves in their careers.
Certificate Courses Often Provide the Most Value Added for MOOC Students
"For people who are seriously looking for professional advancement, my strongest recommendation would be to look for a series of courses that result in a certificate," Pickard said.
She said a series of certificate-earning course programs usually take from two to four months to complete.
"The number of hours a week really depends on the subject matter," she said. "If it's totally new to you, I would suggest up to 10 hours per week and maybe even some weekend work. If you're just refreshing your skills, maybe two to four hours per week."
Certificate programs make for very affordable options for those who are unable to commit the time or money to pursue a full degree.
"There are a number of certificate programs that are run by leading players in their industry," Pickard said. "Google has an IT Support Professional Certificate available through Coursera, for example."
Those types of certificate programs — designed by industry leaders — can be highly relevant for advancement in particular areas, she said. They are intended to help get the right people into the right jobs.
Pickard said some of the industries most amenable to this type of education path include computer science, cybersecurity, and data science.
She said once someone earns a certificate, it can be beneficial to think about how to market it to potential employers because the employer may not automatically be aware of the value of the certificate. Certificate holders can gain an edge by developing an elevator pitch to briefly explain how the certificate courses make them a better job candidate than other applicants.
"It's also helpful to have some brand recognition," she said. "An employer may not know what this or that certificate is, or even what a MOOC is. But if you took a short course from MIT, people know the MIT brand."
Class Central Provides a Search Engine to Explore Thousands of Courses from Universities and Institutions
With so many MOOCs offered from hundreds of institutions these days, people may not know how or where to find the courses most suitable for them.
That's where Class Central comes in.
"Our goal is to make online education work for everyone," according to the company website. "Class Central is a listing of online courses. We aggregate courses from many providers to make it easy to find the best courses on almost any subject, wherever they exist."
Pickard said Class Central began as a passion project by its founder, Dhawal Shah.
"He's a computer science graduate himself and he found himself in need of continuing education," she said. "And here were some of the top professors in the world in artificial intelligence and computer science just releasing free courses."
Shah was fascinated by the MOOC phenomenon and used his developer skills to create a one-page site that collected information about the MOOCs available at the time.
Today, Class Central is the No.1 search engine for MOOCs with 12,000 courses in its database, 1.2 million registered users, and 50,000 reviews.
The site has also evolved beyond simply aggregating MOOCs. It serves as a handy go-to resource for all things MOOC-related, including lists of the highest rated online courses, career guides, and even a list of the top 50 MOOCs of all time.
The company also publishes the MOOC Report. As Editor of the MOOC Report, Pickard said the publication is an industry-facing resource that tracks the evolution of the whole MOOC space.
So, if you've been considering a career change or want to work toward that next raise, MOOCs may offer the flexibility and affordability needed to be able to continue your education without having to put other parts of your life on pause.