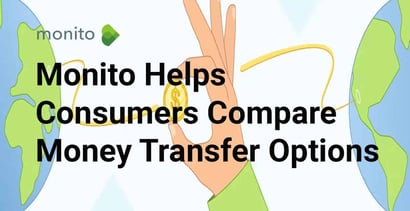 Experts share their tips and advice on BadCredit.org, with the goal of helping subprime consumers. Our articles follow strict
editorial guidelines
.
In a Nutshell: Comparing money transfer providers can be a confusing and time-consuming endeavor. Monito provides a money transfer comparison tool that simplifies and expedites consumer research. It brings transparency to a process complicated by rules and regulations that differ from country to country. Monito also provides recommendations and educational resources that guide migrants to better manage their finances.
Necessity is the mother of invention. When we encounter a problem that doesn't have a clear solution, we're often motivated to develop one of our own.
In the early 2010s, three Swiss citizens were attempting to send money from Switzerland to a charity they had started in Cameroon. They found it difficult to orchestrate money transfers between the two countries. In addition, the expenses associated with performing the money transfers were much higher than they had envisioned. 
The three Swiss men surmised that this problem wasn't unique to them. They surveyed the money transfer landscape and concluded that people and businesses needed a service to help them learn about and compare money transfers. And that's how Monito, a company that helps people compare money transfer options and fees, was born.

"Monito allows people to compare the market, understand how money transfers work, familiarize themselves with the money transfer providers, and gain a holistic view of all the price points involved," said Byron Mühlberg, Monito's Managing Editor. "Money transfers are our core business, but we also provide expat and migration-related financial services. Anything involving cross-border finances is our specialty."
Monito brings experience and in-house expertise to the money transfer arena. Its money transfer comparison tool aggregates information from a variety of sources to present users with a comprehensive listing of money transfer options.
Mühlberg described Monito as a migrant-directed company. Many of its customers have moved to a different country for employment and need an efficient, reliable, and cost-effective way to transfer money back to their home country.
"Our mission is to assist migrants, many of whom are living in new countries, manage their finances," Mühlberg explained. "Facilitating money transfers is a big part of that."
Deep Market Knowledge Instills Confidence
Many businesses provide cross-border money transfer services. Each has its own fee structure, and many companies offer different money transfer options. Individuals seeking to transfer money internationally are faced with a plethora of decisions to make. Deciding who to partner with to execute a money transfer can be overwhelming. 
Monito's comparison tool allows users to enter the country of origin and destination for their intended transfer. The site then provides users with a comprehensive list of money transfer providers to meet their needs. Monito also lists the transfer details and fees that consumers need to know to make an informed decision. 

"Most people who are seeking to transfer money from one country to another aren't really sure where to start," Mühlberg said. "So, they'll default to what they know. For many people, this is banks or money transfer outlets like Western Union. While those options may work quite well, we aim to help people to understand there are other options out there that may suit them better."
In addition to banks and traditional money transfer providers, consumers should consider emerging technologies, including digital providers and payment apps, Mühlberg said. Emerging companies often provide money transfer services that are less expensive than more established options.
"There are a lot of different financial service providers that are competing in this space, and it's quite a competitive market," Mühlberg explained. "That competition is a good thing for consumers. The marketplace has a lot of solutions that are really easy to access and can save users a lot of money over the long run, particularly if you're making transfers on a recurring basis. Our site lets users compare all this information quickly."
Bringing Transparency to an Opaque Process
Monito does have loyal customers, but Mühlberg estimated that upward of 90% of the website's traffic is from new visitors seeking to learn more about money transfers. 
"Most of our customers are one-time users that are seeking the best way to transfer funds between two particular countries," Mühlberg said. "They know the broad details of what they are looking to accomplish, but they don't know the nuances of how the transfer will be handled between the two countries. They may not know what the fees will be or when the transferred money will be available. That's where we come in."
International transfers are detailed extensively on the site. Switzerland has many cross-border workers, Mühlberg said, which has allowed Monito to closely observe international money transfers and develop best practices and recommendations.

Cross-border money transfers are usually sent and received in two different currencies — the currency of the transfer's origin and the currency of the transfer's destination. 
No two countries are the same, and money transfer processes and procedures can differ significantly from one country to another. Mühlberg said that the sender either will pay more fees or the recipient will receive less money, depending on how a transfer is sent. 
The sender can choose to send a specific amount of money and have any fees directly deducted from this amount. Conversely, the sender can direct the transfer to deliver the recipient a specified amount. In this scenario, the sender pays any applicable fees above and beyond the amount to be made available to the recipient.
"People aren't always mindful of this," Mühlberg said. "No transfer is ever free, so we advise consumers to look for a transfer service that will have transparent exchange rates and low fixed costs. Along these lines, we strive to be as transparent as possible to our users and readers."
Migrants Can Improve Their Financial Outlook with Monito
Monito is committed to providing education about international money transfers and other financial topics that interest migrants. The website has educational resources on everything from how to open an international bank account to detailing how to watch foreign television while traveling abroad.
"People use our site to make quick comparisons of the money transfer market for their country of interest," Mühlberg said, "But we also provide education on how transfers work. This can empower people to make decisions that enable their transfer to be completed with minimal fees."
Mühlberg shared some key insights that save money senders time and money. He recommends consumers make transfers directly from one bank to another when possible. He said transfers sent with a credit or debit card will usually be subject to an additional fee.

Customers who make one larger transfer, as opposed to several transfers of smaller amounts, will also typically incur fewer fixed fees, Mühlberg advised. 
Speed is another factor that can influence money transfer costs. Mühlberg said sometimes transfer operators will let individuals choose their transfer speed, and next-day or "express" transfers are typically more expensive than transfers that don't settle for multiple business days.
Finally, Mühlberg cautions consumers to exercise safety when selecting their money transfer provider. He said every service mentioned on Monito is "duly regulated and authorized."
Monito is in the process of developing an app that Mühlberg said will help users better compare money transfer options and provide a personalized approach to covering topics relevant to migrant communities.
"We're focused on finding ways to create a more comprehensive platform," Mühlberg said, "Our efforts are all aimed at further establishing Monito as a trusted source of comparisons in many different sectors going forward."