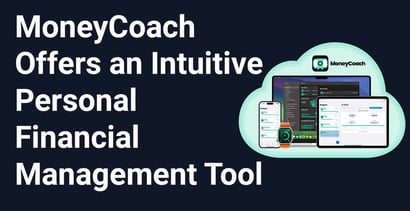 Experts share their tips and advice on BadCredit.org, with the goal of helping subprime consumers. Our articles follow strict
editorial guidelines
.
In a Nutshell: Personal financial management can be an intimidating and confounding subject. It isn't always easy to understand which financial moves to make and which are best to avoid. MoneyCoach is an app that can remove the uncertainty surrounding financial matters, equipping its users with tools to make informed decisions. MoneyCoach offers an intuitive interface and a plethora of features for users of all ages and socioeconomic backgrounds.
In the early 2010s, Perjan Duro and his fiancée moved from Albania to Germany. They had no family, friends, or even acquaintances in Germany. Neither Duro nor his fiancée had a full-time job or access to a steady income. Duro borrowed money from relatives to support the couple during this time. 
What they did have was a plan — to work as hard as they possibly could. This plan, the couple reasoned, would help them achieve their dreams of being successful in a country that was new to them.
Duro was passionate about finance and technology but lacked personal finance and budgeting skills. 
"Raised in a post-communist Albania in the 1990s, I grew up with the mentality that money is the root of all evil," Duro said. "I was taught that you shouldn't focus on things such as trying to earn more money or growing savings. Upon our arrival in Germany, I wanted to learn more about money management and the intersection of my passions. I soon realized that there weren't any budgeting apps that could help me learn and plan."
Duro found a full-time job in Germany. On the weekends, he worked to develop an app that combined his passions of finance and technology. He also sought to incorporate a first-class user experience into the app and the ability to support multiple currencies. 

Duro named the app MoneyCoach. He is MoneyCoach's Founder and CEO.
When he had developed the app to a point where he felt it was fit for the public, he released it to the App Store. Duro said he was pleasantly surprised to see the app's substantial download numbers, which motivated him to continue to develop the app.
"The download numbers were staggering," Duro said. "MoneyCoach started as a tool to assist me in my efforts to build my finances to pay back the sizable loan I'd accepted from my family. Since that time, it's matured into a tool that individuals can use on their ever-evolving financial journeys. MoneyCoach helps people save money, from their first job to retirement, and all the milestones we have along the way." 
Supporting Emerging App Functionalities
In 2017, Perjan Duro's brother, Krist, joined the MoneyCoach team. Perjan Duro works on product development, ideation of new features, and managing the business's daily operations, while his brother focuses on design and marketing efforts.
Duro credits the app's popularity, in part, to its intuitive design.
"The app is intended to be used as a daily companion that guides and motivates users to follow their personal financial plan," Duro explained. "MoneyCoach users access the app, on average, more than seven times per day."
MoneyCoach is available on Apple platforms. One of Duro's goals is to ensure that the app's functionality is always up to date and incorporates the latest app technologies. Duro said every iOS feature, including support for Apple's widgets and dark mode, is thoroughly tested and available on MoneyCoach as soon as possible.

MoneyCoach's website provides guides that help users navigate the app and enable customizations. The guides cover various topics and are arranged based on a user's level of experience with the app. Beginner guides educate users on topics including adding accounts and creating a budget. Advanced guides focus on more complicated subjects, such as managing property loans on the app and setting up dynamic shortcuts.
Duro encourages users who can't locate a guide they're seeking to submit a support ticket. 
"I strive to reply to support tickets as quickly as possible, which is often within a couple of minutes," Duro said. "That's not something that many companies offer, but this is what I'm passionate about doing. I love helping people."
MoneyCoach is motivated to provide users with the best experience possible. Duro said customer subscriptions are the company's sole revenue source.
"We don't sell our customer's data," Duro explained. "And that's a strong selling point for our users, particularly those in European countries."
Features Designed to Simplify Finances
MoneyCoach provides a myriad of features to simplify financial management. Duro said the app's integration with Apple Pay is one of the most frequently used features by MoneyCoach users. Users can go through Apple Pay integration to access MoneyCoach shortcuts, which make their most frequent transactions easier to execute.
Duro said he uses the shortcut tool to expedite his daily caffeine purchase.
"I purchase the same espresso at the same coffee shop every day," Duro detailed. "Since it's a recognized, repeating purchase, I only need to tap the app to complete the transaction. The purchase amount is already entered, and the espresso purchase details are categorized and paid for from the account I've designated for that type of spend."
Duro said interactive widgets are also popular among users, and he believes that MoneyCoach offers the most complete interactive widget for financial apps.
MoneyCoach offers 12 types of reports, allowing users to configure their financial information to their specifications and produce data visualizations.

The app's real-time multicurrency feature, which supports 160 currencies, allows users with accounts in different currencies to see their total net worth converted to one currency.
"It's a great feature for freelancers or people who live in one country but are paid in another country's currency," Duro said. "I built this component to solve my frustrations with trying to determine my overall financial picture while holding funds in various currencies."
Duro said that users don't need to create a MoneyCoach account — the app works based on a user's Apple ID and user data syncs with their iCloud account.
A new release that Duro said he is particularly excited about is a syncing tool called Family Sync, which allows users with different Apple IDs to share their MoneyCoach data with each other.
"Users have requested the ability to share data for several months," Duro said. "I'm also excited about a new feature that allows users to see their daily budget and net worth in real-time while their device is in standby mode. Prominently displaying that information can motivate people to stick to their money management goals."
MoneyCoach Adapts to Support User Journeys
MoneyCoach has tools to support individuals wherever they are on their personal financial journey, including managing debt. Duro said many users employ the app to develop a strategy to pay off credit card debt.
"The app helps users to more easily interpret their credit card statements and apply the approach for paying their monthly bills that makes the most sense for them," Duro said. "For example, users can assess the impact of paying 50% of their bill now and the other 50% later. It can help them avoid fees and minimize credit card debt."
MoneyCoach integrates with Siri, allowing users to interact quickly with the app and receive updates on how much money they've allocated for a specific expense on a particular day or how much of their weekly budget remains.
Duro said the app is useful in all economic environments, but it's especially beneficial during times of high inflation where budgeting can be of increased importance.
"MoneyCoach is a budgeting app that is highly flexible," Duro said. "Personal finance is personal to you — it means different things to different people. It means something different to me today than it did only a couple of years ago. It's essential to have a money management tool that is customizable and adaptable to your needs."