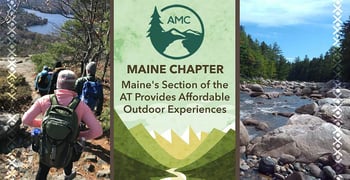 Experts share their tips and advice on BadCredit.org, with the goal of helping subprime consumers. Our articles follow strict
editorial guidelines
.
In a Nutshell: For households on a budget, planning a memorable vacation can be a dim prospect at times, but low-cost outdoor activities like hiking can create lasting memories without breaking the bank. The Appalachian Mountain Club of Maine maintains one of the most rewarding and scenic portions of the famed Appalachian Trail with plenty of hikes and camping options for travelers on a budget. We spoke with AMC Maine's Zack Urgese about the beauty, wildlife, and adventure the AT's northernmost section has to offer.
Some people will tell you that it's not a real vacation unless it's an expensive and luxurious endeavor that involves pricey resorts, fancy drinks, and, for those with kids, kingdoms that are especially magical. But that's not the case.
I spent some of my favorite vacations at Florida campsites that were free or cost next-to-nothing. With a tent and some minimal gear, I was able to explore the Florida wilds without putting a huge dent in my budget. And, yes, the alligators are abundant — just watch out for those.
Camping and hiking are great ways to spend a vacation if you're on a limited budget but want something more than a staycation. And, of course, you don't have to be in the Florida wilderness to do it. Thankfully, there are abundant opportunities for great hikes and camping experiences all across the country.
If you're on the East Coast, you can't go wrong with the Appalachian National Scenic Trail — often known simply as the AT. The renowned 2,200-mile hiking trail stretches from northern Georiga all the way to northern Maine. We spoke with Zack Urgese, White Mountain Trail Supervisor for the Appalachian Mountain Club of Maine (AMC Maine) about the benefits of hiking and what the AT has to offer near its northernmost point.

"I think hiking is one of those things that just about anybody can pick up," Urgese said. "It's pretty low-cost, it provides great fitness benefits, and it's just great to get outside and get into the woods."
Urgese said the Maine section of the Appalachian Trail has hikes suitable for all skill levels, but it also includes some of the most challenging and rewarding hikes on the AT.
He said visiting the Maine AT is a great way to spend a vacation without spending a lot of money.
Hikers Can Find Abundant Camping and Breathtaking Views on the Mahoosuc Trail
AMC Maine is responsible for helping manage about 104 miles of the Appalachian Trail, primarily in the White Mountains National Forest, as well as a number of side trails, Urgese said.
The Mahoosuc Trail makes up the largest portion of this area — a 26-mile stretch ending at Grafton Notch State Park on the northern end, he said.
"The section we maintain is pretty remarkable," Urgese said. "We have a lot of ridgeline hiking and a lot of ups and downs. The mountains the trail goes over here are smaller compared to some others, but there are lots of beautiful 360-degree summit views and alpine bogs."
Alpine bogs are characterized by a thick carpet of peat moss with a wide variety of shrubs and herbs growing from the wetland soil. Maine's alpine bogs are concentrated primarily within the region where the Appalachia Trail is located. Care should be maintained when visiting the bogs because hiker traffic has contributed to the degradation of the bogs.
The ridgeline trails are some of the most impressive because hikers will be traversing along a dense, forested path that abruptly and dramatically changes as the trees give way to the rocky peaks of the mountains, he said.
Urgese said there are a number of campsites along the Mahoosuc Trail that are free to the public.
The Mahoosuc Trail is also home to what is known as the most difficult mile of the whole Appalachian Trail — the Mahoosuc Notch.
Urgese said it is a difficult section that can take hikers hours just to traverse the single mile, but most who attempt it think it is a blast. He said some of the most tricky areas require hikers to remove their packs to make it through tight "lemon squeezes."
Speck Pond is a very scenic area where some visitors like to go fishing, he said, for those who are less inclined to enjoy lemon squeezes.
If visitors only have time for a short trip while visiting the Maine AT, Urgese recommends spending a couple of nights at the campsites along the Mahoosuc Trail. He said hiking the ridgeline trails in this area will provide a nice combination of breathtaking views, alpine bogs, and dense forests.
Moose, Black Bears, and an Abundance of Bird Species Can be Found on the Maine AT
Maine's Appalachian Trail also features an abundance of wildlife along its path, with the Maine Tourism website touting that hikers in Maine can "experience the best wildlife of the whole trail."
"There is a lot of great wildlife to see around here," Urgese said. "In terms of bigger animals, there are some black bears and moose. They both tend to be pretty skittish so it's not likely that hikers would need to worry about a close encounter with either of these."
If hikers are interested in trying to catch a glimpse of a moose in real life, they are more commonly spotted around bogs or shallow ponds.
Other wildlife known to roam the Maine AT region include beavers, coyotes, bobcats, white-tailed deer, flying squirrels, foxes, woodchucks, river otters, snowshoe hare, porcupines, and more.
The area is also appealing to birders, as it plays host to many species that "are among the most sought after by birders from all over the country," according to the Maine Audobon Society.
A study conducted by AMC Maine found 68 different species including a number of boreal bird species that are rare to find below the 45th parallel. These birds include the spruce grouse, the boreal chickadee, gray jay, and the black-backed woodpecker. Other birds common to the area include the yellow-bellied flycatcher, the northern raven, the winter wren, the white-throated warbler, and the blackpoll warbler.
Many of the birds are relatively tame and allow birders to approach them; they tend to live in more remote areas that require a bit of hiking, according to the Maine Audobon Society.
"The grouse can be a real pain to run into," Urgese said. "They're particularly territorial around June. They'll stand their ground and even charge you if you happen to come across one on the trail."
AMC Maine and Its Volunteers Help Keep the AT in Top Shape for Visitors to Make the Most of Their Experience
The Appalachian Mountain Club was founded in 1876 and is the oldest conservation and recreation organization in the country, Urgese said.
"The nonprofit AMC promotes the protection, enjoyment, and stewardship of the mountains, forests, waters, and trails of the Appalachian region," according to the AMC website. "The AMC supports natural resource conservation while encouraging responsible recreation."
The Maine chapter was established in 1956 and has more than 5,300 members.
Urgese said AMC Maine's primary maintenance responsibilities begin at Kinsman Notch in the south and end around Grafton Notch in the north.
"We maintain a lot of side trails and campsites as well," he said. "Most of the campsites along our section of the AT that we're responsible for are free to use."
AMC Maine often works in conjunction with the Maine Appalachian Trail Club, which maintains about 267 miles of the AT in the state.
Urgese said AMC Maine uses a combination of paid workers and volunteers to keep its section of the AT useable and beautiful.
"We have a paid professional trail crew that does the more involved construction projects but we have a large volunteer constituency that helps maintain the trail as well," he said. "Our crew can only do so much so we definitely rely a lot on volunteers to do basic maintenance, keeping the corridor open, helping with blazing, and reporting any issues they can't handle on their own."
Anyone interested in visiting this portion of the trail can find the latest news and information, including information on how to become a member of the organization or to volunteer, on the AMC Maine website.
Shake Off the Winter Weather with a Spring Hike in Maine
"You can really challenge yourself in a lot of ways with hiking," Urgese said. "And it's just great to be able to walk into these unique environments. It's pretty special."
Urgese said that, while parts of the trail are accessible during the winter months, many of the side trails and some mountain access are closed during this time of year. He said spring is a great time to visit and as someone whose hiking experience revolves primarily around 80-plus degree sunny days, I tend to agree.