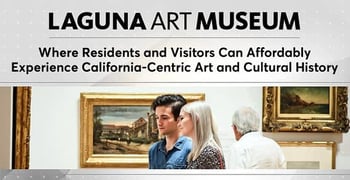 Experts share their tips and advice on BadCredit.org, with the goal of helping subprime consumers. Our articles follow strict
editorial guidelines
.
In a Nutshell: While everyone needs diversions in life, entertainment doesn't often come cheap. Whether it's a sporting event, concert,  or even a night out at the movies, Americans spend heavily on fun. However, free entertainment options do exist, and museums are a great place to start. California's beachfront Laguna Art Museum in Laguna Beach sets a good example with several free programs for members of the military, seniors, and students, as well as free monthly films, lectures, and tours for the general public. Unique for its focus on California-centric art, the museum was founded 100 years ago by a group of artists, many of whom have been featured in its exhibits.
As the proverb goes, "all work and no play makes Jack a dull boy." But what the saying leaves out is that too much play can make Jack a broke boy.
It's true that many popular forms of entertainment can be pricey. In fact, the average price of a movie ticket hit an all-time high in 2017, at $8.84, and in big cities, like New York, it can run as high as $17.49. And that's not even factoring in how much you'll pay at the concession stand. Meanwhile, Americans reportedly spent $56 billion attending sporting events in a recent calendar year.
While it pays to have fun, you don't always have to pay for your entertainment. There are plenty of free outdoor films, festivals, art shows, and museums for those looking for affordable diversions. Those options can go a long way in a state like California — the country's number one tourist destination.
Museums provide that perfect blend of enlightenment and entertainment, and one good example is the Laguna Art Museum. One of the state's oldest art museums, the Laguna Art Museum is also known for its prime location on a bluff overlooking the Pacific Ocean in Laguna Beach, which has been a haven for artists since its founding.
We recently reached out to Cody Lee, the museum's Communications Director, to find out more about some of its free programs for the general public, as well as seniors, veterans, and students.
Laguna's Rich Artistic Origins
The Laguna Art Museum was started by a group of artists in 1918 as the Laguna Beach Art Association. Not yet a proper museum, it was a cottage that the artists had converted into a gallery to showcase their works.
"When that organization was founded, it had 150 charter members," Lee said. "Three hundred people lived in town, and a lot of them were artists. Many lived in LA and went outside of the city to paint."
In 1929, the artists opened a gallery after a successful fundraising drive. The Laguna Beach Art Association became a museum in 1972, and in 1986, it expanded to its present building. The original gallery became the Steele Gallery within today's museum, a treasured room that houses important exhibits, and hosts films and lectures.
"The town is still very much an art town," Lee said. "Other than restaurants and hotels, the galleries are the main businesses."
Plus, the museum has a choice location, on a bluff overlooking the Pacific Ocean, with a sandy coastline below. Not surprisingly, art and nature events are common here, Lee said.
The museum's mainstay is California artists. It's the only museum in the state that exclusively collects works by California artists, with an impressive roster of mainly painters spanning the century, from early landscape to mid-century and contemporary.
Lee told us about some of the featured artists whose work has been on display, including early landscape painters Edgar Payne and Anna Hills, the original organization's President and Vice President, respectively. Also on display were works by Wayne Thiebaud, one of California's best known 20th-century painters, Lee said, adding that many artists were part of artistic movements related to the emergent academic art departments, namely those at the University of California, Davis and the University of California, Irvine.
Free Programs Entertain and Educate the Public
The museum has a plethora of free programs for the general public and specific groups, including seniors, military, and children. It frequently provides tours for school children, and even pays for their bus transportation, Lee said, adding that kids age 12 and under always are admitted to the museum for free. He also said starting in July, children under the age of 18 will also get in free. Local college students can also apply for free annual memberships.
Laguna Art Museum also has a Family Art Studio, a hands-on artmaking program inspired by the museum's current exhibits, that takes place the third Sunday of every month. For military, the museum is a Blue Star Museum, one of a few thousand museums in the US that offers free admission to active members of the military and their families from Labor Day to Memorial Day.
The museum also participates in the town's art walk every first Thursday of the month, with free admission after 5 p.m., and docents giving tours.
"This is often the first time that people will come and see the new exhibition. It's not too crowded, but lively," Lee said, adding that the second Thursday of every month, there is a concert held in the gallery, and the concert is included in the general admission price (so people can visit the exhibits, as well). General admission at Laguna Art Museum is $7 for adults, and $5 for seniors and students.
The third Thursday evening of every month is dedicated to a film chosen by a curator or artist, and the fourth Thursday evening of the month is a lecture by a curator or artist. And if there is a fifth Thursday in the month, it features another lecture, or interview by the museum director — with another museum's director, for example.
Revolving Exhibitions Highlight California's Past and Present
Where Laguna Art Museum really shines is its commitment to highlighting California artists. One of its recent exhibits was Tony DeLap: A Retrospective, a 90th birthday tribute to one of Orange County's foremost living artists.
DeLap's first exhibition was at the Oakland Museum of California in 1960, and "he has been at the nexus of significant art movements throughout his career," according to the museum's press release on the exhibit. These include Southern California minimalism, op art, hard-edge painting, and the California Light and Space movement.
In June of 2018, the museum will feature an exhibit on artists at the turn of the century. The museum also has several special events planned as part of its Centennial celebration.
If you're planning a trip to the museum, be sure to check out its upcoming events page to find the best time of year to visit. But no matter when you go, you're sure to get your money's worth.