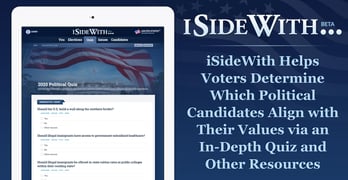 Experts share their tips and advice on BadCredit.org, with the goal of helping subprime consumers. Our articles follow strict
editorial guidelines
.
In a Nutshell: Political news and messaging is coming at American voters in full force this election season. For many of these people, it can be difficult to cut through the noise and really gain clarity on certain issues and know which political candidate most accurately aligns with their own views. iSideWith helps potential voters filter out the distractions and get straight to the point with its 2020 Presidential Election Quiz. The quiz covers a range of important social and political topics and can be adjusted to the taker's desired length. The website also offers a wealth of data on an array of issues and lets visitors see the overall quiz results from other quiz-takers.
Another election year is upon us, and the political discourse is in full swing — not that it hasn't been for the last four years — but it has ramped up to even higher levels in recent months.
Many Americans feel like they have a pretty good idea of where they stand on major political and social issues, such as healthcare, abortion, or immigration. Other issues — like trade policies or military spending — may be a bit murkier for the average voter.

On top of that, potential voters have information coming at them from countless angles and from more sources than ever, whether it's print, television, radio, internet sites, social media, or advertising.
And for some, discerning the difference between news, advertisements, and opinions can be difficult.
That's a lot of noise to cut through.
Potential voters may have a basic understanding of where they land on the political spectrum, but when it comes to knowing which candidate they should throw their support behind, it may seem easier to just throw a dart and see where it lands.
But iSideWith helps potential voters stay informed about which candidate's ideas most closely align with their own political ideals. Not only does the website feature a handy 2020 Presidential Election quiz but it also compiles tons of valuable data on many of the most important issues to voters.
Of course, some degree of apathy can sneak in during times like these (Does my vote even count? Will this even impact my day-to-day life?), it's important to remember many issues — especially economic ones — can have huge ramifications on the daily lives of the average U.S. citizen.
Issues such as minimum wage rates, healthcare coverage, and student loan debt are often in the public discourse. Each of these topics has the potential to drastically change the financial situations of certain populations — for better or worse — depending on the policy in place.
And it's no secret that about 40% of Americans would not be able to cover an unexpected $400 expense without going into debt.
To learn more about iSideWith and how it can help potential voters in the coming months, we recently spoke with Taylor Peck, who co-founded iSideWith with Nick Boutelier, about the website's political quiz, rich data about voters and candidates, and more.
A Political Junkie, a Tech Enthusiast, and a Quiz
"Back in 2011, my roommate Nick and I thought there was a gap in the information, in following political news," Peck said. "I was a political junkie. And Nick was a kind of a typical, apathetic voter. He didn't really care."
And although Boutelier was not as politically engaged as Peck, he recognized the importance of having access to information that could help him become more informed.
"There wasn't really a tool that we could use to share and compare values or political beliefs, so we had the idea to make a quiz," Peck said. "So, my partner Nick was the engineer behind it, and I wrote some questions."
Peck said that from the start, the iSideWith quiz was based on an algorithm that would match people to different political parties based on their responses to a set of questions, and quiz-takers who signed in and established an account had the ability to share and compare it with friends.
"We created it and put it on Facebook and started sharing it," he said. "And we had a few million people take the quiz before the 2012 election."
The quiz was the central feature of the website at the time, and iSideWith gained traction in the press due to the simplicity with which users could share and compare their results across social media — something that had not been done to that extent before.
"Then we started adding more features, like more questions to the quiz and more graphics and tools and other things in the user profile page," Peck said. "And then after that, we added in presidential candidates, and then congressional candidates, and it has kind of picked up from there."
iSideWith is not affiliated with any investors, shareholders, political parties, or interest groups, according to the company website.
iSideWith's 2020 Presidential Election Quiz is Easy to Take and Provides Valuable Insights
This year, iSideWith's 2020 Presidential Election Quiz is front and center on the website.
"Basically, our premise now is that anybody can take the quiz — you don't have to sign in, you can answer like 20 questions or like 150 questions," Peck said. "You can spend 10 minutes or an hour and a half on it if you'd like."
The quiz presents a handful of questions from several different areas, including environmental issues, criminal issues, healthcare issues, foreign policy, and education. Then users have the option to continually expand each topic area if they so choose.
"It will give you kind of a detailed guide on where your beliefs stand compared with political candidates and parties and where you stand on the political spectrum," Peck said. "It can give you a variety of graphics on where you stand on different topics and how you compare to others."
Peck said that, as with its earliest inception, iSideWith still encourages users to share and compare their quiz results with friends and family through social media channels.
Even for potential voters who feel like they have a pretty good sense of how their political views are aligned with candidates and parties can be enlightened by the 2020 Presidential Election Quiz.
"The media has these comfortable stereotypes they like to pigeonhole people in but when you look at all the data and how all your answers compare, there's always kind of some fun surprises you can discover," Peck said.
He said the quiz also leads people who share their results to discover they may have more or less in common politically than they thought.
The Website Features Detailed Data About a Wealth of Issues and Candidates
As the website has evolved, iSideWith is now much more than a quiz, although that remains a key component for the site.
Visitors to the site can essentially access a full 2020 voter guide with information on upcoming elections in specific districts, ranging from agricultural commission races to House and Senate races.
Users can also explore a vast number of issues in detail, including a complete breakdown of quiz responses with added comments from quiz-takers. Visitors can then separate the data into more specific details, including geographic, ethnic, income, or education parameters.
"We receive over 1 million unique answers (and filter out multiple submissions) to our political issues survey per day and categorize the submissions by political affiliation, state, city, and referral website, as well as census data estimates by income, race, education, and household," according to the company website.
Peck said iSideWith maintains about a dozen researchers and developers working to ensure the information on the website is accurate and up-to-date. It also relies on users.
"User feedback is huge for us. That's kind of how the ordering of the quiz is set up," Peck said. "We put the most popular questions first, and then it goes down by tiers. But it's constantly changing. If we add a new question and it's popular, we'll move it to the top."
Users can also submit feedback on whether information on the site is accurate and the research team will evaluate it and change the information if necessary.
As far as maintaining the most accurate information, Peck said iSideWith actually encourages the candidates themselves to take the quiz and upload their official answers to their profiles. And, if a candidate's answer changes or their position moves on a certain topic, the candidate can go in and update his or her profile.
Whether you're passionate about student loan forgiveness, minimum wage increases, environmental issues, or are simply interested in seeing where other potential voters in your region stand on the issues, iSideWith has you covered.
"We'll keep adding new issues and updating the site, and we'll also be getting ready for our local congressional elections coming up this fall," Peck said.
Finally, Peck emphasized how important it is for everybody — especially younger people — to get out and vote. He said with options to vote by mail, it's becoming easier than ever to vote and people should take advantage of this right.