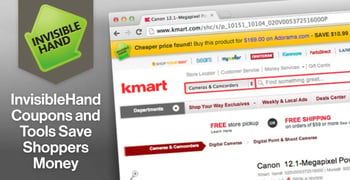 Experts share their tips and advice on BadCredit.org, with the goal of helping subprime consumers. Our articles follow strict
editorial guidelines
.
In a Nutshell: Savvy shoppers know that price comparisons are a must when seeking the best deal, but with so many retailers offering the same products, finding that deal can be a hassle — unless you use tools like InvisibleHand. This unobtrusive browser extension checks prices against a proprietary database, ensuring users are aware of the lowest possible prices. It also automatically applies coupon codes at checkout, helping shoppers save even more money. InvisibleHand never collects data unrelated to price comparisons, and it never sells any of the data it does collect, ensuring its users enjoy a high-quality shopping experience without compromising their privacy or security.
When you're moving into a new house, you've got plenty on your mind; the last thing you want to devote time to is comparison shopping. And, when your list of needs is topped by a major appliance like a refrigerator, it can be tempting to just assume you're getting the best deal at your big-box store of choice.
But you may be missing a better deal — in some cases, hundreds of dollars better — and passing up substantial savings.
This was the situation Karl Quist, CEO and President of InvisibleHand, found himself in. But Quist had a leg up on comparison shopping, since finding deals is his business — specifically, helping consumers take advantage of those deals quickly, easily, and on a range of goods.
"One of the interesting things about price comparison is just the breadth of products on which you can save money," Quist said. "A lot of people don't realize, for starters, how much variation there is from retailer to retailer, and even from day to day, in terms of pricing. And sometimes it's on products you wouldn't even think about buying online."
InvisibleHand is a browser extension available for Chrome, Firefox, and Edge that automatically compares prices and applies coupon codes, ensuring consumers get the best deal on everything they buy online. The software's usefulness in a retail environment increasingly dominated by online sellers is, quite frankly, self-evident.
"When we find savings, we see that the savings is about 17%, on average," Quist said. "We see a very wide range. Sometimes it's more. Sometimes it's less. Sometimes it's a lot more."
Browser Extension Checks for Lower Prices in Real Time
"When you're shopping online and you're looking at a particular product, InvisibleHand will automatically detect what that product is," Quist said. "It will check now about 11,000 different stores for lower prices, in real time, as the page loads."
Most of the time, you won't realize that InvisibleHand is even installed in your browser. The extension remains hidden until you navigate to a product page, and as that loads, InvisibleHand pulls product and pricing information from that page.
The information is sent back to the InvisibleHand server and compared to an index of other prices. The extension will then either confirm you're getting the best deal on that particular product or it will tell you which seller is offering it at the lowest price.
"We're going to show that in a small window that pops up in the top-right of your page," Quist said. "You can click on it and see every merchant that we've tracked that offers that exact same product and what price they offer it for. If you like the price and you like the merchant selling it for that price, you can click on it, and we'll take you right to the page where you can get that from the other merchant."
Obviously, this automated process is far faster and less demanding than conducting a comprehensive price comparison on your own. Additionally, InvisibleHand follows you in your shopping habits, rather than forcing you to use a web portal or platform, ensuring users not only enjoy the best prices but a wide range of shopping freedom.
Automatic Coupons Save Consumers Time and Money
"We've all had the experience where you get to your cart, you realize 'let me check for a coupon,' and you open up another tab, and then you go and Google 'Bed Bath and Beyond coupon,' and you get a bunch, and you try a bunch, and they don't work. You've wasted 10, 15 minutes," Quist said. "We let you know right at checkout, while you're on the site, what the coupon codes are."
InvisibleHand's coupon functionality recently received an overhaul that makes saving money even more expedient. Under the old model, the extension would provide a list of coupons for a particular merchant and allow the user to select one. Now, at checkout, InvisibleHand prompts you to apply coupon codes, but the extension automatically selects the one that is the most advantageous — no copy and pasting or calculating required.
"Now, InvisibleHand will even automatically apply those coupon codes for you and figure out which one's the best one," Quist said.
As of March 2020, this new coupon-application method has currently been implemented for 50 of the retailers that InvisibleHand covers, but it will ultimately be available for every online store the extension is compatible with.
This means no more desperate Google searches in pursuit of coupons that are valid, and no more mental gymnastics to decide which offers you need to apply to get the best deal.
"It's super fast and will help people find savings even easier," Quist said.
Robust Data Privacy Ensures Peace of Mind
With any app or extension that's monitoring your browsing and transmitting information to a remote server, privacy will inevitably — and rightly — be a major concern.
What kind of data is this service collecting? What security risks are involved in sending and receiving it? And how, exactly, is that information going to be used?
The good news for online shoppers is that InvisibleHand doesn't collect any personal information. No account is required to use the extension; in fact, there is no such thing as an InvisibleHand account.
The service operates exclusively through the browser extension, so no data can ever be associated with a particular user because InvisibleHand doesn't have any way of identifying its users and pinning their browsing data to them. The only data the extension does collect is limited exclusively to product information.
"Our privacy policy is pretty straightforward," Quist said. "Basically, the only information we collect is the information we need to do a price comparison."
Although the InvisibleHand extension is running whenever your browser is, it remains inactive when you aren't viewing a product page. When you do, though, it collects only the relevant information discussed above. InvisibleHand does not sell this data at either a user or aggregate level.
"That's a practice in the software business," Quist said. "People collect data and then sell it to others. That's not our business model. Our business model is saving people money, and if we send them somewhere, we get a commission on that. And that's it."
InvisibleHand: Machine Learning Offers Value and Convenience for Online Shoppers
As Quist's refrigerator story proves, InvisibleHand's usefulness is not limited to online transactions. The extension is equally valuable when comparison shopping for in-store purchases.
"There are certainly cases where you want to get something in-store either because you want to get it right away, or maybe you want to be able to return it a little bit more easily. In either of those cases, you want to make sure you're getting a good deal on it," Quist said. "Even before you go into the store, just look at the product and look at it online using our extension, and know what you're willing to pay and know what the fair price is for it."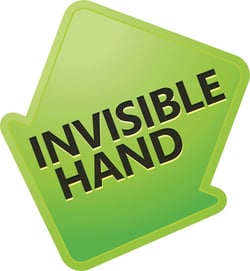 In the near future, InvisibleHand users can look forward to an even more refined shopping experience. Thanks to ongoing investment in machine learning, the extension will soon feature improved matching accuracy.
"In some cases, we show a product that maybe looks very similar, has a very similar model number, but it's slightly different," Quist said. "We're in the final stages of testing some new technology that will dramatically reduce that."
The ultimate goal is to make the extension as useful and valuable to customers as possible. The InvisibleHand team uses the product every day for their own purchases, which helps them stay in tune with how it's performing and what needs to be improved.
"We ultimately want people to trust that when we say they've got the best price, that they really do have the best price," Quist said. "We put a lot of energy into trying to figure out how to do it faster and more accurately, and that's what we've spent the last 10 years doing."