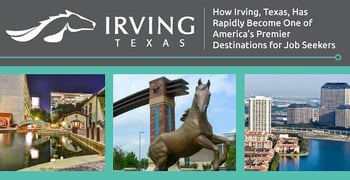 Experts share their tips and advice on BadCredit.org, with the goal of helping subprime consumers. Our articles follow strict
editorial guidelines
.
In a Nutshell: With US urbanization on the rise, people looking for better paying jobs are flocking to cities in record numbers. Untold opportunities exist in larger cities that suburban and rural areas of the country usually don't offer. One example of a city with a burgeoning workforce climate is the North Texas city of Irving. Situated conveniently between Dallas and Fort Worth, Irving has just about everything job seekers need to be successful.
Human beings have been following their livelihood in one form or another for thousands of years. Before modern farming techniques, early humans tracked herds of animals as they migrated, ensuring tribes were never far from a food source. The first Industrial Revolution in the late 18th century led to massive urbanization and gave rise to the first great cities around the world.
The trend continues to this day. Last year in the US, more people lived in cities than any other country in the world. Though the reasons for such a high rate of rural flight to cities vary, one motivating factor remains constant — the search for good jobs.
People move to larger cities quite simply because it's much easier to find decent paying jobs within a variety of sectors. And, for the last several years, Irving, Texas, has been a thriving market for job seekers from all over the world. The area saw more people migrate there than to any other area in the years following the recession, outpacing New York, Chicago, Las Angeles, and San Francisco.
As the US job market continues to rebound, urban areas and downtown centers are seeing revitalization across the country, and those in need of work are finding it in Irving and places like it. Irving's location is somewhat unique — right between Dallas and Fort Worth, two of Texas' largest cities.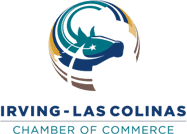 "We're about seven miles west of the downtown Dallas central business district and about 20 miles east of downtown Fort Worth," said Beth Bowman, President and CEO of the Greater Irving-Las Colinas Chamber of Commerce. "We've got about 8,500 private and public businesses here in Irving, more than any other city in the Dallas/Fort Worth metroplex, so we're definitely a community built for business, jobs, and so much more."
Irving's prime location isn't all it's got going for it. World-class healthcare, an abundance of parks and green space, three colossal entertainment/retail/dining developments, and one of the most culturally inclusive communities in the entire country have people flocking to the area in record numbers — all of which contribute to our recognition of Irving as one of the Best Cities to Jump-Start Your Career.
A Central Location Between Two of Texas' Largest Cities
Location, location, location. It's a clichéd refrain in real estate, but it's certainly relevant to job seekers too. Certain criteria make some cities particularly attractive to workers, and Irving meets nearly all of them.
First, residents of either Dallas or Fort Worth are just a 30-minute drive or less from Irving. So, Irving's central location serves to create opportunity not just for Irving residents, but also for the 3.2 million skilled workers in the Dallas-Fort Worth area. In addition to Irving's close proximity to these two cities, it also has the good fortune of being situated extremely close to two other invaluable assets.
"There's no other city in North Texas that offers the convenient access to two major airports — just minutes away from Dallas/Fort Worth and Dallas Love Field," Bowman said. These two airports, each located just minutes from Irving proper, present another huge benefit to job seekers in the area, in addition to being simply convenient.
"The location of these airports in relation to Irving has a great deal to do with our appeal to corporations," she said. "It's extremely easy for people to come and go on business, and that's one of the many reasons Irving is home to so many companies."
And enterprise-level, job-heavy corporations are something Irving has plenty of, as many Fortune 500 companies are headquartered there. ExxonMobil, Kimberly-Clark, Nokia America, BlackBerry, and La Quinta Inns and Suites all call Irving home. And these are just the companies that have headquarters in Irving — the city also plays host to a plethora of branch locations for major firms across a spectrum of industries.
Because the Las Colinas region — one of Irving's two master planned communities — of Irving is home to many of the city's corporate and business operations, the entire area is commonly referred to as "Irving/Las Colinas." Bowman described some of the variety represented among the companies there.
"We have a large sector of logistics and distribution, as well as life sciences, health care, aerospace aviation, and manufacturing; our pro-business attitude allows us to pull up the red tape and roll out the red carpet. Irving/Las Colinas is truly a business-friendly city in a very business-friendly state."
Irving/Las Colinas also enjoys an updated, extensive highway system that serves as an advantage for commuting workers.
"There's no other community that has modern highway infrastructure that provides a skilled workforce of 3.3 million people just a 30-minute commute right to our door. That highway infrastructure is critical because if they can't get here, they can't work," Bowman said. "Additionally, the Dallas Area Rapid Transit (DART) provides easy access to the heart of our business district, as well as connectivity to the downtown Dallas central business district for commuters. DART also services both airports, of course."
Award-Winning Hospitals and Miles of Green Space Promote Healthy Lifestyles
A range of job opportunities and excellent transportation options are obviously very important to people looking for work. But they still represent parts of a very big whole that is life.
To truly be happy, people have to be healthy and have the means to take care of themselves. This is also particularly important to employers, as they want their workforce to be both healthy and happy. Irving has plenty to offer in the way of worker well-being.
"We have over 200,000 acres of recreational land, 43 parks, a master plan trail network which runs about 22 miles along the Elm Fork of the Trinity River," Bowman said. "We offer everything from picnicking to hiking and biking trails, fishing, swimming, canoeing, boating, and paddle boarding — which is very popular right now. Employers really want to encourage their employees to have healthy and active lifestyles, and that's really easy to have here in Irving."
Access to quality health care and education is just as important to physical and emotional well-being as is fresh air and physical exercise, and Irving has some of the best hospitals in the state.
"We have two award-winning, specialty hospitals — the Medical City Las Colinas and Baylor Scott & White Medical Center Irving, which continues to reinvest millions in their facility," Bowman said. "Additionally, workforce and education continue to be top priorities for our community. We have one of the highest concentrations of STEM-educated workers in the country. Eight colleges, 106 schools located within a 20-mile radius of Irving/Las Colinas that are creating that talent pipeline for tomorrow."
Three Major Developments Provide Jobs and Entertainment to the Area
Without question, growth in large urban spaces equals jobs. From the construction workers tasked with building new structures and installing needed infrastructure to the cooks, servers, bartenders, security staff, and technicians filling service positions — development means lots of work.
Irving is on the verge of three massive, multi-purpose entertainment and residential developments that will put thousands of people to work.
"Opening soon is the Toyota Music Factory, which in addition to a Live Nation music pavilion capable of seating up to 8,000 fans, has commercial office space, retail stores, 22 different restaurant types, residential living spaces, and they neighbor Lake Carolyn," Bowman said. "No other city is offering this kind of space inside a vibrant urban core area."
Just across State Highway 114 from the Toyota Music Factory sits a mixed-use development called Hidden Ridge. Originally the homestead of Las Colinas founder, Ben Carpenter, the 110-acre space is the future site of Verizon Hidden Ridge. Already under construction, the project will surround Verizon's existing 1.2 million-square-foot campus and will hold the Irving-based headquarters of Pioneer Natural Resources.
"There is the potential of another 2.5 million square feet for corporate office tenants," Bowman said. "There will be a 200-room full-service hotel, about 1,200 apartments, 80,000 square feet of restaurant and retail, and 2 acres of green space and other amenities sparking innovation."
Finally, Gables Water Street is a brand new, one-of-a-kind mixed-use development that borders the beautiful, 126-acre Lake Carolyn, which is in the heart of Irving/Las Colinas' urban center.
"Gables neighbors one of our iconic office buildings, the Towers at Williams Square, which has over 1 million square feet of Class A office space," Bowman said. "It features 60,000 square feet of dining and retail space with more shops opening regularly and about 300 luxury, multi-family opportunities that front the water."
These three developments are driving significant growth in Irving/Las Colinas and bringing a lot of jobs to the area.
One of America's Most Culturally Diverse Cities Offers Inclusion to Everyone
As we continue to pursue opportunities to grow, start families, and find happiness in life, we will also continue to seek out something else — inclusion.
Variety is the spice of life, and being accepted by your community and peers is integral to your well-being. Irving/Las Colinas is known for its diversity, with residents living and working in the area representing myriad ethnicities, faiths, creeds, and lifestyles. In fact, Trulia.com conducted a study that revealed Irving was home to the nation's most diverse ZIP code (75038).
"It's truly a community where we don't just talk about our diversity, we celebrate complete inclusion for all people to live and work and be happy," Bowman said.
And when people can find both work and acceptance, they can truly be happy.
"The numbers don't lie, we've got the jobs," she said. "According to the Bureau of Labor Statistics, 100,400 new jobs were created last year in the Dallas/Plano/Irving area, and we accounted for 71% of those jobs. Job creation is growing at 3%. Our doors are open for business, and everyone is welcome."