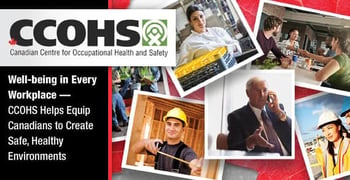 Experts share their tips and advice on BadCredit.org, with the goal of helping subprime consumers. Our articles follow strict
editorial guidelines
.
In a Nutshell: Physical and psychosocial threats to health and safety may go overlooked in office environments, especially in relation to hazards like those apparent on construction sites. However, it doesn't make them less important. Luckily, organizations exist that help promote employees' physical and mental health. For example, the Canadian Centre for Occupational Health and Safety (CCOHS) is dedicated to advancing wellness and safety in all workplaces. By providing informational resources and education and by offering personalized assistance to concerned workers and workplaces, the organization helps improve the general quality of professional and personal well-being. Through these efforts, CCOHS helps Canadian workers protect their right to — and their responsibility to help maintain — a safe, healthy working environment.
Workplace health and safety is a concern for everyone. Obviously, it's a primary issue for jobs involving construction, heavy machinery, hazardous materials, and the like. But it's also a relevant — and sometimes overlooked — topic for white-collar workers, as well.
Office jobs can harbor a range of hazards, from potentially toxic cleaning chemicals and ergonomics to stray cables that present tripping hazards. Although these may seem less threatening, they are still real safety risks. Moreover, the office environment can also host mental and emotional hazards, like workload stress and harassment from other employees — all of which can impact a person's life on the job and off.

To find out more about workplace safety and the rights of Canadian employees, we recently reached out to the Canadian Centre for Occupational Health and Safety (CCOHS).
"We like to think there's a big connection between the health and well-being of people and their working environment, whether that is a construction site or an office," said Sonya Tonkovich, Occupational Health and Safety Specialist for the CCOHS.
That is why CCOHS provides Canadian workers with information and resources to safeguard themselves in the workplace. In this way, the organization helps men and women across the nation enjoy a better overall quality of life, both personally and professionally.
Advancing Safety and Wellness for All Canadian Workers
CCOHS is overseen by a council of governors with representatives from federal, provincial, and territorial governments as well as employer and labour groups.
"It's a structure that ensures we have a balanced and impartial approach to everything we do," Tonkovich said.
This representative leadership ensures the organization provides maximum benefit for all working people.
"The Canadian Center for Occupational Health and Safety is meant to be a national resource for the advancement of workplace health and safety," Tonkovich said. "Part of the important work that we do here is to serve the working population in Canada by effecting positive change. We hope to help create healthy workplaces and prevent work-related illness and injury."
CCOHS approaches these tasks by providing crucial health and safety information. These resources help workers and workplaces identify vulnerabilities and hazards in the workplace that threaten their physical, mental, and emotional well-being. CCOHS also provides educational material to help mitigate hazards and resolve problematic scenarios.
As noted, these dangerous situations extend beyond explicitly hazardous professions into all spheres of employment.
"In an office, the physical hazards might be something like a phone cord or an electrical cord on the floor," Tonkovich said, "and that would be a physical tripping hazard."
Other office issues include ergonomics (the efficiency and safety of the designed environment) and its impact on worker wellness. For example, a keyboard at the wrong height can cause carpal tunnel syndrome, or a chair with insufficient support can lead to back injury.
Beyond physical hazards, workplaces can present dangers to mental and emotional health as well.
"Sometimes, we don't talk about the psychosocial hazards as much," Tonkovich said. "They're a little bit less tangible and maybe more difficult to address. Those are things that are typically mental-health related: workplace stress, harassment, or bullying."
This also includes obstacles to work-life balance or finding a healthy equilibrium between professional demands and one's overall lifestyle.
By addressing the full spectrum of threats to personal well-being, CCOHS aims to improve the general quality of life for Canadians during and outside of working hours. The foundation of this mission lies in the Centre's extensive resources, which are aimed at helping Canadians maximize their professional health and safety.
Info and Resources Help Maintain Positive Workplaces
CCOHS's website divides its information into five broad, easily navigable categories: legislation, hazards, workers, health and wellness, and programs. Each of these is further subdivided into more specific topics.
The legislation section covers workers' rights and responsibilities, as well as enforcement among jurisdictions. The hazards category highlights physical, psychosocial, environmental, and other workplace dangers. The workers section provides information to young, aging, and migrant workers, all of whom are more vulnerable to work-related illness and injury. The health and wellness category explores the connection between a person's health and their work environment, particularly focusing on aspects, like mental health, harassment, and work-life balance. Finally, programs outline preventative health and safety guides, including safety programs and hazard management systems.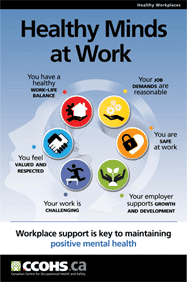 The resources on these topics are developed by specialists in each field. CCOHS's offerings include infographics, online courses, podcasts, promotional materials (like posters for the workplace), databases, and a host of other forms. The Centre updates these materials on an ongoing or as-needed basis.
Readers harboring concerns about any of these topics, or others, are encouraged to start with CCOHS's extensive fact sheets. These are available on the website; each is listed on a centralized roster and appears on the relevant subtopic's page. The fact sheets are also available as mobile apps for easy recall and reference.
But not every question or concern can be addressed by fact sheets or other resources. That is why CCOHS also offers more personalized help to concerned Canadians.
Safety InfoLine Provides One-on-One Support
Sometimes, concerns about workplace safety require a more incisive approach.
"For people who need more one-on-one support or have some more specific questions, we offer a confidential service called Safety InfoLine," Tonkovich said.
This service, handled by CCOHS's Inquiries and Client Services (ICS), offers four ways to connect with additional information and assistance. Representatives can be reached by email, phone, post, or in person at CCOHS offices in Ontario. All these means of contact are free and confidential, and they are available in English and French to all Canadians.
Teams of occupational health and safety specialists respond to each query. These experts are trained in information retrieval and have access to all of CCOHS's resources, allowing them to provide the most relevant answers and information. All responses are reviewed by subject-area specialists before they are sent to the inquirer.
Written responses are usually provided via email, making it easier to share and circulate the information with coworkers, health and safety committees, and other representatives. This way, Canadians can make the most of what they've learned and put it to work protecting their own wellbeing and that of their office as a whole.
Advancing the Right to Enjoy — and the Responsibility to Ensure — Safe Working Environments
Every Canadian worker has three rights regarding workplace safety. First, they have the right to know about workplace hazards and receive training, education, and supervision adequate to ensure their safety. They also have the right to participate in workplace health and safety, which includes reporting unsafe conditions. Finally, they have the right to refuse unsafe work and to enjoy protection against reprisal for doing so.
But these rights also come with a responsibility.
"In Canada, it's actually a worker's duty to report hazards or any sort of contravention of the law," Tonkovich said.
The government is obligated to protect workers' safety, but those workers are likewise obligated to aid the government in doing so. In the event of an unsafe situation or condition, the most important step a worker can take is to speak up.
"Don't be afraid to talk to your employer," Tonkovich said. "It's your right to ask questions and report hazards."
CCOHS provides information and assistance to help every Canadian worker embrace their right to a hazard-free working environment and carry out their responsibilities in helping to maintain it.
"Everybody should be empowered and have the knowledge and ability to be engaged in a healthy and safe workplace," Tonkovich said.