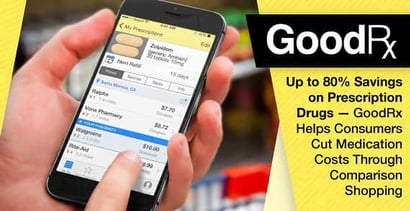 In a Nutshell: There is, quite frankly, no simple answer to the question of why prescription drugs are priced the way they are. However, if you're trying to minimize how much you spend on prescribed medicine, there is a simple answer, and that's GoodRx.com. This platform gives users free and easy access to discounts on medications for themselves, family members, and pets. Plus, these discounted prices may even qualify for reimbursement by insurance companies or count toward annual deductibles. By combining GoodRx coupons with other money-saving strategies, consumers can get the medication they need at the best possible prices.
Since you're reading this article on the Internet, you're probably familiar with some of Doug Hirsch's work.
One of Yahoo, Inc.'s first employees, Hirsch worked for 10 years creating and managing the company's early community and communication products, like Yahoo! Mail, Geocities, chat, and message boards, among others. After that, he served as General Manager of Yahoo! Entertainment before joining Facebook as Vice President of Product in 2005. The following year, he founded DailyStrength, an online community for people facing health and life challenges.
Then, one day around 2011, Hirsch went to get a prescription filled. At the counter, he found the cost was conspicuously high, so he tried his luck at a different pharmacy. There, he was quoted a vastly different price for the same medication. Hirsch realized drug prices are highly variable and that people were spending too much money because there was no way to easily compare the prices different pharmacies charge.
Hirsch then took his epiphany and expertise and co-founded GoodRx.com, a platform that lets consumers comparison shop for their medications, potentially reducing costs by as much as 80%.


"Americans have saved more than $5 billion with GoodRx since we launched in 2011," said Thomas Goetz, Chief of Research at GoodRx.
The platform is completely free and users incur zero obligation. And no personal information is required to use the site — only your ZIP code and the medication you're looking for. Enter those, and GoodRx will give you a list of the best prices in your area.
"It's kind of like Expedia for medications," Goetz said. "We look at pharmacy membership programs, we look at $4 med programs, and we work hard with pharmacies and insurers to provide the best prices."
Price Variability and Exposure to Costs Make Price Comparison Crucial
Consumers experience wide price variations among pharmacies and drugs, and it's often difficult to pinpoint why that is.
"Drug pricing is one of the most confusing and confounding areas of an already confusing and confounding world of healthcare," Goetz said. "There are dozens of reasons why prices vary so much because there are so many different players in the system. There's not just the manufacturer, and there's not just the pharmacies, but there's all these people in between — from their insurer to the pharmacy benefits manager — that are all part of this puzzle, this system that's been created."
In addition to this variability, increasing exposure to drug costs also make it more important than ever for consumers to search for the best deal. As Hirsch explains in a GoodRx blog post, "This Is Why Drug Prices Are Totally Broken," recent healthcare legislation and changes in employer-provided insurance have led to rising out-of-pocket expenses for pharmaceuticals.
Besides higher copays, policy holders now may also face coinsurance, which requires them to pay a percentage of costs (sometimes on top of an existing copay). This exposes the consumer to more of the real cost of medications, which was previously hidden behind their copays.
Watch on
Goetz's advice is simple: "Check your prices. Always check the prices." The job of Goetz and his research team is to make that information accessible to consumers.
"Our task is to understand drug pricing, to understand how the consumer is exposed to all these different prices, and to create information and analysis that explain what's going on day to day, hour to hour with drug prices," he said. "Those are the kinds of things that we're trying to keep on top of so we can help people stay up to date and find that lowest price."
Coupons and GoodRx Gold Offer Savings for the Whole Family — Including Fido and Fluffy
Using GoodRx is as simple as a Google search.
"With your prescription in hand — on the site or the app — you just enter the name of your drug," Goetz said. "Based on where you are living, you'll get a list of pharmacies near you and the prices at those pharmacies."
This list can be sorted by price or viewed as a map to show relative location.
"It might be that Walgreens has a price that's two or three dollars cheaper, but it could be two or three miles farther away from you. So people are able to make their decision about where they want to go and what price they want to choose."
After selecting their preferred store, users need only click the "Get Free Coupon" button. The coupon displayed can be printed and presented physically, or it can be texted or emailed and provided to the pharmacist on your smartphone.
"Most pharmacists across the country by now have come across GoodRx coupons," Goetz said, "so they know what to expect."
GoodRx coupons can be used on any prescription for the relevant drug, including prescriptions for pets. "Americans take excellent care of our pets, and so there are a lot of pet prescriptions out there," Goetz said. "Most pharmacies now accept these discounts for pet medications." Covered drugs include pain medication as well as flea, tick, and heartworm treatments, along with several other categories.
Another strategy for significant prescription savings is signing up for GoodRx Gold, a monthly membership program that offers more than 1,000 prescriptions at less than $10 at thousands of participating pharmacies.
For $9.99 a month, up to 6 family members (including grandparents and pets) receive GoodRx Gold cards they can present to pharmacists to save up to 90% on commonly filled drug orders. And instead of booking appointments to get a prescription, members of the program can also access online physician consultations for $10.
Watch on
GoodRx's coupons and GoodRx Gold program offer substantial savings of time and money. However, those aren't the only ways that careful consumers can reduce how much they pay for their medications.
Prescription Claim Forms Can Reduce Out-of-Pocket Expense
GoodRx discounts cannot be combined with insurance or state-funded programs, like Medicare or Medicaid. However, anyone can still use GoodRx coupons and cards.
"When people use the discounts on GoodRx, they're typically choosing not to use their insurance. So, oftentimes, people will find that a price on GoodRx is cheaper than what their insurance copay might be if they're in a high-deductible plan, or if their drug isn't covered by their insurance."
GoodRx cautions customers to specifically instruct pharmacists not to run their prescription through insurance to ensure they're getting the best price.
Goetz recommends that anyone who is insured and paying out-of-pocket while using GoodRx coupons to file a prescription claim form with their insurance providers. This form, along with the relevant receipts, allows consumers to request compensation for their medication, either as a reimbursement of cost or by having the payment counted toward their deductible.
"It's another way to get the lowest price," Goetz said. "Use the coupon to get your lowest price, and then send in your receipts and use the prescription claim form to see if you can get your money back."
Insider Tips to Maximize Savings Through GoodRx
Beyond using GoodRx and comparing prices, Goetz offered a few additional tips to help our readers save even more money when buying medication.
The first is to ask your doctor for a longer-duration prescription. "If it's appropriate for the medication, ask for a 90-day fill instead of a 30-day fill," Goetz said. "That can often be a way to save. By getting a longer-duration prescription, you can get a better deal."
The second is to get a prescription for a generic version of a drug if one is available. "Always ask your doctor or pharmacist to make sure you're getting the generic version. 90% of the drugs Americans take are, thankfully, generic," Goetz said. "It's just like a store brand with other products. If you can get the generic version, you're going to save a lot of money."
Another option, suitable only in certain cases, is to ask your doctor for a larger dosage and then split the pills. "For instance, if you have a prescription for a 20 mg dose, but the pill comes in 40 mg, those are often priced almost the same," Goetz said. "So, if you get the 40 mg and cut the pill in two, you can make the money go twice as far." But he's quick to add the caveat: "You want to be very careful; you have to do that with your doctor's guidance. Not all pills can be split like that."
Combining these tips and the discounts offered by GoodRx mean big savings for anyone regularly purchasing pharmaceuticals. By shopping smart, consumers can gain control their prescription spending, putting money back in their pockets without skimping on important medications.
Advertiser Disclosure
BadCredit.org is a free online resource that offers valuable content and comparison services to users. To keep this resource 100% free for users, we receive advertising compensation from the financial products listed on this page. Along with key review factors, this compensation may impact how and where products appear on the page (including, for example, the order in which they appear). BadCredit.org does not include listings for all financial products.
Our Editorial Review Policy
Our site is committed to publishing independent, accurate content guided by strict editorial guidelines. Before articles and reviews are published on our site, they undergo a thorough review process performed by a team of independent editors and subject-matter experts to ensure the content's accuracy, timeliness, and impartiality. Our editorial team is separate and independent of our site's advertisers, and the opinions they express on our site are their own. To read more about our team members and their editorial backgrounds, please visit our site's About page.