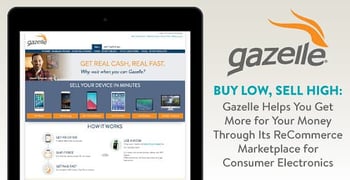 Experts share their tips and advice on BadCredit.org, with the goal of helping subprime consumers. Our articles follow strict
editorial guidelines
.
In a Nutshell: New consumer electronics devices have become a staple of modern life, but they can be cost-prohibitive, particularly if you have financial issues. Enter Gazelle, which launched in 2006 on the premise that, just as people can buy and sell a used car, they should be able to buy and sell used electronic consumer devices. Gazelle is an online marketplace that serves dual purposes: facilitating the sale of old electronic devices and allowing consumers to buy good-as-new ones at a price that's lower than retail value. Founded as an online trade-in service, Gazelle has since expanded into an online store that sells pre-owned devices, and has kiosks throughout the country, where people can drop off their old devices and get paid for them on the spot.
Keeping up with the latest technology for iPhones, iPads, MacBooks, laptops, and computers can be a moving target. Technological innovation moves quickly, and so do prices. For example, an iPhone 7 Plus with 256GB of storage typically retails for $969.
That's probably out of reach for a lot of people. But what if you could have it for $699? Or if laptops are your thing, how about a MacBook Air for $749 instead of the retail price of $1,649?
A San Diego-based company called Gazelle makes those prices possible while keeping consumer electronics out of landfills. The reCommerce company buys gently used devices from people and re-sells them at gentle prices. It does this online, or at more than 2,400 automated machine kiosks spread throughout the country where people can simply drop off their devices and get paid on the spot.
With the US wireless market moving away from traditional two-year contracts, more consumers are updating their phones annually, and trading them in allows consumers to save money on their next phone purchase. These recent trends have put Gazelle in prime position as a trusted source of almost-new consumer electronics.
Gazelle's E-Commerce General Manager Yanyan Ji told us consumers have turned to Gazelle for many reasons, including to buy and sell electronic devices they no longer use, and to research the value of devices they own or aspire to own. Yanyan took us through how the trade-in and purchasing works, and how much people generally save by not paying for brand-new devices.
How it Works: Buying and Selling Through Gazelle
If you're selling online, the "How it Works" tab on Gazelle's website will walk you through the sales process. First, you'll have to answer a few questions about your device to make sure it qualifies for re-sale. If everything checks out, you'll then need to contact your service provider to deactivate your phone. After shipping it for free, the Gazelle staff will check it out to ensure quality.
Yanyan said Gazelle determines the monetary value of the device based on the make, model, and condition. "The newer your device and the better its condition, the more you can expect to receive when trading it in," she said.
"For example, an iPhone 5, the oldest iPhone model that Gazelle accepts, will net around $10, while an iPhone 7 128GB in flawless condition will net approximately $390," she continued, adding that devices deemed in too poor a condition for resale can still be recycled at a kiosk.
Gazelle runs devices through a 30-day inspection process, in which employees ensure that the phone's data has been wiped, that it's not been reported lost or stolen through CheckMEND, and that it matches the quality that the seller promised when making the sale.
"If the model and condition are confirmed during the inspection, the payment is processed within 3-5 business days," Yanyan said, adding that Amazon and PayPal are the fastest ways to process payment, but Gazelle will also mail checks through UPS. Sellers are kept abreast of the payment status throughout the process, Yanyan added.
If Gazelle's product value assessment differs from that of the seller's, it can also change the terms of the agreement.
Cellphones, Tablets, Laptops & Computers with No Contracts
Gazelle buys and sells a variety of products, including several iPhone models, from the iPhone 5 to iPhone 7 Plus, as well as other mobile phone models, such as BlackBerry, HTC, LG, Motorola, Nokia, and Samsung. The company also accepts iPads, including the iPad Pro, iPad Mini, iPad Air, and iPad, and other tablets, including Asus, Amazon, Google, Microsoft and Samsung. Other acceptable products include MacBooks, the Touch, Classic, and Nano iPods, Apple TV, and Apple Display.
Gazelle even pays people for broken iPhones. Gazelle also certifies products, without encumbering people in contracts, which gives consumers more freedom to choose a plan that best fits their needs.
And since there's always some measure of risk when buying a used product — or a new product, for that matter — Gazelle includes a 30-day return policy beginning on the delivery date. For returns, Gazelle refunds the amount of the item, minus a $15 restocking fee. This way, consumers can feel confident that the device they buy is in great working condition without taking on much risk.
Over $200M Paid to Users Since 2006
Since Gazelle was founded in 2006, it's helped thousands of customers, and in 2014, the company reached its $200 million mark — which is the amount it had paid out to sellers since the company began. And since it was acquired by ecoATM in 2015, it now has thousands of kiosks spread across the country.
Gazelle tends to see the greatest volume coming through its Louisville, Kentucky-based processing facility right before the launch of new iPhones on the marketplace. During these peaks, the company typically receives thousands of old iPhones each day, while sending out close to that number in sales.
It should come as no surprise that a company that helps keep consumer electronics devices out of the trash also has a corporate responsibility program that helps consumers earn money for important world causes. Individuals or organizations that support a cause can create their own fundraising page, and make buying and selling devices a community-wide endeavor. Each organization gets a 15% commission on every sale, which can add up to serious donations.
Meanwhile, Gazelle's grants program donates devices to public schools, and its "Cell Phones for Soldiers" gives phones to veterans.
As fewer consumers get locked into long-term contracts, Gazelle is proving to be a valuable online marketplace where consumers avoid paying full price and devices find a second life.