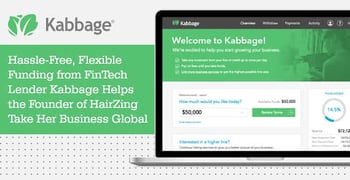 Experts share their tips and advice on BadCredit.org, with the goal of helping subprime consumers. Our articles follow strict
editorial guidelines
.
In a Nutshell: Capital is the oxygen that keeps small businesses alive. Many ventures fail because they don't have access to the funds they need to market, maintain, and manufacture the products they sell. Francesca Kuglen experienced this firsthand when her HairZing invention was copied and mass-produced by a competitor. After a long court battle, she was left with no funding to continue her business. In need of an honest, timely loan, Francesca discovered Kabbage, which brought her a fast, affordable line of credit that helped her business take off. A 10-minute online application can provide small business owners access to credit lines of up to $150,000, with no origination or hidden fees.
Anyone who has run — or attempted to start — a small business knows just how important capital is to operations. Without proper funding to produce, market, and display your goods, cash registers go silent and doors get closed for good.
Francesca Kuglen understands this more than most business owners.  Her invention of a stretchable double hair comb led to the founding of her company, HairZing. While in patent pending, HairZing became an instant hit and gained a lot of attention — including catching the eye of an infomercial company that began selling an identical product.
A court battle ensued beginning in 2009. The legal proceedings drained Francesca and her family of their energy and life savings, and her husband suffered a heart attack likely caused by the stress the family was under. With little left to offer other than her morals and determination, she fought the competitor until she eventually won her patent.
"By the time we got our patent, they had already made tens of millions of dollars selling their product, and we had lost every client we had," she said. "Just getting the patent was like climbing to the top of the dung heap, but you're still on a dung heap."
With no capital to produce new HairZing products, Francesca sought funding from the bank she'd done business with for 30 years. Despite an impeccable payment history with the institution, she was labeled too risky and her loan application was denied. Online small business lenders pounced on her desperation for funds and extended lines of credit, but with outrageous fees that hindered any potential growth her company had.
"When I first learned about these types of credit lines, I took out a line of credit with another company," Francesca said. "It was a $60,000 line of credit that we paid back on time and with no problems — but we had to pay $13,000 in fees on top of the $60,000."
That's when she found FinTech innovator Kabbage, which specializes in small business loans that are both fast and affordable. The company prides itself on helping more than 130,000 SMB clients grow larger every day.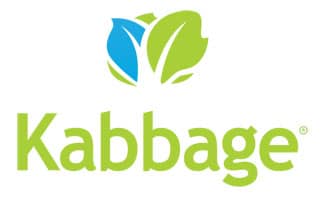 Francesa said she knew that obtaining affordable working capital would be the deciding factor in HairZing succeeding, or frizzing out. Her experiences with other lenders helped her delve deep into the fine print of line of credit offers from other companies. Kabbage stood out among the competition.
"At first, I thought they were scamming me because their fees and charges were so much lower than everyone else's in the industry," she said. "I thought that there had to be a catch. I did some investigation and everything about Kabbage came up different than the other companies."
Backed by Kabbage loans, HairZing sales are now growing rapidly on its own website, as well as through e-tailers like Amazon.com. The company plans a global rollout in 2018 that will make the product available in other global markets, like Europe.
Qualify in 10 Minutes for Up to $150k in Flexible Funding
Access to capital is important, but experienced SMB owners understand that getting their hands on that capital at the right time can mean the difference between closing a deal or getting shut out. Cash flow problems are to blame for the failure of 82% of American small businesses that don't make it. Those businesses need capital, but the interest rate and fees attached to those funds are often more than the business can afford.
Kabbage's 10-minute application helps business owners get access to up to $150,000 in credit, with funds directly deposited into customers' accounts within one to three business days. The quick turnaround time helps businesses meet demands, like payroll and manufacturing costs without having to delay action until payment comes from their vendors.
"Speed, flexibility, and accessibility are everything," said Victoria Treyger, Chief Revenue Officer of Kabbage. "Small businesses are typically underserved by banks because it's hard and not cost-effective. It costs a bank the same to underwrite a $20,000 loan as it does a $20 million loan and they tend to favor the latter."
Kabbage appeals to tech-savvy entrepreneurs by letting them go through the entire process — from application to approval to funds management — via a mobile app available for iOS and Android devices.
"Every company needs capital to survive," Victoria said. "Helping small businesses have the money they need to build a business, pursue their passion, and provide for themselves and their community is our motivation at Kabbage."
A Business Loan that Prioritizes Your Present Over Your Past
Most business owners who need a loan immediately think of their local banks, but most of those institutions favor issuing loans to larger, more established businesses over smaller startups. Loan approval can be difficult for SMBs because banks gauge creditworthiness on lagging data points — like previous tax returns, 3-month-old bank statements, and other old variables.
Kabbage asks customers to give the company access to live data from a variety of sources — including banking data, bookkeeping software, shipping accounts, payment processors, eBay, Amazon, and even Facebook. The company uses the real-time view into the business to assess its creditworthiness.
Kabbage customers can later extend their lines of credit in less time than it takes to check out at the grocery store.
"If I needed to access money from Kabbage right this minute, I could go on my phone and log into my account, and with no fees or charges, I could request a specific amount and get a response within eight seconds," Francesca said. "I'd then get an email with options to choose from on how I'd want to repay the loan. Then, I'd get an email with the exact terms of the loan."
Six- and 12-month terms are available through Kabbage, with monthly payments directly deducted from your business bank account.
"I get an email about a week before each payment comes out reminding me that they're going to be taking the money from my account," Francesca said. "I don't need to approve anything or write a check. They do everything for me — and all with the lowest rates I've found in the industry."
Investing in the Entrepreneurial Spirit of SMBs
Small business owners, like Francesca, often sacrifice things they love in the present for the hope of future returns. Regular eight-hour days don't apply when you become your own boss.
For Francesca, that meant decades without days off, much less a vacation. Seven-day work weeks were the norm. Her husband and stepdaughter were on board with her dream and supported her through the legal battle that claimed nearly all the money they had.
She said she's emerged stronger and smarter from the ashes of that legal battle. Finding Kabbage was the next evolution in turning her idea into a global product that has helped her business career thrive.
"I've run three businesses over the last 30 years," she said. "I've never claimed bankruptcy and always paid my bills on time. I employ people and help keep the American engine going, but banks wouldn't lend money to me."
Kabbage changed her opinion on small business lenders. The company gave HairZing the working capital it needed to improve its marketing plan, packaging, and business-to-consumer focus.  Francesca said sales are now up more than 33% in less than one year.
"Small business is the heartbeat of the economy," Victoria said. "They represent 99% of all business in the US and more than half of non-farming GDP. They have an enormous impact on communities, jobs, and the future of our economy."
Kabbage said that the small businesses it serves motivate the company to do more for clients. A letter delivered to Francesca proved that when Kabbage offered her the one thing she hadn't experienced through her whirlwind court battle — an all-expenses-paid family vacation.
"I can't even remember the last time we went on a vacation," said Francesca, who's scheduled her all-expenses-paid trip to Puerto Vallarta, courtesy of Kabbage, in the spring of 2018. "I'm so excited and thankful to be able to work with a company that appreciates small businesses and the hard work we do."