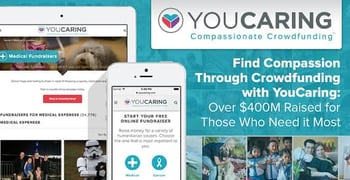 Experts share their tips and advice on BadCredit.org, with the goal of helping subprime consumers. Our articles follow strict
editorial guidelines
.
In a Nutshell: Serious illnesses and natural disasters can strike anyone, anywhere, and rarely discriminate between those who can afford the cost — and those who will be pushed beyond their last cent. In times of hardship, thousands of people have found compassion through YouCaring.com, a crowdfunding site dedicated to helping those in need — without any fees or costs on the part of the fundraiser. Through YouCaring, patients, victims, families, and loved ones can connect with millions of helping hands. YouCaring users have raised more than $500 million around the world, making it a little easier for those hit hardest by life's unexpected events.
When Nora and Aaron met the first time, it must not have been particularly memorable because, well, Nora didn't remember it. However, the next time the couple ran into each other, some years later, Aaron definitely made a much bigger impression — in fact, it was love at (almost) first sight.
"Everything just felt better if Aaron was there," said Nora. "It was so much fun. I remember the first time I stayed over, looking at him and thinking I would be looking at this face when I was 80. I was wrong."
The epitome of a new couple, Nora and Aaron were riding high on life and love, inseparable and convinced they were the happiest couple on Earth. That is, until a fateful day in 2011, when Nora received a call that brought it all crashing down.
Aaron was being rushed to the hospital. He'd had a seizure. After a battery of tests, which the couple rode out with their characteristic good humor, the diagnosis came; Aaron had a brain tumor. Surgery revealed the worst: cancer, stage four.
Rather than be defeated, though, they did the only thing they could — they got engaged.
"I was never a girl who wanted a proposal on a beach, a big wedding. I just wanted us to be married," Nora explained. "We didn't want to give cancer any more power over us by waiting. We wanted to have something good."
What followed that life-changing diagnosis was the same as what had come before it — a whole lot of love and living life. The couple got married, found a house, and even had a child, Ralph. For a short time, the world was theirs. And then it was over, just a few years after that fateful day. Aaron was gone.
Reach Millions of Helping Hands Funding Unexpected Medical Bills & Victims of Natural Disaster
Illness, much like a natural disaster, often strikes when we least expect it. It is rarely fair, rarely kind — and often terribly expensive. Indeed, for couples like Nora and Aaron, lost incomes and high-priced care can make an already exhausting battle even more difficult to fight on their own.
That's where YouCaring comes in. A crowdfunding site specializing in helping families and patients make medical ends meet, YouCaring.com is the go-to platform to connect with helping hands from around the world.
"At YouCaring, we believe no one should face hardship alone," said Jesse Boland, Director of Online Marketing for YouCaring. "Our platform provides financial help and emotional support for those going through a difficult situation. This could be the hardship of covering unexpected medical costs or funeral expenses for a loved one. "
The site helped Nora and Aaron afford the costly hospice care that helped him through his last weeks, as well as providing the means for Nora and Ralph to get through the following months.
"My sister set up a fundraiser," said Nora. "I didn't know how much hospice is, or how much a funeral costs, or how much it costs to raise a baby on my own, so we just threw out a number." That number, $100,000, was reached in just 24 hours through YouCaring, much to the couple's surprise.
In fact, YouCaring has helped thousands of people in need raise more than $400 million — all without charging them a cent in platform fees.
According to the site, "YouCaring is dedicated to helping as many people as possible. This is why we will never charge anyone to raise money on our site. Most crowdfunding sites charge 5% to 10% in fees just to use their platform. We never have and never will. This is because we believe that for people facing life's challenges, every dollar counts."
In addition to never charging fundraiser fees to start or run a campaign, YouCaring does everything they can to make the process as easy as possible. The platform provides templates, tools, and inspirational ideas designed to help you make the best fundraising page you can. Each campaign page can be easily shared across social media, making it easy to spread the word to friends, family — and beyond.
"Sharing your campaign often via social media channels and asking your friends, family, and others to do the same is the best way to raise awareness and support for your cause," states the site. "Every share can raise $37. Multiply those shares and your fundraiser may go viral."
3 Pieces of Wisdom to Guide You on YouCaring
While not every crowdfunding campaign is as successful as that of Nora and Aaron, or as fast, many have found success through YouCaring. To help make the most of their platform, the team at YouCaring has provided a wealth of tips and advice, free for users.
1. Be Open & Honest
According to YouCaring, the most important part of a successful fundraising campaign is an open and honest story. As the site suggests, "You want to write your story both honestly and thoroughly in order for possible donors to understand the full scope of your recent medical burden."
Many of those who raised the most money, or met their goals the quickest, were people with compelling personal stories who also seemed genuine and real.
"If people are willing to ask for help, their community, and strangers, will answer that call," Jesse explained. "We've found, people who are very open and transparent with their situation receive more support. Potential donors want to feel connected and know the story of who they're giving to."
2. Pictures are Good, Videos are Better
Just as important as the words you use to tell your story can be the media you use to illustrate it. As the site explains, "Essentially, you want to attach a face to the name for possible donors so they can form a connection. This bond is key in crowdfunding because they may be more inclined to donate to your cause."
Your fundraising page should include several photos of the person or people who will benefit from the campaign. Focus on bright, attractive photos, and provide a variety of settings and scenes. You may see more engagement if you include at least one good-quality video. "Fundraisers with videos raise 70% more on average. Videos are your most impactful tool to connect emotionally with potential donors, heighten awareness and boost donations."
The site also recommends providing several updates during your campaign, including new photos and videos. "Fundraisers with 20 or more updates, on average, meet their fundraising goal."
3. Be Cognizant of Privacy
In contrast to points one and two, or perhaps the caveat attached to them, is the warning to be cognizant of your privacy. Anything you put on the internet, including photos and videos, will likely live there in perpetuity.
You — or your child or loved one — may not want the intimate details of an illness available for the world to see several years down the road. So, while it is certainly recommended to be honest and open, and to provide pictures and video, always be aware of what you're putting out into the World Wide Web. Don't publish anything you may want to be private in the future.
Safe, Secure Fundraising for Life's Unexpected Events
As a previously healthy man in his early 30s, Aaron, unfortunately, didn't have life insurance before his first seizure and life-changing diagnosis. The money raised for the family through YouCaring not only went to hiring much-needed help and hospice care in Aaron's final days, but also allowed Nora to, "put together the best funeral ever, for the best guy we've ever known."
Though disasters of all kinds can strike us all, Nora and Aaron's story shows the spirit of human compassion is alive and well in the most unlikely of places — the internet.

"The last thing a family needs during this difficult time is to worry about the additional expenses," said Jesse.. "A crowdfunding campaign can help ease the burden, providing an outlet for family members, friends, and communities to band together for those in need."