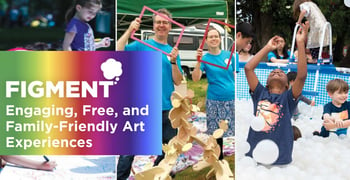 Experts share their tips and advice on BadCredit.org, with the goal of helping subprime consumers. Our articles follow strict
editorial guidelines
.
In a Nutshell: Art has been an important part of the human experience for many thousands of years. The FIGMENT Project takes the art experience outside of galleries and delivers participatory art engagements to audiences in cities across the world. FIGMENT was founded in 2007 by David Koren in New York City. In 2010, the annual event expanded to Boston and has been growing ever since. It has now taken place in 20 cities and five countries. Koren's vision is to keep the event free and break down barriers between artists and audiences. FIGMENT also hosts the annual ALPHA event designed specifically for creators to experiment and collaborate on projects together.
From cave paintings created thousands of years ago to the pop art of Andy Warhol and the abstract expressions of Jackson Pollock, art has been a constant companion to the human species.
In fact, it's just part of being human.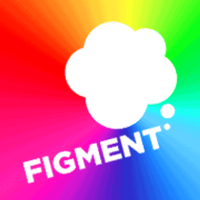 "Engaging with art is essential to the human experience," according to the Brookings Institution. "Almost as soon as motor skills are developed, children communicate through artistic expression. The arts challenge us with different points of view, compel us to empathize with others, and give us the opportunity to reflect on the human condition."
Affirmation of art's crucial role is supported by theories and empirical evidence.
And, while visiting the Louvre in Paris or the Met in New York are great ways to see some of humankind's greatest works of art, the idea of engaging with art doesn't have to be so lofty — or pricey, for those who can't easily afford to travel to those cities.
That's why, each year, the FIGMENT Project brings engaging art experiences to cities across the U.S. and the world.
"FIGMENT's mission is to offer free, family-friendly and participatory art to entire communities," according to the organization's website. "The event removes the barriers of museum and gallery walls and entrance fees, blurring the lines between those who create and those who enjoy art."
We recently spoke with David Koren, FIGMENT's Founder, Executive Producer, and Executive Director about the project's origins and its efforts in promoting art and creativity to the nation.
From a Single Event in New York to Multiple Experiences Around the World
As with the origins of so many artworks over the centuries, Koren had a muse for FIGMENT — Governors Island in New York City, which would become the very first FIGMENT location back in 2007.
Koren explained that the 172-acre island located about 800 yards south of Manhattan Island previously served as a military base for the Army and the U.S. National Coast Guard. The island was decommissioned as a military base in 2003, and the federal government sold it to New York City for $1 with the stipulation that it be reserved for public use.
Cut to 2005, when Koren first visited Governor's Island.
"I was just blown away by this place," he said. "I had lived in New York for 17 years at that point and never really had any awareness of it. I thought, 'Oh my God, this needs to be a place about the arts. We need to create something here.'"
Koren said he began discussing the island with friends and artists when someone suggested hosting an arts festival there, and the gears were set in motion. Then, one morning while Koren was in the shower, the word "figment" popped into his thoughts. He said he remembered how Andy Warhol once said he would like his tombstone to be engraved with only the word "Figment."
"By naming the arts event FIGMENT, it could reference both the great history of art in New York and also the ephemeral nature of the arts event that was starting to be developed," according to the FIGMENT website.
Koren held the first FIGMENT festival on the island in 2007. He said approximately 5,000 people attended the festival, which featured about 60 art projects. The free festival was well-received and attendees and staff members were immediately asking questions about the following year's FIGMENT festival.
Koren grabbed onto the momentum and established FIGMENT as an annual event on Governors Island, he said. In 2010, FIGMENT branched out and held an event in Boston, which was also a success. From there, Koren decided to take FIGMENT to various cities each year.
"Today, we've had 73 FIGMENT events in 20 cities and five countries," he said. In addition to the annual FIGMENT festival in New York, Chicago, Boston, and Toronto have all hosted FIGMENT events in 2019.
Art is Participatory, Not Just Something to Be Viewed
Koren said FIGMENT isn't quite like other art experiences out there, and his distinct vision helps to keep it that way. A huge part of Koren's vision is to keep FIGMENT free and engaging.
"One thing that's really unique about it is that it's free and non-commercial," he said. "What that does is really break down the barriers between the presenter or performer and the audience."
He said that, as soon as somebody pays to see something, the community is immediately divided into separate classes of presenters or performers and audience members.
"We wanted to promote the sense that everybody is part of the same thing, and everybody is able to create," Koren said. "Creativity is something that is common to all of us."
Other motivating factors behind FIGMENT include creating opportunities for emerging artists, increasing access to the arts for everybody, encouraging action over passivity, building community among urban residents, and providing activities for youth and young families.
Koren's vision has led to many unique experiences for FIGMENT attendees over the years.
He recalled a recurring event at New York's FIGMENT event called Aqua Attack, created by an artist collective and modeled after the over-the-top antics of Japanese TV game shows.
"All these crazy things happen. They took two inflatable kiddie pools — one marked 'Superheroes' and one marked 'Supervillains,'" Koren said. "Participants are encouraged to put on costumes, hop into one of the kiddie pools, and battle against the opposing team with soaking wet stuffed animals."
He said the artists running the event keep points and make up rules, sometimes arbitrarily, then declare a winning team at the end.
"Then you're done, and you change out of your costume and welcome back to your real life," Koren said. "What is that? A performance? A game? It's an interactive activity. It's an installation. It's sort of all of those things in one."
The event also speaks to the ideas of battling, performance, and hiding identities, he said.
Other notable events include an artist-designed miniature golf course and an interactive sculpture garden.
"FIGMENT's vision for art looks past the white-walled galleries and into the realm of participation. Art is not just something that you stand still and quietly look at — it is something you participate in," according to the website. "You touch it, smell it, write on it, talk to it, dance with it, play with it, learn from it."
ALPHA Promotes Creativity, Experimentation, and Community Among Artists
For the past seven years, FIGMENT has kicked off its festival season with the ALPHA event, which is focused more directly on people who create.
"ALPHA is a place to experiment and try new things — a place to launch new projects, to collaborate, to improve and refine existing projects, to dive in and create something new and unexpected, to reinvent yourself completely as a creator," according to the FIGMENT website.
Koren said the event takes place in April each year in Maryland and usually has about 100 participants, who are all expected to bring a project.
"The intention of ALPHA is to provide support for creators who are working on interactive or participatory projects in any medium or discipline," according to the website. "This support may be in the form of skills development, help and advice from other creators, collaboration and team-building, or even limited financial support."
The event is open to creators of all kinds. In the past, participants have included everyone from sculptors, social scientists, playwrights, and performers to filmmakers, musicians, philosophers, and architects, among many others.
"The only requirement is that you are working on a project that is interactive or participatory in some way and that you're willing to step out of your comfort zone, try something new, and collaborate with others," according to the website.
FIGMENT has been going strong for 13 years now. Koren's vision to break down the walls between creator and consumer — artist and audience — has been a success. FIGMENT events are particularly exciting for children and families because children get to take part in the installations.
"We're always trying new things, and we have some exciting ideas for how we're going to do things next year," Koren said.