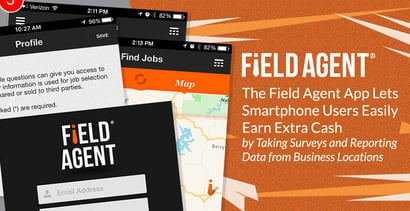 In a Nutshell: Smartphones have not only revolutionized the way we keep in touch with friends and family, but the way consumers and businesses interact. Field Agent is an app that lets smartphone users easily earn extra cash by completing simple tasks while they are shopping. Assignments may include taking a photo of a store display or taking note of an item's price. Field Agent reports this data back to its clients so the companies can have real-time, in-depth information and insights on how their products are being presented to ensure quality and accuracy. Field Agent puts all of its data through a series of QC measures to make sure the data being reported back to clients is also accurate.
There's no doubt that smartphones have revolutionized the way we communicate with one another. Texting capabilities and social media give people the option to remain in near-constant contact with friends and family members.
But the impact of smartphones, with their ability to instantly transmit data, is making waves through the business world, as well.
And the Field Agent app is using the technology to help consumers earn extra cash while helping retailers, restaurants, and other businesses ensure quality control.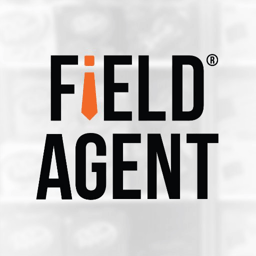 "Field Agent was founded back in 2010 by a group of retail professionals who previously spent most of their careers at Procter & Gamble," said Cory Nelson, Marketing Manager for Field Agent. "They had experienced every issue that the retail professional experiences."
The founding team had identified several key problem areas in the retail experience, namely not knowing how their products were being represented by stores out in the real world. The main issues included not understanding why sales were down in a particular region and whether stores were displaying or pricing their products properly, Nelson said.
"The old way of checking on that type of thing was to fly an executive across the country to spot check a handful of stores," Nelson said. "And the stores may have heard you were coming so they'll make sure to spruce up your products on the shelf."
He said it was a very costly and labor-intensive process and brands were still unsure whether they were actually getting an accurate picture of what was really happening on the ground.
"So when the iPhone came out and it became apparent that seemingly everyone was going to be walking around with essentially a camera and computer in their pocket, the idea for Field Agent came together," Nelson said.
For consumers, Field Agent is an easy way to earn some extra cash while going about their daily routines as usual.
Field Agent Users Get Paid by Completing Simple Tasks, Including Price Checks and Photographing Store Displays
"What's stopping us from asking people while they're shopping at Walmart, for example, to find a display, snap a few pictures of it, and answering a few questions about it? And paying people for doing it?" Nelson asked. "Those questions were kind of the birth of the Field Agent concept."
He said there are a lot of considerations that go into how retail brands want their products presented in stores, and the brands are often at the mercy of store managers to make sure it is all executed correctly.
"It's up to the store manager to make sure the display is even put up at all, or if it's in the right position, if it is priced correctly, or if it is set up away from a competitor the brand doesn't want to be associated with," Nelson said.
Field Agent app users transmit this kind of information back to Field Agent, who then relays it to the brands it works with. App users simply check the app to see what types of jobs are available for that day.
The idea is that users will be able to complete Field Agent tasks while going about their normal shopping routines.
Nelson said users just need to fill out a simple profile to become a Field Agent and start earning money. The profile allows Field Agent to target users with specific jobs that are in their area or pertain to certain demographic groups.
Compensation ranges from $3 to $15, depending on the task, Nelson said.
He said Field Agent is a great way to earn extra cash and some users have made up to $10,000 from completing Field Agent tasks. Nelson said he's heard of other users who complete Field Agent tasks throughout the year, then cash out their balance in December and use the funds for their holiday shopping.
"If you're already out shopping somewhere, it's an easy way to pick up a few extra bucks," he said. "And it really adds up over time."
Field Agent also offers users the option to take surveys for companies, which typically doesn't pay out as much as in-store tasks, but Nelson said they are convenient because the surveys can be done from anywhere.
The App Helps Businesses Ensure Accuracy and Quality Control in a Cost-Effective Manner
Companies can save money and improve their brands with Field Agent's mobile audits, mobile research, and mystery shopper services.
"Companies spend billions every year on displays and other forms of point-of-purchase marketing," according to the Field Agent website. "Mobile Audits offer far-reaching visibility inside stores, so you can ensure your marketing displays are in place, correctly implemented, and making money…not just spending it."
Similarly, ensuring that a brand's product is well-stocked and accurately priced save companies money in the long run.
And not only does Field Agent make it easy for people to make some extra money with minimal effort, but it also allows brands to hear directly from shoppers.
Nelson said that, in the past, brands have conducted focus groups but those only offer a very limited view of shoppers interaction and experience with brands. With Field Agent, brands can get widespread, real-time feedback on what shoppers think of products, displays, and just about any other consideration.
"It's using crowdsourcing to better the shopping experience for everyone," he said. "Some brands may not have heard certain complaints, certain ideas for improvement, or even what's working well for them."
Field Agent also facilitates the use of mystery shoppers on behalf of brands and quick-serve restaurants. The company also works with numerous independently-owned brands, not just large, nationwide retailers, Nelson said.
"Field Agent has a global network of more than 1 million Agents in seven countries…and growing," according to the company website. "Currently in the United States, Canada, the United Kingdom, Australia, South Africa, Mexico, and Ecuador, we provide cohesive auditing and research solutions from around the world."
How Field Agent Ensures It's Providing Accurate Data to Its Clients
Nelson said that because Field Agent relies on user-reported data, it works to assure client companies that they are receiving accurate information.
"We have a full QC team that actually reviews every response to make sure we're not sending bad data to our clients," he said. "It's just keeping honest people honest."
He said the issue isn't that Field Agent is concerned about its app users being untrustworthy, but it's more about safeguarding against honest mistakes. The QC measures tend to weed out users who are trying to fake their way through the process.
Watch on
"Smartphones are equipped with built-in QC safeguards such as the ability to furnish GPS markers and time-date stamps. We know the exact time and location of all submissions," according to the company website. "They say a picture is worth a thousand words, and photo/video verification helps us further ensure the compliance, accuracy, and quality of agent submissions."
"We verify via GPS that they are at the right store, we make sure they are there at the right time," he said. "We review every photo to make sure it's not blurry for the client, or that it's not a screenshot or computer image."
Nelson said that if a Field Agent does happen to make a mistake and complete a task incorrectly, the job is put back into the system for someone else to complete correctly.
"We don't want jobs to stay out there for too long, but it's really important for the information to be correct so we can crank data," he said.
Nelson said Field Agent's dedicated team is always looking for new ways to refine the app experience for users and ensure its clients are gaining valuable insights from the data.
"So we're really out there trying to make sure our agents are having a good experience along with getting paid," he said. "As an agent, you want to have fun, and you want to have a good experience while you're doing it."
Advertiser Disclosure
BadCredit.org is a free online resource that offers valuable content and comparison services to users. To keep this resource 100% free for users, we receive advertising compensation from the financial products listed on this page. Along with key review factors, this compensation may impact how and where products appear on the page (including, for example, the order in which they appear). BadCredit.org does not include listings for all financial products.
Our Editorial Review Policy
Our site is committed to publishing independent, accurate content guided by strict editorial guidelines. Before articles and reviews are published on our site, they undergo a thorough review process performed by a team of independent editors and subject-matter experts to ensure the content's accuracy, timeliness, and impartiality. Our editorial team is separate and independent of our site's advertisers, and the opinions they express on our site are their own. To read more about our team members and their editorial backgrounds, please visit our site's About page.