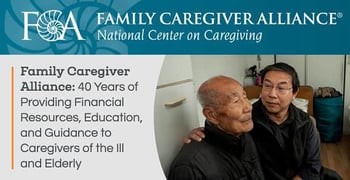 Experts share their tips and advice on BadCredit.org, with the goal of helping subprime consumers. Our articles follow strict
editorial guidelines
.
In a Nutshell: As the US confronts an aging population, the need for caregivers is on the rise. Many caregivers are unpaid family members — either adult children or elder spouses — which can compromise their finances, but paid caregiving services are also expensive. Beyond the financial burden, being a caregiver takes its toll in various ways. A California-based organization called Family Caregiver Alliance (FCA) provides comprehensive assistance to caregivers nationwide, through online resources and guidance, as well as local (to the SF Bay area) in-person consultations. The oldest such nonprofit in the US, FCA is celebrating its 40th anniversary this November.
The US has reached a new demographic milestone: As of November 2016, the senior population — those 65 and over — surpassed 50 million. That number is greater than the population of 25 states combined, and it reflects two trends: the aging baby boomer population, and the overall increase in life expectancy.
To meet the healthcare needs of this population, caregiving is also on the rise. There are both informal caregivers — usually unpaid family members taking care of their elders — as well as formal caregivers who work in patients' homes or facilities.
In 2015, about 34.2 million Americans provided unpaid care to adults 50 or older, equating to significant investments of time and energy.
And, of course, the related financial costs are not insignificant. In fact, the economic value of unpaid caregiving reached $470 billion in 2013. For caregivers, this is an onerous economic burden — especially for those with low incomes (less than $25,000 per year). Nearly half of caregivers report worsening financial circumstances because of caregiving.
Family Caregiver Alliance (FCA) is a nonprofit that helps caregivers of an adult through all aspects of caregiving by providing resources to caregiving daughters, sons, spouses, other relatives, partners, and friends around the country.
The organization, which is celebrating its 40th year of supporting those who care for adults living with life-impairing physical and cognitive disabilities, also offers advice based on individual circumstances and how to plan for or overcome the financial burden of caregiving.
FCA, which is based in San Francisco, was started specifically to help caregivers of people with neurodegenerative disorders, such as stroke, traumatic brain injury, Parkinson's disease, and Alzheimer's disease. Today, also served are caregivers for those living with a broad spectrum of chronic health conditions and general frailty. We recently spoke with Christina Irving, FCA Family Consultant/Clinical Supervisor, about how the nonprofit has helped people over the years.
"Throughout the decades, FCA has been a public voice for family caregivers of adults with chronic, disabling health conditions," Christina said.
Free Online Assessments, Webinars, and Personalized Planning to Prepare and Direct Caregivers
"FCA is dedicated to supporting caregivers individually, and through advocacy — with direct services, education, and public policy advocacy all aimed at supporting caregiving families," Christina said. "We receive calls from caregivers from across the nation. They can get information on what types of services are available to support them in their community. On our website, caregiver.org, caregivers will find a lot of helpful educational materials, videos, webinars, and state-by-state resources on Family Care Navigator."
FCA's website has a myriad of resources, including fact and tip sheets on a variety of neurodegenerative conditions, as well as a page on caregiving issues and strategies that includes sections on stress relief, practical care strategies, and long-distance caregiving, among numerous other topics.
Another offering from FCA is a tailored program, called "FCA CareJourney," in which caregivers can take private surveys about their caregiving experience. Based on those results, they are guided to various resources, including access to a skilled resource specialist.
FCA's direct services target is the "family" caregiver (adult child, spouse, partner, other relative, or friend). who provides long-term care at home for an adult loved one living with a chronic, life-impairing health condition. In the six counties of the San Francisco Bay Area, FCA Resource Specialists and Family Consultants work in partnership with caregivers and their family on short- and long-range planning, provide education and training, give emotional support for decision-making, broker respite and legal consultation services, and links them to other community programs to meet their needs.
"Locally, I meet individually with family caregivers to assess their needs. I often go into their homes to talk through what's going on," Christina said. "Then we figure out what's available, in terms of services and support, and I provide them with education and guidance to help them navigate a long-term care world."
FCA is one of California's 11 Caregiver Resource Centers, providing a full spectrum of family services designed to assist caregivers of adults with chronic conditions in multiple languages. It's a particularly important issue in California, where the elderly population is expected to grow more than twice as fast as the total US population.
Using Data from Caregivers' Real-Life Experiences to Inform National & Local Advocacy Efforts
FCA calls itself "a data-driven organization in our policy work and service practice," insofar as it shares its findings with family caregivers, funders, policymakers, health systems, the media, and others.
The nonprofit started a program in 2001 called the National Center on Caregiving, which provides several resources for policymakers, service providers, and funders of caregiving. For example, it has a state-by-state guide to caregiving-related organizations focused on specific diseases, legal issues, disability programs, and up-to-date fact sheets on long-term care and caregiver related statistics.
FCA also informs and assists government programs, such as the Centers for Medicare and Medicaid Services (CMS), as well as the Veteran's Administration. "We evaluate someone on Medicare/Medicaid to make sure the family caregiver perspective is included," Christina said, adding that often, veterans might not realize they are eligible for Medicaid or food support programs.
"I think it's important to have caregivers reach out as early as they can to explore the different options," she added. "With caregiving, it can be a long-term journey, so we don't want to wait until they're burned out to seek support."
Helping Families Overcome the Financial Hurdles of Caring for Those in Need
Financing caregiving is often difficult — whether unpaid family members are doing it, in addition to or at the expense of their regular jobs — or whether families are paying out of pocket for caregiving services.
"Finances are one of the biggest stressors for family caregivers," Christina said. "Often the caregiver is an adult child, and is still working, and also trying to support their own family." Or, the caregiver is also the elderly spouse, and the couple is trying to live off of Social Security, she added.
In 2005, 56% of California caregivers had an annual household income of less than $40,000. By 2017, that number had risen just 25%, to $50,000. When stressed by the additional financial costs of caregiving, that number can feel even smaller.
FCA has financial and educational resources on its website designed to help make the most of a caregiver's time and money. Among the pertinent topics are articles on "What Every Caregiver Needs to Know About Money" and personal care agreements, as well as answers to questions, like "Can I get paid to care for a family member?"
Through information, support, and advocacy, FCA tries to ensure the burden of caregiving doesn't fall squarely on one person's shoulders.