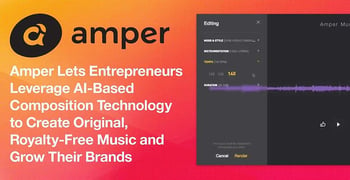 Experts share their tips and advice on BadCredit.org, with the goal of helping subprime consumers. Our articles follow strict
editorial guidelines
.
In a Nutshell: Music in advertising has helped sell products since the early days of electronic media. However, it is often financially out of reach for many small businesses and creators. Amper is changing that by making high-quality, original music available at the click of a button through its sophisticated AI and understanding of music theory. Users can generate a functionally endless variety of original songs in a matter of seconds at a value that helps them grow.
When General Mills was founded in 1856, its sole product was flour — and it remained that way for nearly 70 years. In 1924, it introduced Wheaties cereal. Initially, the cereal did not catch on with consumers, and, by 1929, the company was ready to discontinue the product.
But Samuel Chester Gale, who worked in the General Mills Advertising Department, pointed out that 60% of national Wheaties sales were in the Minneapolis-St. Paul area, where the "Have You Tried Wheaties?" jingle aired each week on a local radio station. So General Mills launched a national campaign using the jingle — and sales skyrocketed.
The story of Wheaties is an early example of how music enhanced an advertising campaign, helped a product succeed in the marketplace, and bolstered a company's profile. Today, music in advertising is so common it's often taken for granted. But according to a Nielsen study, a musical component is a crucial part of any marketing campaign.
For small businesses, though, incorporating music in advertising can be difficult. Obtaining the licenses to use existing songs can be expensive, and most small businesses can't commission an artist to compose an original one. And most people don't have the musical skill and resources to compose and record their own tune.
But AI-based composition technology platform Amper allows businesses and content creators to affordably leverage original music to make the most of their media marketing.
"Amper can generate a unique piece of music in a matter of seconds that's tailored to your content, and you're ready to go," said Drew Silverstein, Co-Founder and CEO of Amper. "The music Amper creates is always new — every single time."
Like all technology, Amper is a tool. For example, using a chainsaw to cut up firewood is more efficient than using a handsaw; the technology automates the labor to make the task more efficient for the user. As a tool of creative expression, Amper is no different. It simplifies the process of creating music for some functional purpose, such as advertising, creating a soundtrack for an indie game or film, or enhancing any content offering that benefits from a musical component that resonates with listeners.
"We work with businesses and enterprises focused on scaling their content creation — either internally or via third parties or other users," Silverstein said. "We expect Amper and our technology to be involved in music creation around the world in the 21st century."
How Composers Taught a Computer to be Creative
Amper was born from the business struggles of producers working in Los Angeles writing music for movies, TV shows, and video games. "I worked for a composer named Chris Lennertz. I worked with him on a lot of the Kevin Hart projects of the early 2010s — things like 'Horrible Bosses,' 'Mass Effect,'" Silverstein said. "My partners worked closely with Hans Zimmer on everything from 'The Dark Knight' trilogy through 'Inception.'"
Two factors spurred this team to explore computer-aided musical production. The first was the demand for their work, which far outpaced their production capabilities. The second was their recognition of technology's potential to help in the process of creative expression through music.
"As composers, our fundamental jobs are to translate music into emotions and emotions into music," Silverstein said. "We spent a fair amount of time figuring out how to teach a computer to be creative. And we had to figure out how to build a technology that would serve the mission of the company, which is to enable anyone to express themselves creatively through music — regardless of their background, access to resources, or expertise."
Silverstein and his partners boiled AI-generated music down to two core areas of focus. The first was ensuring the program had a sophisticated knowledge of music theory and practice — the fundamental aspects of music. The second component is an understanding of both emotion and genre, which are more subjective aspects.
"The brain of the process is in connecting those two buckets to create music," Silverstein said. "If you have an idea, Amper helps turn your idea into reality."
Three Simple Inputs Yield Nearly Limitless Musical Variety
To create music, Amper needs only three inputs: the style the user wants, the mood they want to convey, and the desired length of the track. Although users can take a more active role in creating and customizing the music, as long as they provide those three directives, Amper does all the work. It returns completed audio files in about three seconds per one-minute worth of music.
"The quality of music must be exceedingly high, otherwise the commercial viability of using Amper will fall short," Silverstein said. "One of the key ingredients in quality is ensuring the music is not only written well but also that the performance — or the audio recording — sounds as human as possible."
To achieve this quality, Amper draws on a proprietary sample library that contains every note playable by every instrument, each recorded hundreds of thousands of times in high-quality studios. These basic building blocks allow Amper to create anything that can be played on an instrument. It assembles the components in a way that sounds as if the music is being played and recorded by professionals.
"As you make music, you can give it feedback and say, 'I want more of this, less of that,'" Silverstein said. "You can control and guide the outputs that most successfully help you achieve your goal."
Amper's interface allows users to adjust tempo, instrumentation, and other aspects of their songs. Based on feedback and those adjustments, Amper revises the track and returns another audio file, which users can continue to tweak until they achieve the desired sound.
Royalty-Free Music Enhances Content While Saving Money
Amper's speed and ease of use save businesses time and money by efficiently producing high-quality content. That frees up resources for other important business purposes.
The platform also eliminates many financial and legal obstacles inherent in licensing music. Since it creates every song from scratch to meet user specifications, Amper's music is royalty-free and comes with both global and perpetual licenses.
Just as importantly, Amper enables businesses to connect with listeners on a fundamental level. The purpose of music is not just to convey an emotional state to a listener but also to evoke that state in the listener. Unlike language, music can't communicate concepts or ideas directly. It must do so abstractly.
Consider, for example, "Flight of the Bumblebee" by Russian composer Nikolai Rimsky-Korsakov. The music manifestly indicates something outside itself: the titular action of a buzzing bee. But the song does so through its own structure and logic. The process of listening to the song and following that structure evokes sensations of excitement and liveliness even if the listener has never seen a bumblebee before.
"Music is where the emotion is. Music tells the story. It's incredibly powerful," Silverstein said. "It is that key ingredient, which is why music is emphasized at the highest level of filmmaking. It's also important for us to provide anybody with the ability to create high-quality music without having a massive budget."
A New Foundation for the Future of Composition
When General Mills identified a jingle as the reason Wheaties was so successful in Minnesota, it copied those advertisements throughout the country. The result was plenty of growth and an iconic brand that is still well-known to this day. And Amper brings the power of music to content producers and small businesses everywhere.
"Our goal for Amper is to allow users to create any music — any style, any mood," Silverstein said. "No matter what you want to do, Amper can be your creative partner in that endeavor and help you achieve success in your creative and business goals."
Amper's nearly two-year-long beta has introduced many users to the product and shown them how AI can be a valuable tool for musical expression. The beta has also helped its creators ensure Amper delivers value to its users in the form of capabilities they would otherwise lack. Based on this trial run, Silverstein has high hopes for Amper's future role in music composition.
"Amper's technology could be involved in the creation or collaboration of every piece of music around the world," Silverstein said. "It should be part of the critical infrastructure of music-making in the future."
The purpose of incorporating AI in creative activity is to help people perform their jobs more effectively. Rather than replacing them, the technology allows them to be more prolific in that role.
"There's still a great value in using advanced technology to help in the composition process, the same way technology helps in any process," Silverstein said. "Not only does Amper provide non-musical individuals the ability to express themselves creatively through music, but it also gives existing musicians superpowers to become the best creators they can be."