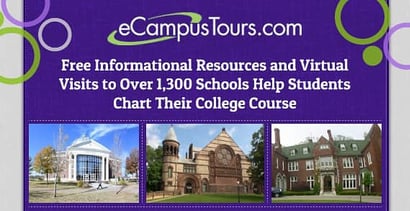 In a Nutshell: For college hopefuls, visiting a school's campus is a great way to learn about an institution and express interest to admissions departments. However, visiting even one campus can be a costly and time-consuming process. To ease the expense, eCampusTours offers free, 360-degree virtual tours of over 1,300 schools. The site also houses a library of resources for students and parents, helping them address and research all aspects of college, including financial literacy for higher education and beyond. Through its tours and articles, eCampusTours helps students economize their college application budget, maximize their academic success, and prepare themselves for a life of intellectual and financial well-being.
You wouldn't spend thousands of dollars on a new car without first taking it for a test drive, would you? The same notion can be applied to investments in education.
According to a 2017 article in Contemporary Economic Policy titled "Demonstrated Interest: Signaling Behavior in College Admissions," college hopefuls who visit schools are more likely to be accepted than students who don't. Depending on the school, admissions departments may place more or less weight on an in-person tour of the campus. They reason that students who invest in the visit are better academic risks who are more likely to take education seriously and complete their course of study.
But, for students, campus visits are costly additions to their college application budgets. Money magazine reported in 2017 that the cost of formal applications and other academic documents (such as test scores) can reach $100 per school — assuming it's not a high-fee school, like Harvard, which charges nearly $100 to process an application. Students who want to make good impressions with admissions departments must also pay for travel, lodging, food, and possible fees — all of which can add up to thousands of dollars, an infeasible sum on most budgets.
With this in mind, it pays to narrow the list and only make visits to schools a student is truly interested in attending. eCampusTours offers a cost-effective strategy to choosing which schools are worthy of in-person visits. The site's virtual tours let students see details of each campus and learn important information about institutions that could play a major role in the decision-making process.
"While we recommend that students visit their top one or two college choices in person in order for them to get an in-depth feel of the campus environment, our website is a great resource for students who may not have the funds to travel, especially if they have a long list of potential schools," said Julie Henry, Director of Communications at Edsouth, the parent company of eCampusTours. Students who are able to tour schools can use the site to narrow their options, connect with their best prospects, and maximize the value of their college tour budget.
eCampusTours also provides students and parents with a wealth of academic and financial resources that can help families both navigate college and earn the greatest benefits from higher education.
"Edsouth believes in investing in the younger generation to help them obtain their dreams, so that's why we are dedicated to promoting interest and awareness of higher education opportunities to students across the nation," Henry said.
Virtual Tours Acquaint Students with Campus Life
Students can make virtual visits to 1,300 different schools on the eCampusTours site. Participating schools can choose 10 places on campus to be featured in their tours, and these often include classrooms and lecture halls, student unions, outdoor spaces, campus landmarks, residency halls, and other unique locations of interest. Each spot is photographed in full 360-degree view — the next best thing to actually being on campus.
The site's photographer visits schools throughout the year, keeping the tours as up to date as possible.
"Anytime the weather is decent, the photographer is traveling, taking pictures of new schools and also doing reshoots," Henry said. "As schools renovate their buildings and grounds, she updates photos for the virtual tours."
Schools are able to add their own information to tour pages, and eCampusTours also curates and annually updates information on each institution. This includes basic information like the year the school was established, the highest degree it awards, and its campus setting. Students can access valuable admissions information like the total number of annual applicants and admission percentages, as well as test score percentiles for the SAT and ACT. The site also provides information on the school's student body, such as total enrollment and demographics.
Prospective students can review programs offered at each school and research opportunities to study abroad or learn more about the university's athletics programs. And, of course, eCampusTours provides information about the costs associated with each school, including tuition and fees, room and board, and financial aid information.
"It's a great one-stop shop for students to go to and compare schools," Henry said.
These features and information helps students focus on schools more likely to grant them acceptance, enabling them to economize their college searches and make effective use of their travel budgets. eCampusTours doesn't fully replace a real campus visit, but it can help students connect with a school, express their interest, and get noticed by admissions departments.
But eCampusTours' value extends beyond getting acquainted with campuses. The site offers a range of academic, social, and financial information that helps students navigate the end of high school, enter college, succeed academically, and prepare for life after education.
Free Resources Help Students and Parents Navigate Admissions and Academics
eCampusTours houses an extensive library of more than 400 articles on topics of interest to students and college hopefuls.
Categories address the various aspects of college life, starting with college planning. Resources in this area will help students choose and apply to schools, use their final year of high school as a stepping stone to higher education, and learn what it takes to achieve high scores on the SAT and ACT, making them more attractive admissions candidates.
As noted, preparing for and going to college is expensive, which is why eCampusTours offers articles on how to finance college, as well. These range across topics like understanding financial aid and FAFSA to ways students can save money on their own. The category also provides tips and advice on finding and applying for scholarships and grants, as well as information on student loans.
eCampusTours also has resources for current college students that offer advice on budgeting, managing finances while in school, and balancing academics with free time, social life, and extracurricular activities. This section also provides information on maintaining health and safety, living on and off campus, and best practices to help freshmen acclimate during their first year.
As they move through prerequisites and general education courses, students will be ready to start exploring their career options, and eCampusTours has them covered there, as well. In the Career Exploration section, students can learn about choosing a major, building their resumé while in school, and entering the job market.


Parents can also find informational resources on eCampusTours. These cover many of the same topics as the student resources — planning and paying for college, campus life, and career exploration — but are geared toward helping parents take a broad, long-term view as they support their children's journey through education.
"The articles under the College Planning section provide useful information on what students need to do to prepare for higher education," Henry said. "Maybe one of the best articles would be Five Helpful Websites for Your College Planning."
She also suggests students look at Your Freshman Year in the Campus Life category. "This is my favorite section," she said. "From learning how to have a successful college orientation experience to learning how to maximize the summer before your freshman year of college, this section will really help incoming college freshmen know what to expect as they begin their college journey." She notes that the information is particularly relevant to graduating high school seniors.
eCampusTours also now hosts a resource category dedicated to financial literacy, which is especially useful for cash-strapped college students, as it helps them manage their money along with their academics. The habits these resources teach will help guide them through college and prepare them for success as independent adults.
Financial Education for College and Beyond
eCampusTours' financial literacy articles are the product of Edsouth's partnership with EverFi and Ramsey Solutions. "Students are coming out of high school without the knowledge they need to make the right financial decisions," Henry said. To help remedy this problem, the site's resources cover various aspects of personal finance.
Perhaps the most relevant categories are Borrowing Money, which addresses debt, credit, loans, and lending law and practices, and Budgeting and Saving, which teaches students about money management, saving for retirement, and investing — all things college students need to start considering. The Money Smart section goes deeper into financial planning and preparing for life events, as well as identity security and insurance.
The other categories are a bit broader in scope, but no less important. The Global Economics category provides an overview of trade, how the market works, and different economic systems. Marketing and Consumerism educates readers on consumer rights, helps them understand marketing, and prepares them to be savvy consumers.
Together, eCampusTours and its partners provide a wealth of information to students who might otherwise struggle with managing money. Through these articles, students learn to maintain their financial health in college and lay the foundation for a successful future.
Preparing Students for Academic and Financial Success
To keep up with all the developments on eCampusTours, Henry recommends following the site on social media.
"We're most heavily active on Instagram, but we just created a Snapchat account where we hope to give our followers a more unique perspective of campuses as we travel taking photographs for our virtual tours," she said. These channels make it easy to stay up to date on new tours, photos, and valuable additions to the site's library.
Altogether, eCampusTours provides a wealth of resources to aspiring and current college students. Between its virtual tours and articles, the site helps students economize the work and expense of navigating college. Just as importantly, it helps them develop a solid foundation in personal finance, as well as academics, maximizing the value of college as a step toward life as successful adults.
Advertiser Disclosure
BadCredit.org is a free online resource that offers valuable content and comparison services to users. To keep this resource 100% free for users, we receive advertising compensation from the financial products listed on this page. Along with key review factors, this compensation may impact how and where products appear on the page (including, for example, the order in which they appear). BadCredit.org does not include listings for all financial products.
Our Editorial Review Policy
Our site is committed to publishing independent, accurate content guided by strict editorial guidelines. Before articles and reviews are published on our site, they undergo a thorough review process performed by a team of independent editors and subject-matter experts to ensure the content's accuracy, timeliness, and impartiality. Our editorial team is separate and independent of our site's advertisers, and the opinions they express on our site are their own. To read more about our team members and their editorial backgrounds, please visit our site's About page.