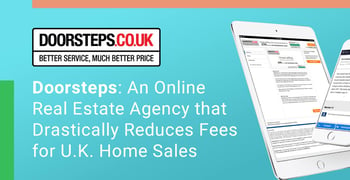 Experts share their tips and advice on BadCredit.org, with the goal of helping subprime consumers. Our articles follow strict
editorial guidelines
.
In a Nutshell: Doorsteps has claimed a growing share of the U.K. real estate market by offering two things: outstanding customer support and low home-selling fees. Its agents work out of a single office where the company leverages technology to cut overhead, and Doorsteps passes that value onto clients. And the agency offers 24/7 customer service from trained local agents. Those strategies have led to glowing reviews for the innovative company that uses digital channels to scale its operation. In the post-pandemic world, that online foundation will help protect consumer health while offering value for homebuyers and sellers.
When he was 16, Akshay Ruparelia already had a plan to leverage the internet to help homebuyers and sellers save money. He envisioned the two parties connecting directly with each other, bypassing estate agencies, and saving hefty fees.
The tool he designed for this ambitious feat was called House Smart, but the app never went to market. Ruparelia discovered that, despite the substantial fees, many people still want a professional agent handling their housing transactions.

"Especially with the biggest asset in their lives, people still tend to need that reassurance when selling a property," Ruparelia said. "It's very much a process, and having a human touch can be quite important."
So with his next venture, Doorsteps, Ruparelia decided to incorporate estate agents rather than trying to sidestep them. That inclusion, a natural evolution of House Smart, allows the service to maintain a personal touch in the selling process while still drastically reducing home sale fees.
"We're a nationwide network of local property consultants that offer face-to-face support and a head office full of staff who focus on customer service," Ruparelia said. "And the combination of the two is a more efficient setup. Plus, we pass our savings straight to the customer."
Users Can Sell Their Homes for Less than £100 in Fees
Typically, when agents sell homes, they receive a commission. According to Finder's breakdown of typical real estate agent fees, they usually range between 1% and 3% of the home's value. Some sellers opt instead to pay a fixed fee, which keeps the cost more manageable, but may not motivate an agent to sell a house. Finally, under a multi-agency agreement, multiple agents work to sell the house, increasing both fees and the chance of success.
Agencies may even charge for additional services, including advertising and marketing.
The Doorsteps pricing model is a refreshing departure from that norm. Under its base package, an agent will sell a home for a flat fee as low as £99. The package includes a free instant valuation of the home and advertising on property portals including Rightmove, Zoopla, and Primelocation, starting within 24 hours and lasting until it sells.
Each sale is managed by a dedicated account manager who responds quickly to inquiries and provides weekly updates on viewings and offers.
So how can Doorsteps offer these services and compete with other agencies at such a low price?
"The key is the internet and the scalability it offers," Ruparelia said. "We can cover the entire United Kingdom with the cost of one head office."
Typically, estate agents cover a local area encompassing 20 to 30 properties. Doorsteps, on the other hand, managed to cover 10,000 properties from 2017 to 2019 from a single national office.
"And we pass those savings on to our customers," Ruparelia said. "It can be a very fragmented industry. But by leveraging the scalability of the internet, we are now the 10th largest estate agency in Britain."
A People-Focused Approach to Real Estate
Despite its technology-driven approach, Doorsteps maintains a people-focused approach. Its responsive support helps customers overcome any hesitation they may have with using an online agency.
Clients can contact the Doorsteps central office 24 hours a day, seven days a week via email or phone. The lines are always open, and support staff is always available to answer questions and address concerns.
Doorsteps has also cultivated a national network of local property consultants. Each representative is trained in-house to handle the entire process for the seller, including listing, advertising, booking viewings, and closing the deal. That human touch gives customers peace of mind in the midst of one of the biggest financial transactions they'll conduct in their lives.
"We don't take on ex-estate agents. We onboard people who are professionals and have integrity who may be working moms and dads rather than going to estate agents that carry a lot of baggage and bad practice from the industry," Ruparelia said. "That's been a key recruitment strategy to ensure we can focus on the service. We've trained people on the skills, but when it comes to integrity and personality, that's something that we can't really train."
And customers have shown an affinity for the service. When it launched, Doorsteps didn't have to go overboard with advertising and marketing. As it turns out, saving money while getting personal service is what customers tell their friends about.
Low Fees and High-Quality Service Drive Growth
Ruparelia said 90% of growth at Doorsteps has been organic and has come from word of mouth. The disparity between estate agent fees and the low cost of selling through Doorsteps is certainly a noteworthy feature of the service, especially coupled with prompt, personalized service.
And from the very beginning, Ruparelia and his team knew personal testimonials and recommendations would be the main attraction for potential consumers.
"We wanted to come in with an impossible price point — something that would shock people," Ruparelia said. "We prove we can provide service at a high level at that price level and continue as a business. But the shock factor makes people talk about it."
And Doorsteps clients have not been disappointed. In only three years, the agency has earned 2,500 5-star reviews on TrustPilot as well as favorable reviews on other online platforms. Doorsteps was named a 21st-Century Icon and Startup of the Year at the 2017 Nachural Entrepreneurship Awards. The agency has been featured in numerous periodicals, including the Evening Standard, Business Standard, Economic Times, and Business Insider. These accolades and recognition have all helped the company build consumer confidence and credibility for its disruptive platform.
"Credibility comes with a compound effect," Ruparelia said. "We've sold £1 billion worth of property in just over three years, and that equates to about £10 million of savings for customers that they would have otherwise spent on estate agency fees. That alone makes a big difference to people."
Doorsteps: Online Tools Meet Changing Customer Needs
Doorsteps was founded with consumer convenience in mind. Clients can communicate with agents and attend to the home selling process almost entirely virtually. That low-touch strategy is poised to offer even greater value during and after the COVID-19 pandemic. But in the short term, social distancing, lockdowns, and moratoriums on non-essential services have affected the real estate market in the U.K.
"The government has effectively banned people moving at the moment," Ruparelia said. "We're trying to re-strategize somewhat by giving people opportunities to do virtual propositions."
With people stuck at home, especially in urban flats, thoughts inevitably turn to less restricted and less dense environments. Gardens, for example, offer residents the option of going outside and enjoying fresh air while maintaining a safe distance from their neighbors. In addition to the well-known financial benefits, factors like those make homeownership an increasingly attractive prospect.
The virtual, full-service home-selling tools Doorsteps offers hold value for a post-COVID world. The agency is already in a prime position to accommodate changing consumer needs because the entire process, including the initial consultation and viewings, is remote. That ensures minimal contact and minimal risk — important factors to consider as the real estate market and the economy as a whole search for ways to move forward.
"The world has changed, and I think that is just about being responsive to changing consumer habits," Ruparelia said. "It might be a higher threshold for people to justify leaving their homes or contacting other people. We're trying to cater to that at the moment."