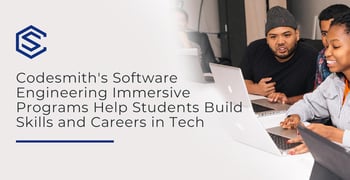 Experts share their tips and advice on BadCredit.org, with the goal of helping subprime consumers. Our articles follow strict
editorial guidelines
.
In a Nutshell: Software engineering is a desirable profession with plenty of room for advancement, but also a lot of competition. Codesmith offers a 12-week bootcamp that provides prospective coders a comprehensive, hands-on education and equips them with the knowledge and skills they need to excel in the industry. In addition to a rigorous academic workload, Codesmith bootcamps also foster a collaborative and supportive community among cohorts. The bootcamps incorporate job search preparation and training to ensure graduates can find jobs and thrive in the tech world.
Sometimes earning a college degree isn't the spark that will launch a career. After Austin Ruby earned his undergraduate degree in business, he worked various roles in corporate jobs: IT project management, IT training, manufacturing, accounting, and finance. But he wasn't satisfied with any of them.
It wasn't until he was on a trip with friends in Vietnam that Ruby discovered something about himself.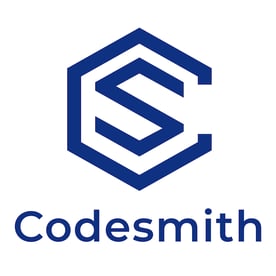 "I was just thinking about what I wanted to do with the rest of my life, and I had this epiphany. All the racing thoughts eventually stopped, and I said, 'I want to build something,'" said Ruby. "I always felt like I was an unskilled laborer even though I was in a corporate job, and I wanted to obtain a skill. So I thought software engineering would be a good way to learn a trade and have a concrete skill."
A few months later, Ruby learned about a program called Codesmith in a Reddit thread. And once he found it, he knew he was on his way to becoming a software engineer.
Codesmith offers its Full-Time Onsite Software Engineering Immersive 12-week program at campuses in Los Angeles and New York City. The same program is also offered in a fully remote, part-time environment. Students hone their tech skills through in-depth education and practice with the JavaScript programming language, one of the fundamental building blocks underlying modern web sites, platforms, and mobile applications.
Codesmith offers a JavaScript for Beginners part-time and remote program consisting of two consecutive Saturday sessions.
The rigorous academic program prepares participants for mid- and senior-level software engineering positions. But just as importantly, the bootcamps foster a community of learners who can tackle the ever-evolving challenges they'll face in their careers.
"Codesmith is modeled after Oxford University's paradigm of educational immersion — where Codesmith's CEO Will Sentance studied," said Tamar Martirosyan, Codesmith Content and Growth Manager. "Our Software Engineering programs are designed to build autonomous technical problem solvers by teaching them how to go beyond simply knowing how to write code and understand software under the hood."
Codesmith's Comprehensive Curriculum Prepares Students for Modern Tech Careers
Codesmith bootcamps provide lesson-based learning alongside project-based critical thinking and problem-solving. Students can expect a hefty dose of both, and although challenging, Codesmith bootcamps offer substantial professional rewards.
"They focus on the ability to solve problems you've never solved before," Ruby said. "Sure, we focus on JavaScript at Codesmith, but I have a job now where we're using Ruby on Rails, which is a different language, in addition to JavaScript. And I have to figure out problems using both languages. They make things intentionally ambiguous, so you learn how to navigate those situations and push through difficult challenges."
The Codesmith curriculum prepares students for their future careers by teaching them about computer science, with an emphasis on algorithms. Participants learn about data structures, system design, and high-level strategies for efficiently organizing code. They also learn how to use JavaScript syntax for cleaner code and professional captivity.
Students learn about HTML and CSS — which govern visual and functional capabilities — to optimize apps and meet the needs of the end user.
Codesmith provides training in other valuable skills, including technical communication in the workplace, project management, and how to use specific engineering tools and resources.
Students have a lot of academic and practical ground to cover in only 12 weeks, and so they are expected to adhere to a rigorous schedule of at least 70 hours per week.
Community-Oriented Culture Encourages Students to Embrace Personal Growth
A day at a Codesmith bootcamp typically starts with Hack Hour. During the hour, students try to solve complex algorithms before morning sessions, including basic and advanced lectures or production project meetings.
In afternoon sessions, students attend core curriculum lectures, work on team projects, engage in mock interviews, tackle advanced learning units, or work on production projects. In the evening, students work on coding challenges or production projects until 8 p.m.
Many students stay on campus until its official closure at 10:30 p.m. to continue working in teams on coursework and projects.
"My expectation going in was not to enjoy the program but to get the skills that I needed. I had a very pragmatic, utilitarian approach. But what happened was the opposite," Ruby said. "I felt like I got to know everyone in my cohort really well."
Another aspect that drew Ruby to Codesmith was its focus on community. Its emphasis on inclusivity and diversity draws in a wide range of perspectives and approaches to problem-solving.
That helps establish an environment of cooperation and support rather than competition. Students help others in their cohorts, provide constructive feedback, and encourage each other to reach their potential.
"They are big on not being competitive and instead being supportive, empathetic, open-minded, and having a communal mindset," Ruby said. " Codesmith preaches that you want to be the best version of yourself. Don't compare yourself to other people because the growth you'll make from week one to week two is tremendous."
Students and Alumni Benefit from Robust Career Support
The purpose of the bootcamp is to help students develop professional skills and find mid- and senior-level employment.
Through the hiring support program, students engage in mock interviews and whiteboarding sessions with industry experts, classmates, and Codesmith alumni. Students practice their interview skills and test their ability to think on their feet and work calmly under pressure.
Networking day, which occurs during the final week of the program, allows students to immerse themselves in their job searches. They have one-on-one conversations with engineers representing companies in various industries, make professional connections, and receive referrals to desirable engineering roles.
Students learn how to craft different résumés for different opportunities to express their technical strengths for specific roles and stand out as candidates. Codesmith advisors assist with developing a professional presence on online platforms, including LinkedIn and GitHub, helping students build portfolios and profiles.
And student support doesn't end at graduation. Codesmith provides ongoing support through job search tips and resources to keep students current on interview best practices, negotiation strategies, and additional networking opportunities. Codesmith graduates also gain access to the informal — but expansive — alumni support network.
"Just today, I've spoken with three people from my cohort and at least one person from another cohort," Ruby said. "Yesterday, I spoke to someone through the alumni Slack channel I'd never met before, and she went through the Los Angeles program two years before I heard about Codesmith. You will gain an immense alumni network and lots of different contacts."
Codesmith is also committed to providing 100% verifiable and transparent data regarding its graduate outcomes. The program's outcomes are fully audited by a third-party accounting firm, as well as certified by the Council on Integrity in Results Reporting (CIRR) — the industry standard for reliable job placement statistics.
During the two reporting periods of 2019, Codesmith had the highest median starting salary among all bootcamp programs. According to most recent CIRR reports (January and June 2019), Codesmith's New York City graduates earned the industry's highest median salary ($125,000), with 92.1% of graduates hired full-time within 180 days of graduation. Los Angeles graduates also demonstrated one of the top results, with nearly 90% of students landing their first roles within 180 days post-graduation at a median starting salary of $114,000.
Codesmith Fosters Student Success in a Sustainable Learning Environment
Codesmith operates a fellowship program, and a few people from each cohort, including graduates like Ruby, continue working as teaching assistants for bootcamps. They are responsible for hands-on work with residents, troubleshooting, and emotional support. In return, they gain valuable on-the-job experience.
"As an engineering fellow, you're still a software engineer, so I was working on Codesmith's web applications as well," Ruby said. "As I entered the job market and was interviewing for jobs, I was speaking as a working software engineer, not as a bootcamp grad or active contributor to open-source projects."
Thanks to his extensive experience with Codesmith, Ruby has some valuable insights into who's a good fit for Codesmith bootcamp. He says that the most successful candidates demonstrate a strong desire to learn, work hard to succeed, and are willing to expand their horizons and engage with the broader community.
"The team at Codesmith is dedicated to making the experience the best for the students as they grow," Ruby said. "They focus on preserving the culture because they know that's what makes it special, but that's also the differentiator in the market."