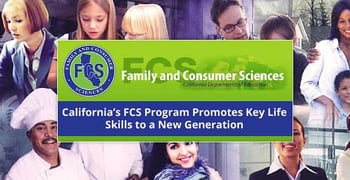 Experts share their tips and advice on BadCredit.org, with the goal of helping subprime consumers. Our articles follow strict
editorial guidelines
.
In a Nutshell: When it comes time to choose an academic path toward an eventual career, today's high school students are often directed toward science, technology, engineering, and mathematics (STEM). However, the path for those students who want a career in the service industry or in other direct-to-consumer jobs in fashion, interior design, or culinary arts is less clear. That's where the Family and Consumer Sciences (FCS) Professional Development project comes in. The California Department of Education's FCS program prepares students for careers in fields like hospitality, design, food and nutrition, child development, and other service industries. It also teaches life skills like financial literacy, professional development, and communication.
Think back to the advice you heard in high school about potential career paths and what subjects you should prioritize.
For me, it was computer science, which meant a heavy focus on math. Depending on your generation, you may have been advised to consider programming, biotech, data analysis, health care, or any number of careers in the STEM fields, which is an acronym for science, technology, engineering, and mathematics.
But what if a career in those areas doesn't interest you? Some students may prefer to work with their hands. Or maybe they'd like a career where they get to interact with people on a daily basis. Others may be interested in fashion design, food and nutrition, or child development. All of these career paths are valid choices and will almost certainly be in demand for tomorrow's labor force.
Schools should be places that prepare kids for success, no matter what their decision on a career. The California Department of Education is helping to reinforce that through its Family and Consumer Sciences (FCS) Professional Development project. This program is set up to empower a dedicated group of educators focused on providing students from all backgrounds with the academic and technical skills for a future in a variety of occupations.

We recently spoke with Nina Dilbeck, Project Director at the Family and Consumer Sciences Professional Development Project.
Dilbeck explained to us that FCS is what many may remember as home economics.
"In the beginning of home economics in schools a century ago, the program was basically teaching women how to take care of a home and children," Dilbeck said. "It's now evolved into a career-oriented program. The subject matter in our current programs with FCS reflects the changes within our society. It was around 25 years ago that the name was changed at the national level."
One of the tenets of the FCS program is a belief that career path decisions shouldn't be forced onto students but should be a choice they make themselves based on their desire, aptitude, and preference. It is this belief that makes FCS a vital part of the educational system within California schools.
Helping Teachers Prepare Their Students for Career Success
Teachers within the Family and Consumer Sciences program face a unique set of challenges in preparing students for future careers. In addition to the standard academic curriculum, educators must also address a wide range of practical skills. Administrators at the FCS Professional Development Project offer a variety of resources for teachers of these topics, including workshops and webinars to help them better prepare.
To meet California's future job needs, the FCS program has developed courses in three major industry sectors. The first of these sectors is Child Development and Education, which seeks to prepare students for careers in education at the preschool and elementary school level. The courses in this sector also help prepare students for careers in any area where caring for children is involved.
The next sector is Hospitality, Tourism, and Recreation, which is primarily for students interested in the culinary arts and other careers in food and nutrition. Employers expect the demand for trained workers to fill jobs related to dietary counseling and food science will grow in the coming years.
Another thriving industry sector is Fashion and Design, which includes careers in clothing design, interior design and decorating, materials purchasing and planning, sales, and other related areas. As a major design and fashion hub, California has a growing need for workers trained in this highly specialized area.
In addition to courses in the various industry sectors, the FCS curriculum also includes practical studies in the key areas students need to know. This includes topics like consumer economics, the impact of fluctuations in materials costs, and other topics.
"FCS programs are our basic core classes, and within almost all of our core classes, there's a component of financial literacy and quite a bit of math that goes along with it," Dilbeck said. "This is because almost every aspect of our lives deals with understanding finances in one way or another."
The Evolution from Home Economics to Family and Consumer Sciences
Bringing what was known as home economics into the 21st century is as much about the changes in our society as it is about preparing students for jobs. The skills that were taught a century ago — primarily to young women — were focused almost exclusively on homemaking and family rearing. Today, FCS teaches both boys and girls a range of skills that can lead directly to a job or to secondary education or apprenticeship.
It's this focus on skills training and preparation for a career that's the biggest difference between the traditional home ec as some people may remember it, and the evolution to family and consumer sciences. Hands-on training and lessons in how the business world operates provide students with the necessary skills to succeed.
"The life management skills aspect starts with communication," Dilbeck said. "With the digital world we live in, a lot of it is just learning to talk to people and look them in the eye. We help to develop those interpersonal communication skills. We also try to integrate opportunities into the classroom so that students learn some of the professional skills they'll need, like how to properly introduce yourself, how to shake someone's hand, and how to greet someone professionally."
"The program not only provides students with the background to get jobs, but they also teach students how to be good employees who successfully balance their home and work lives." — Ruth Kimmelshue Reding, Former FCS Student
In addition to these practical and life management skills, the FCS program provides leadership skills training. Students who choose to can join a student leadership group that helps them develop skills, like public speaking, through interscholastic competitions.
"We have a student organization called Family Career and Community Leaders of America, which used to be called FHA, or Future Homemakers of America," Dilbeck said. "It is a registered CTSO, or Career and Technical Student Organization. This is one of the recognized student leadership groups."
FCS Leadership Conference Teaches Strategies for Helping Students Achieve More in Life
The Professional Development Project organizes an annual Leadership and Management Conference in support of the teachers who are committed to helping students learn these valuable career skills. During this three-day conference, attending teachers have an opportunity to learn about the latest techniques, trends, and technologies in FCS instruction.
"Our annual Leadership Conference is an opportunity for teachers to attend workshops conducted by industry experts," Dilbeck said. "There are also plenty of networking opportunities, where teachers can share what they're doing and what's working within their classrooms."
It's important for teachers in this career-focused field to have exposure to the opportunities available to student participants of their programs, and not just to have an academic understanding. At the conference, teachers hear presentations and seminars that help them develop better strategies and methods for helping prepare their students.
For students considering a future in any consumer service-related field, the FCS program can provide a head start in developing the necessary skills. Teaching these students important lessons about what it takes to succeed in a professional career is extremely valuable. And by combining these lessons with practical skills, like budgeting and financial literacy, we'd say students are getting a terrific opportunity.