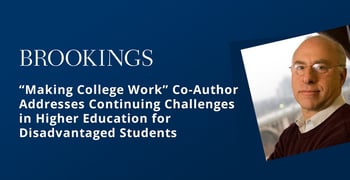 Experts share their tips and advice on BadCredit.org, with the goal of helping subprime consumers. Our articles follow strict
editorial guidelines
.
In a Nutshell: College students from low socioeconomic backgrounds often face more challenges than the average student. These challenges may be due to finances, familial obligations, or any variety of reasons. In the book "Making College Work: Pathways to Success for Disadvantaged Students," authors Harry J. Holzer and Sandy Baum explore the problems disadvantaged students face in post-secondary education and offer potential solutions. The book, published by Brookings Institution Press in 2017, illuminates how disadvantaged students are much less likely to complete a degree or certificate and shows how a combination of systemic and student-oriented changes can improve outcomes.
The average college student may face an array of challenges today, including rising tuition fees, overwhelming student debt, and a volatile job market.
Unfortunately, students from disadvantaged backgrounds often have it even worse.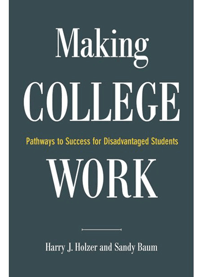 In the book, "Making College Work: Pathways to Success for Disadvantaged Students" (Brookings Institution Press), authors Harry J. Holzer and Sandy Baum explore the many ways in which disadvantaged students face adverse circumstances and look at how to improve their outcomes.
Holzer is a Professor of Public Policy at Georgetown University, an Institute Fellow at the American Institutes for Research, and a Nonresident Senior Fellow in Economic Studies at Brookings. He is also a former Chief Economist at the US Department of Labor.
Baum is a higher education economist and a Senior Fellow at the Urban Institute who has written extensively on college access, college financing, financial aid, and student debt.
We recently sat down with Holzer to discuss the 2017 book to learn more about the challenges disadvantaged students face and how the higher education system and students can work to overcome them.
"Making College Work" serves as a valuable guide in helping people, first, see that these opportunity gaps exist when it comes to disadvantaged students, and, second, propose real-world solutions that can actually move the needle on this important issue.
Understanding the Importance of Post-Secondary Education in Today's Job Market
"It was interesting writing this book because Sandy is a more traditional higher-ed person, and I'm a labor market person without a lot of background in higher ed," Holzer said. "And we found common ground in writing this book."
Holzer discussed the importance of pursuing post-secondary education to secure a well-paying job.
"In my generation, there were still good-paying jobs for people who didn't have a college or even high school degrees," he said. "For men, those were often manufacturing or trucking or construction — really good-paying fields. And for women, clerical jobs were pretty good-paying jobs and you only had to have a high school diploma."
A lot of those jobs have disappeared over the years or pay much less than they used to, Holzer said. And, of course, most people today generally understand that earning a college degree is better than simply stopping your education after graduating from high school.
But Holzer said certain scholars put forth the view that, rather than earning a BA in a liberal arts major, those students would be better off simply receiving specialized training to enter the job market immediately.
But in a dynamic job market that is moving more and more toward automation, this may not be the best approach, he said.
"Those guys make this argument that people shouldn't be getting a liberal arts degree," Holzer explained. "But if you look at the evidence, people who complete a BA generally do better over the long term than those in specific occupational fields, like accounting."
Perhaps that is because more of them get graduate degrees, or come from prestigious institutions, he said.
"On the other hand, for those who will not complete these degrees, or complete them from less-resourced institutions, degrees with specific labor market value can be important," Holzer continued.
Holzer said that he believes a four-year liberal arts degree will go much further if it is followed by a master's, Ph.D., or some other kind of specialization, but, overall, a B.A. is worth the return on investment.
Exploring the Reasons People Don't Finish College and Financial Barriers to Success
In "Making College Work," Holzer and Baum show evidence that disadvantaged students are less likely to complete their postsecondary education and described some of the main reasons why.
"As a nation, we are making progress in increasing the number of people from disadvantaged backgrounds who manage to enroll in some form of post-secondary education," according to the book. "But the results are discouraging."
That's because, while enrollment numbers by disadvantaged students may be up, they leave school before earning a certificate or degree. In the end, those students have lost valuable time and have often accrued student debt that will be difficult to repay, yet they have not improved their career prospects.
And the students from low socioeconomic backgrounds who complete their course of study often earn occupational certificates or associate degrees — not bachelor's degrees.
"Some of these credentials yield significant returns in the labor market, but others do not," according to the book. "The evidence points clearly to the need for significant change."
Holzer said that evidence points to millennials having a harder time in the labor market in general than previous generations, so students coming from disadvantaged backgrounds are going to have an even more challenging road ahead.
But the subject is complicated, and the book parses the situation clearly and thoroughly.
These circumstances stem both from problems on the individual side, such as weak academic preparation and financial pressures, and from institutional failures. Low-income students disproportionately attend schools that are underfunded and have weak performance incentives, contributing to unsatisfactory outcomes for many students. — "Making College Work" book description
Holzer said that many of the underfunded schools tend to be community colleges. And students who attend these colleges are often in need of guidance they don't receive. Meanwhile, the colleges themselves have little incentive to help these students.
"Community colleges don't have to care too much about since they get the same tuition or state subsidies regardless of whether people finish or get a well-paying job afterward," Holzer said. "That's what we made this book about. They're not held accountable in terms of whether people get credentials or how much they earn afterward."
Devising Plans to Improve Student Outcomes
Holzer explained that solutions to these problems vary across the political spectrum. He said the left tends to argue for completely free college education or perhaps free education for those below a certain economic threshold.
On the other hand, conservatives often argue for getting rid of degree programs that they view as pointless, and instead offer occupational programs to get people into the job market.
Holzer said that he and Baum occupy a middle ground with their proposed solutions. One of their main arguments is for better career counseling and guidance, especially in community colleges.
"All these people go off to four-year, and especially two-year, schools and they all think they're getting a BA," he said. "But the vast majority of them don't get BAs and a lot of them don't even get AAs. They need a better set of choices. They need labor market information and career guidance."
In the book, the authors also suggest better financial aid for certain students as well.
"All students, and particularly those from disadvantaged backgrounds, also need better and varied pathways both to college and directly to the job market, beginning in high school," according to the book description.
The book explores the notion of providing better funding to schools but also examines whether current funds could be allocated more effectively.
Ultimately, college outcomes can be improved, the authors argue, but it won't be without having to make some hard choices and face some difficult trade-offs in the process.
"While no single policy is guaranteed to greatly improve college and career outcomes, implementing a number of evidence-based policies and programs together has the potential to improve these outcomes substantially," according to the book description.