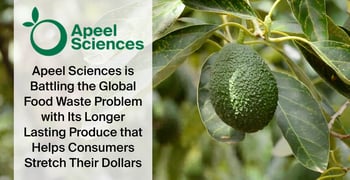 Experts share their tips and advice on BadCredit.org, with the goal of helping subprime consumers. Our articles follow strict
editorial guidelines
.
In a Nutshell: Farmers grow an abundance of fruits and vegetables, but hunger remains an issue around the world, often due to food spoilage. Apeel Sciences is addressing this issue by using nature's own technology. The company adds extra peel to the naturally occurring peel that accompanies produce, which seals in moisture and keeps oxygen out longer. The result is produce that is healthier and stays fresh longer. The technology helps reduce food waste, and saves energy, and greenhouse emissions. Apeel Sciences partners with numerous companies to deliver longer-lasting produce, including a recent collaboration with grocery chain, Kroger.
Can we all agree that nature is pretty great? I mean, have you seen a sunflower? Or, lightning? Nature has a solid rep as far as I'm concerned.
Still, the ways in which people are acquiring and consuming food are much different today than they have been through much of human history. Fruits and vegetables are harvested in massive quantities and distributed to grocery stores and markets all around the world.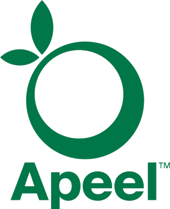 As amazing as nature is, its built-in preservation methods — such as a protective layer of skin or peel — aren't always enough to make produce last long enough for consumption by many modern consumers, whether they are in affluent urban areas or developing countries.
The fact is, produce is spoiling faster than we can eat it — 40% of food grown today goes to waste.
Food spoilage not only impacts our food selections; it impacts budgets, as well. The cheapest food is packed with preservatives, and buying healthier items, such as fruits and veggies, may seem like a waste of money if they end up being thrown out before they can be consumed.
Apeel Sciences is addressing this pressing issue with its plant-based technology that makes produce last longer.
Developing a New Way to Address Food Shortages and Waste
"Apeel Sciences is fighting the global food waste crisis by utilizing nature's tools to prevent waste — a sustainable approach to the world's growing food demands," said Michelle Masek, spokesperson for Apeel Sciences.
When Apeel Sciences Founder and CEO James Rogers came up with the idea for the company, he was working toward a Ph.D. in materials. Rogers jokingly says he spent several years "watching paint dry" while he worked to develop an energy-harvesting solar paint intended to help democratize clean energy.
Rogers was driving home in Santa Barbara from the Lawrence Berkeley National Lab when he heard a story on the radio about the global hunger crisis. He looked at the lush farmland surrounding him and wondered how hunger is still such a big issue when farmers are able to grow so much food.
In seeking an answer to this question, Rogers learned that the problem is not a shortage of food being grown, but rather the rate at which the food spoils.
"Inspired by nature's strategy for preservation, James and the Apeel Sciences team went to work building a barrier out of edible plant materials that would slow down the rate of spoilage," according to the Apeel Sciences website.
The company was founded in 2012 with a grant from the Bill & Melinda Gates Foundation to help reduce post-harvest food loss in developing countries that lack access to refrigeration.
"The company's plant-derived technology helps USDA Certified Organic and conventional fresh food growers, suppliers, and retailers maintain produce quality and extend shelf life, which minimizes food waste from the farm to the retail shelf to the kitchen table," according to the company.
At this point, Apeel formulations have been proven effective at reducing the rate of spoilage for dozens of USDA Certified Organic and conventional produce categories, and the company works with partners ranging from smallholder farmers and local organic growers to the world's largest food brands and retailers.
How Apeel Sciences Technology Slows Food Spoilage
"We've finally arrived at a new frontier where we can use natural materials and design principles to produce food in a way that works with nature — rather than against it," according to Apeel Sciences. "And it turns out, plants provide all the ingredients we need to keep produce at its best from vine to kitchen."
The company's technology uses the building blocks of the skin and peels of plants to help protect fresh produce.
"Peels are so important, every plant on land has one — from raspberries to roses. The materials that make up skins and peels are ubiquitous, and we eat them every day," Masek said.
Apeel adds a little extra "peel" to the surface of fresh produce to slow water loss and oxidation — two major factors that cause spoilage.
Apeel's technology can double and even triple the shelf life of many types of produce. This promotes more sustainable growing practices, better quality food, and less food waste between farms, retailers, and consumers.
"For suppliers and retailers, Apeel is the only postharvest solution that creates an optimal microclimate inside every fruit or vegetable, maintaining quality, extending shelf life, and transportability — with reduced reliance on refrigeration and controlled atmosphere," according to the company.
Right now, Apeel is being used on avocados, asparagus, and limes to extend their shelf lives.
"When produce is fresh, it not only looks better, but more importantly, it tastes better and contains a higher density of nutrients," added Masek. "Apeel makes it possible for growers to optimize their practices and avoid harvesting before ripeness, allowing fruits and vegetables to develop full quality (from nutrition and delicious flavor to appearance and texture) before they embark on the journey to the grocery store."
And, yes, because Apeel is made of plant-derived materials — lipids and glycerolipids — it is edible, safe to eat, and fully compliant with U.S. Food and Drug Administration regulations.
Partnering with Kroger to Advance its Zero Hunger | Zero Waste Initiative
Apeel Sciences recently announced that Apeel's longer-lasting avocados will be available in more than 1,100 Kroger stores in the U.S.
The collaboration advances Kroger's Zero Hunger | Zero Waste social impact initiative and is expected to prevent millions of pieces of produce from ending up in a landfill every year, according to a press release announcing the partnership.
This will result in millions of avocados being rescued from going to waste, dozens of acres of farmland preserved, emission reductions of thousands of metric tons in greenhouse gasses, and more than a billion gallons of water-use savings.
Kroger will also be introducing Apeel asparagus and Apeel limes into stores in the near future.
"Kroger is excited to offer more customers Apeel avocados and introduce longer-lasting limes and asparagus, marking another milestone on our journey to achieving our Zero Hunger | Zero Waste vision," said Frank Romero, Kroger's Vice President of produce. "Apeel's innovative food-based solution has proven to extend the life of perishable produce, reducing food waste in transport, in our retail stores, and in our customers' homes."
Kroger launched a pilot program featuring Apeel avocados at 109 stores in 2018, and the stores significantly reduced category food waste.
The Kroger expansion follows a pilot of Apeel avocados the retailer launched one year ago in 109 Midwest stores that significantly reduced category food waste.
"Kroger is leading the way to alleviate the food waste crisis at every level, from its supply chain to its retail stores to the homes of over 11 million customers who shop at Kroger every day," said James Rogers, CEO of Apeel Sciences. "We're excited to expand our partnership with Kroger to further prevent food waste while simultaneously giving families more access and time to enjoy healthy fresh produce."
Apeel Sciences also partners with a number of other companies, including Del Monte, Martin's and Alpine Fresh. The full list of partners can be found on ApeelSciences.com.
Apeel Sciences has said the company plans to announce new categories and partners in the coming months as the company continues to pursue its goal of reducing food waste — and working with nature's homemade materials.