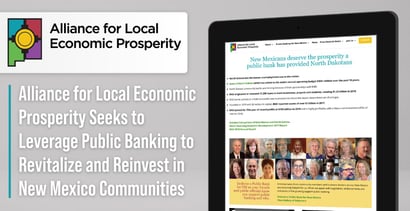 In a Nutshell: Small communities often object to the presence of corporate retailers in their towns, but the dominance of national financial institutions often go unnoticed. That's why the Alliance for Local Economic Prosperity (AFLEP) is working with local banks, credit unions, and lawmakers to lay the groundwork for a public bank in New Mexico. The goal is to bolster the economy and supply additional funds to city and state governments while keeping money in the state. An increasing number of local financial institutions support the plan, which would help them remain competitive and viable against larger banks. Having laid the groundwork in the 2019 legislative session, AFLEP plans to introduce legislation in support of a publicly owned bank in 2021.
In late February 2020, Business News Daily reported on research by Penn State professor Stephan Goetz about the negative impact of big business on local economies. One of the key points is that large firms headquartered out-of-state cause slower local economic growth. That's because the internal structure of business services, including accounting, legal, and maintenance work, are often not based in the area, so they don't add any money to the local economy.
But those critiques don't just apply to corporate retailers; they can also apply to large national banks. In a market dominated by Wall Street-based financial giants, how can communities keep their money local?
One solution to the problem is a public bank, which is owned by the people of a city, state, or region. These institutions can be established by a local government, run by local bankers, and supervised by residents to ensure they serve the public good and community needs. In contrast, large banks operate from distant financial hubs and serve primarily their shareholders.
The Alliance for Local Economic Prosperity (AFLEP) is trying to bring that public banking system to New Mexico.
"It's about democratizing the financial system, and this is one big step," said Angela Merkert, Executive Director of AFLEP. "The system has a pretty strong hold on what happens in the country, and we could bring more local engagement and participation in the decision-making process and prioritize what projects we need."
Public banks may offer lower interest rates through local banks or credit unions to locally owned businesses, with public bank profits remaining in the state, not in global banks. They may also make more money available for public infrastructure, create a better quality of life for people, and reduce the cost to taxpayers.
AFLEP is the successor to Santa Fe-based organizations Banking on New Mexico and Public Bank for Central New Mexico in Albuquerque. This organization brought the idea of a public bank to New Mexico's state legislature in 2019 and is preparing to present legislation and move toward approval in 2021.
Public Banks Contribute to Local Economic Prosperity
In late 2019 the nonpartisan Northeast-Midwest Institute published a white paper titled Public Banking in the Northeast and Midwest States. The nonprofit, nonpartisan organization researched public banking in North Dakota, Germany, and India, and ultimately recommended that the 18 states in its area move toward creating their own public banks.
"A couple of the points they kept coming back to were the disconnect between the generation of individual wealth by the global banks in contrast with public wealth for the communities," Merkert said. "There were other factors, including efficiencies and keeping money circulating locally instead of sending it out of state. And we know from some of the economic figures today that only 10% to 11% of individual and corporate deposits that go into the global banks come back in for loans."
Watch on
The mission of a public bank is to keep as much money as possible circulating closer to home, thereby creating a local multiplier effect.
The Bank of North Dakota — founded in 1919 and currently the only public bank in the U.S. — illustrates all of the benefits that public banks have to offer residents of the United States. In 2018, the Bank of North Dakota posted its 15th consecutive year of record profits with $159 million in net earnings.
The bank has been a part of North Dakota's economic surge, too, as the state maintains the lowest unemployment rate in the nation and has accumulated large government budget surpluses. The institution supports a network of community banks, and provides high credit availability for residents and local businesses. It originated or renewed 17,299 loans valued at $1.33 billion in 2018, and it has increased its annual operating budget by more than $300 million since 2009.
Bank and Credit Union Members Benefit from Keeping Wealth in the Community
As envisioned by AFLEP, New Mexico's public bank would be an institution that provides financial services to smaller local banks and credit unions. This model would leverage loans for small- and medium-sized businesses through those institutions, keeping capital circulating within local economies.
"They can loan that money through the credit unions and community banks at lower rates because the state bank would be a nonprofit, so it's not paying taxes," Merkert said. "But also, there would be other benefits."
Local, community-focused institutions would profit from administrative charges paid by the bank for their initiation and oversight of loans. This increased revenue would help those local banks and credit unions not only remain stable but also reclaim their viability in markets dominated by larger national banks.
"We've lost about half of our community banks since 2007," Merkert said. "In North Dakota, they have around 16 community banks per 100,000 population. We're at about 1.57, and the national average is about four. North Dakota's community banks stayed open and didn't fall into this merger and consolidation grab that went on by the global banks following the recession. They remained viable, and as a result, the communities are staying viable, too."
According to Merkert, when people keep banks in their communities, schools stay open, and they still have local grocery stores. And those businesses can make all the difference in keeping middle-size and rural communities thriving.
An Institution Designed and Run by Financial Professionals
To get New Mexico's public bank up and running, AFLEP is seeking an initial capitalization of up to $500 million drawn from the state's investment funds. According to Merkert, the state currently holds more than $20 billion in two state investment funds.
"We think that $500 million out of one of those funds, or built up over a series of three years to fully capitalize, would be a good way to go," Merkert said. "It would still be held by the state, so it's not like it's being given away to somebody. It just would be invested in a different place."
New Mexico's public bank would serve as a government depository where tax revenue and other income could be held and then dispersed. The institution would have to maintain regulatory compliance and abide by industry standards, following rules similar to those of the FDIC. In practice, those rules and regulations would not need to be identical, since it wouldn't be a retail bank.
"We have been drafting our legislation for the structure, management, operations, and governance of the bank, and we are stipulating following the standards of FDIC for much of the operation — even though that actual insurance of deposits wouldn't be relevant," Merkert said. "It would be the state backing up the operation."
And the bank would be run by people committed to civil service and who possess competency and positive track records within the banking business. They would work alongside public officials like the governor and legislature, but with certain restrictions on operations.
"We really have kind of a firewall set up for where and how they engage, and they definitely are hands-off in the day-to-day operation," Merkert said.
AFLEP: Keeping New Mexico Revenue Safe, Local, and Working for Residents
New Mexico's 2020 legislative session was short — only 30 days — and it focused primarily on budget issues. But AFLEP got a foot in the door in 2019 and began building government support to establish a public bank in the state. Thanks to those efforts, the initiative already enjoys the support of some lawmakers.
Bank and credit union executives of community banks and credit unions have also been involved in crafting legislation and structuring the proposed bank. Inclusion in the design process has garnered support from these institutions and has served to increase public trust and confidence in the project.
"The notion of creating public wealth, meaning community wealth, and enhancing the well-being of our communities economically, socio-culturally, and environmentally — that is resonating," Merkert said. "The public bank is a tool to make that happen. It's not a bank just for itself."
AFLEP continues working on expanding its reach and gaining additional support throughout New Mexico. And the organization will intensify its efforts to achieve greater popular support for the establishment of the state's own public bank.
"We'll get sponsors on board, and we'll be doing extended grassroots work, and then we'll request time in front of several of the interim committees that meet before the next session," Merkert said. "And then we'll have legislation introduced for the session that begins mid-January of 2021."
Advertiser Disclosure
BadCredit.org is a free online resource that offers valuable content and comparison services to users. To keep this resource 100% free for users, we receive advertising compensation from the financial products listed on this page. Along with key review factors, this compensation may impact how and where products appear on the page (including, for example, the order in which they appear). BadCredit.org does not include listings for all financial products.
Our Editorial Review Policy
Our site is committed to publishing independent, accurate content guided by strict editorial guidelines. Before articles and reviews are published on our site, they undergo a thorough review process performed by a team of independent editors and subject-matter experts to ensure the content's accuracy, timeliness, and impartiality. Our editorial team is separate and independent of our site's advertisers, and the opinions they express on our site are their own. To read more about our team members and their editorial backgrounds, please visit our site's About page.