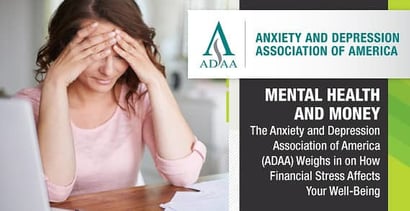 In a Nutshell: Mounting debt tends to bring about feelings of being overwhelmed, especially for those already dealing with common mental disorders such as anxiety and depression. Bills can fall by the wayside for those dealing with both, which just compounds the issue. Job loss can also result when people lack the motivation to face the day head-on and remain productive. Organizations, like the Anxiety and Depression Association of America (ADAA), provide the expertise and resources for people to cope with these disorders and learn to become mentally strong enough to take on these financial troubles.
Money can't buy happiness, as the saying goes — but a lack of money can certainly lead to stress and unhappiness. This is especially true if a person has excessive debt, which can often lead to increased feelings of anxiety and depression, two types of common mental disorder.
"Often, people separate out financial health and mental health. But that need not be the case," said Debra Kissen, Ph.D., M.H.S.A., Clinical Director at Light on Anxiety CBT Treatment Center, Clinical Fellow at the Anxiety and Depression Association of America (ADAA), and Co-Chair of ADAA's Public Education Committee. "They often intersect; one causes the other."


In the 2013 article "The relationship between personal debt and specific common mental disorders," a team of researchers headed by Dr. Howard Meltzer identified debt as a substantial risk factor in the emergence of common mental disorders.
Findings show that adults in debt were three times more likely to experience common mental disorders, regardless of the source of their debt; however, the rate of incidence was highest among people with multiple sources of debt, such as owing money to pawnbrokers and payday lenders.
Kissen and other mental health professionals dedicate themselves to helping people work through their anxiety and depression to achieve better mental well-being, which can lead to the type of stability and balance that rub off on financial health, as well.
The Two-Way Street of Financial Stress and Mental Health
Although depression and anxiety can both arise from financial stress, they are distinct mental conditions.
"They are different brain processes," Kissen said. "They certainly can overlap. One can have anxiety and depression, or one can have depression only or anxiety only."
Experiencing feelings of anxiety can cause people to actively avoid their financial stressors — almost as if they will go away if they don't look at them.
"If somebody is really anxious, that can lead to avoiding opening that stack of mail, avoiding going to work and getting laid off, and generally just avoiding a lot of things," Kissen said.
Depression, on the other hand, can lead to more passive avoidance of stressful financial situations.
"If somebody's depressed and they're not getting out of bed," Kissen said, "it can cause them to get laid off or cause them to not pay their bills."
And, if financial trouble isn't the cause of their depression, it can certainly be a major detrimental effect. Meltzer's study confirmed that people with debt tend to develop common mental disorders as a response. However, his team also found that people with anxiety and depression symptoms tend to accrue debt, as the conditions may make them less able to adequately deal with their finances.
"Financial issues can lead to anxiety and depression," Kissen said. "It's certainly a bi-directional relationship."
Connecting Debt, Mental Health, and Addiction
Another study published in the January 2016 edition of Psychological Science found a tie between financial insecurity and increased purchases of over-the-counter pain medication.
For people facing uncertain financial futures, the simple prospect of debt is enough to lower their tolerance for pain and increase the need for pharmaceutical intervention. An increase in consumption of pain medication obviously means an increase in spending, which is also further detrimental to someone already in debt. It may likewise open the door to substance abuse as a form of self-medication.
Meltzer's study found an association between debt, common mental disorders, and addictive behaviors, like gambling and substance abuse, but it did not find a multiplicative effect of debt and addiction on these disorders. In other words, the presence of addiction and debt together does not further increase the likelihood of developing a mental disorder.
However, the study particularly notes a body of evidence pertaining to the co-occurrence of these issues in certain populations with high exposure to debt or financial stress, such as students or the homeless.
Gambling is an obvious threat to financial well-being, and addiction to alcohol and other substances can likewise strain an already tight budget. Mood disorders, like depression, have also been linked with alcoholism and substance abuse, often leading to similar results. Alcoholism is also known to occur among those experiencing anxiety symptoms, and excessive consumption can lead to feelings of depression, and, after initial relief, an increase in anxiety.
Altogether, this can lead further into the vicious circle of debt, mental disorder, and dependence.
What to Expect When Seeking Help
Someone who experiences symptoms of anxiety or depression may think everyone is going through the same patterns and wonder if they need professional help.
"It doesn't have to be really, really bad to get help," Kissen said. However, when the condition is extended, begins impacting everyday life, and prevents someone from enjoying life, it's definitely time to consult a professional.
But someone with debt-induced anxiety and depression symptoms might find themselves hesitant to seek help, since medication and ongoing therapy carry additional costs. However, dealing with anxiety or depression rooted in financial stress doesn't have to intensify the problem.
"You can get a session or two to help come up with a plan to tackle your financial challenges," Kissen said.
Watch on
These sessions will take a cognitive-behavioral approach to treating common mental disorders. By addressing the mental processes and behaviors associated with financial stress, those experiencing symptoms will likely be better able to deal with the distressing stimuli that cause anxiety and depression.
"For depression, the key active ingredient is a behavioral activation piece," Kissen said. "It's basically like finding ways to force yourself to engage in behaviors that, at some point, you experienced as pleasurable — even if in the current situation you're no longer feeling the desire to do them."
Engaging in these behaviors will evoke the positive emotions associated with them, helping to improve the person's mood. "You want to kind of force yourself, in different ways, to do the healthy behaviors first, and the feelings will catch up," she said.
Treatment for anxiety, on the other hand, will involve confronting financial stressors directly.
"The key active ingredient in the treatment of anxiety is a lot of exposure-based work," Kissen said. "You want to teach your brain to face different fears and learn that, number one, it's often a false alarm, and there's actually not a true danger; and number two, if a negative situation were to happen, that you're much stronger and more able to cope than you feel in certain anxious moments."
In essence, this is no different than overcoming a fear of dogs; by spending time around the animals, the phobic learns to remain calm and understand that a given dog doesn't necessarily represent a threat. On the other hand, you wouldn't want to throw a cynophobe in a room with a bunch of German shepherds — the effect would most likely be counterproductive. It's better to start with a controlled encounter with, say, a beagle puppy. The same is true of addressing money-related issues.
"I would say it's really important to practice taking the next small step forward," Kissen said. "Often, people will think through everything that needs to get done and feel so exhausted that they'll just want to fall over."
Kissen recommends establishing small, measurable goals and a schedule of when you want to accomplish them. For example, if paying bills makes you anxious, don't try to sit down and pay all of them at once; instead, spend 10 minutes each day working through the stack. This sort of limited exposure helps to limit and overcome negative emotional responses, while, at the same time, reducing the prevalence of the stress-inducing stimuli.
ADAA Helps Those Looking to Move Past Anxiety and Depression Symptoms Take Steps Toward Healthier Living
Everyone experiences depression and anxiety at some point in their life. Whether finances or some other issue is the root of the problem, people experiencing anxiety and depression symptoms shouldn't feel isolated; help and support are readily available, particularly through the ADAA.
"It's a really good resource for those struggling with financial concerns, to work with a mental health provider," Kissen said
The organization's website offers information to help people better understand their conditions and resources that can help them navigate their daily lives. ADAA also helps connect people with mental health care providers, who can provide professional, targeted help.
No, money can't buy happiness — but it can reduce unhappiness stemming from depression and anxiety. And the ADAA's professionals are there to help you along that path to financial stability through better mental health.
Advertiser Disclosure
BadCredit.org is a free online resource that offers valuable content and comparison services to users. To keep this resource 100% free for users, we receive advertising compensation from the financial products listed on this page. Along with key review factors, this compensation may impact how and where products appear on the page (including, for example, the order in which they appear). BadCredit.org does not include listings for all financial products.
Our Editorial Review Policy
Our site is committed to publishing independent, accurate content guided by strict editorial guidelines. Before articles and reviews are published on our site, they undergo a thorough review process performed by a team of independent editors and subject-matter experts to ensure the content's accuracy, timeliness, and impartiality. Our editorial team is separate and independent of our site's advertisers, and the opinions they express on our site are their own. To read more about our team members and their editorial backgrounds, please visit our site's About page.