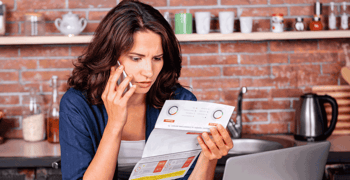 Our popular "How-To" series is for those who seek to improve their subprime credit rating. Our articles follow strict
editorial guidelines
.
When it comes to reducing debt, part of your repayment plan may have you looking for ways to lower your monthly spending. And, although cutting back on discretionary spending, such as dining out and clothing purchases, are important steps toward reaching your debt-free goal, sometimes you need to do more to make a significant impact on your financial health.
Remember, the sooner you pay off that credit card bill and free yourself from interest fees, the more money you will have to enjoy every month on the things that you value. Think beach vacation!
Begin by reviewing recurring expenses and monthly bills and ask yourself if there are any you don't use or need, such as a gym membership or beauty sample delivery box. Canceling these services now doesn't mean you have to say goodbye forever — you can always sign back up.
But, for those services you can't live without, you don't have to feel like a prisoner to the fees you're paying — you can often negotiate rates with various service providers to save money.
Since not everyone is a natural-born haggler, finding the courage to call and ask for a discount may require a bit of planning. Plus, there's more you need to know about scoring a discount. So, brush up on your negotiating skills by reviewing these seven strategies.
Step 1: Pick Up the Phone
Most people assume the price they pay every month for a certain service is non-negotiable, but such fees are not always set in stone. In fact, you could be paying much more than your neighbor for the same cable package.
That's why it's important to take the time to pick up the phone and call your various service providers at least once a year (or whenever you notice an increase on your bill) to inquire about new promotions or any opportunities to lower your monthly fee. For instance, you may be able to score a discount on your cable and internet by bundling the two services.
I also scored $10 off my monthly cable bill by opting for paperless billing and setting up autopay — a deal I had to ask about to receive. That's $120 in savings per year. It may not be huge, but, hey, it all adds up!
If you're wondering which companies are more likely to negotiate, check out this recent report from Lendedu that reveals which service providers are more likely to cut a deal so you know where to focus your time and negotiating efforts.
Keep in mind, you can avoid unexpected rate hikes in the future by simply noting when a specific promotion is set to expire in your calendar. This way, you know when to get back on the phone to renegotiate before the price goes up.
Step 2: Speak with a Manager
The key to striking a discount is to be polite and persistent. After all, the deal is in the hands of the customer service agent you're speaking with.
Being rude does no one any good, so be gracious. If, however, you don't get anywhere with the first agent you speak with, call back and try again.
Some reps may be new and not trained on the various ways they can lower a customer's bill — or you may have just caught someone who isn't having the best day. Ask to speak with someone who has more power to make a deal, such as a supervisor or a manager.
Step 3: File a Complaint
If you're unhappy with the quality of service or how a certain customer rep treated you, take the time to file a complaint. You can do this by writing an email to the customer support team, calling or chatting with a live customer service rep, or even sending a tweet.
For example, when I was setting up internet service through AT&T at my new home after my family moved, the agent talked me into trying DirecTV Now since I wasn't planning to hook up cable. The package sounded like a sweet deal, given all the channels she promised. So, I went for it.
After she hurried off the phone, however, I quickly realized that the service was slow. I filed a complaint by chatting with a customer service rep and received a few perks — free movie channels for three months and an additional $10 per month discount.
What's more, I also had luck complaining about my experience with my health insurance company via Twitter which fast-tracked a response from corporate and resulted in a $950 savings after they waived one month's premium.
Step 4: Ask to Waive Excess Fees
In your quest to better your finances, it's important to pay your bills in full and on time every month. However, sometimes life gets in the way, and you may find yourself facing a late fee or another pricey penalty by forgetting to pay by the due date.
In this case, call up the customer service rep and ask if they can waive the fee as a one-time courtesy. This strategy can be used for your monthly bills, mortgage, bank account or other service providers.
I've successfully negotiated interest-fee reversals on my credit card and got a late fee on my mortgage payment waived just by asking, saving me a couple hundred bucks!
Step 5: Cut the Extras
You may not want to give up cable TV, and you certainly cannot drive a car without auto insurance, but you may be paying for more than you actually need or use. Take some time reviewing each bill to understand exactly what you're paying for and look for opportunities to cut down on the extras.
For instance, you can probably live without premium movie channels if you already have a Netflix or Hulu subscription, and that can result in up to $50 per month in savings. Or perhaps you don't need DVR capabilities on each cable box set around your home, which comes at an additional fee.
Though this may only save you $3 to $6 per month, the total for all the extras over the course of a year adds up.
When it comes to car insurance, increasing your deductible will often result in a lower monthly premium. Just make sure you have some cash in an emergency account that you can use in case you get into a fender bender.
Step 6: Outsource Help
If negotiating feels like a daunting process — which, let's be real, it is — consider outsourcing help. Several companies are available to negotiate on your behalf with tedious service providers and other bill collectors, from internet plans to healthcare bills and subscription services.
For instance, BillCutterz will contact service providers like Comcast to find ways to lower your monthly plan. Though they take 50% of whatever savings they snag for you, recruiting their help saves you time and aggravation.
Other sites like CoPatient.com make it easier to sort through complicated medical bills by scrutinizing and negotiating healthcare bills on your behalf for a percentage of the savings. There's also Paribus, which monitors prices of purchases linked to your email account and requests price adjustments for anything that goes on sale within the retailer's price adjustment window.
Step 7: Leverage Competitor Offers
Competitor deals and coupons can do more than cut the cost of your expenses — they can also serve as leverage in your negotiations. For example, your mobile carrier, auto insurance company, or even dry cleaner may be able to match a competitor's discount or coupon.
Do your research to see what other businesses are offering. Merchants will oftentimes meet a competing company's price to retain your business, though you should be prepared to walk away if they don't. Ultimately, making a switch to a new service provider may be your best option for saving money in the long run.
Don't be surprised if you're presented with a deal for simply suggesting that you are going to cancel. Many companies hire customer retention specialists who can negotiate a better deal if you threaten to switch providers.