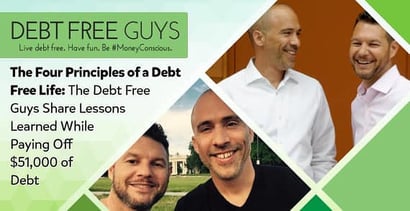 In a Nutshell: Denial is a powerful tool, and can be used with great effect to hide from any number of things — including massive debt. However, as John Schneider and David Auten learned (the hard way), you can only hide from your debt for so long before it becomes a monstrous $51,000 problem. John and David slew their monster, then put the lessons they learned into a book, "4: The Four Principles of a Debt Free Life," to help anyone fight their own debt. Today, John and David are the Debt Free Guys, and they've added three e-books, a jam-packed blog, and a popular podcast to their arsenal of debt-fighting tools. With a little advice from the Debt Free Guys, your monstrous debt can be a little less scary.
As children, my friends and I always wanted one of those magic rugs we saw in all of the cartoons — the ones under which the animated children managed to hide all manner of dirty clothes and other rubbish, without the telltale lumps evidenced by the traitorous rugs in our own bedrooms. With rugs like that, we rationed, we'd never get lectured about picking up our clothes and toys. After all, out of sight is out of mind.
While most of us grow out of hiding our dirty socks under the bedroom rug, the sad truth is many of us continue to play the "if I can't see it, it isn't there" game, long into adulthood. Unlike soiled laundry, though, pretending your credit card debt isn't there can have much more significant impacts than making your bedroom smell like stinky feet.
One example of the perils of ignoring your debt is the story of David Auten and John Schneider, who, despite more than a decade of financial industry experience between them, both swept their debt under the (metaphorical) rug for years. Without supervision, their debt grew into a giant $51,000 monster — and attacked them just as they were looking to buy a home.
"We took a trip to the mountains and fell in love with this one town," said David. "On the drive home, we started talking about buying property up there, and began having a real discussion about our financial state."
That discussion didn't exactly go as planned. While the guys' spirits were high as they started talking 9,000 feet up in the mountains, their moods descended as quickly as their vehicle. By the time they were back in their basement-elevation apartment, John and David were feeling equally low.
"We realized — confessed, really — that between the two of us, we had $51,000 in debt," John revealed. "We looked around our basement apartment and realized we were, physically and financially, living in a hole."
"It was that realization that made us say to each other, 'This is not what we want in life,'" David said. "We made the conscious choice that we were going to change the way we lived, so we could have the lives we wanted."
The guys' made a plan and put it into action, paying off their outstanding debt in just a few years.
It wasn't long after that David and John became the Debt Free Guys, writing the book 4: The Four Principles of a Debt Free Life to share the lessons they had learned while battling their monstrous debt. "We wrote this book to help people just like us. Our hope is that this book will save you time, frustration, and most importantly, money."
How John and David Became Debt-Free
Part of the attraction of Four Principals is the approachable nature of the book, and a big part of that feeling comes from the personal approach used by John and David. "We've been there," explained John. "We use a lot of our own stories in the book, things that we did wrong and things we did right."
The first thing they did right was get a handle on their debt, and make sense of their finances. "I'd never really looked at my financial picture," admitted David. "It shocked me where I was spending my money."
When the guys broke down their spending, they realized they each had their own set of bad financial habits. "John was a big spender — he liked to buy big things on credit — and I was a nickel-and-dimer, with five or six small transactions on my credit card almost every day."
Watch on
They also had a few bad habits in common, including frequent meals out and fun evenings with friends. "We started to practice what we call NSE — not so expensive," explained John. "We would initiate conversations with our friends and say, 'Let's go do this free activity.'"
Another important part of the guys' debt-fighting plan was to cut down their high interest rates through careful use of 0% introductory APR credit card offers. Though not available to those with truly bad credit, most issuers will have at least one card offering an introductory period with 0% interest on new purchases and balance transfers.
"We were basically able to go interest-free for two years using introductory credit card offers," said David. By cutting their interest rate down to 0%, John and David avoided an additional $10,000 in interest fees every year.
So What Are the Four Principles?
While David and John learned about debt the hard way, they're hoping they can help others avoid such painful lessons. In fact, that's what inspired them to write Four Principles in the first place.
Watch on
"This book is about our journey of getting out of debt," they explain in the prologue. "While on that journey, we discovered four principles necessary for anyone to rid themselves of debt — and stay debt free."
1. Be Money Conscious
According to David and John, being money conscious is more than just knowing how much money you make, it's knowing everything about the money you make.
"Most people don't know how much they really earn before and after taxes, where their money goes, and what they can afford to buy with it," said David. At first, the guys were no exception.
"We were unaware of how we were spending, how we were living," said John. "We realized we needed to become conscious of how much money we earned — how much we actually brought home, after taxes — and exactly how we were spending that money."
To begin their journey, John and David had to first understand their big financial picture — and that's where you should start, too.
2. Live Below Your Means
It may seem like a simple enough concept, but the idea of living below your means is one that many in debt struggle to accomplish, including David and John. "On payday, we were really rich, but by the end of the month we'd often be negative," said David.
"B-U-D-G-E-T is not a four letter word."
The guys found the key to making sure they always saved more than spent, was a solid budget. If you just flinched at the "B" word, you're not alone; so did John and David. That's why Four Principles stresses the idea that "B-U-D-G-E-T is not a four letter word."
"We needed to look at a budget as not necessarily something that tells us what we can't do," John explained. Instead, we try to think of our budget as something that tells us what we can do."
3. Cash is King
Just as sugar junkies should avoid the candy aisle of the grocery store, David and John suggest those with credit card debt avoid carrying and using credit cards.
"We believe that when you're paying off debt, you can't have the lure of a credit card there in front of you," explained David. "For us, although we used 0% APR credit card offers to cut our interest payments, we didn't use those credit cards. We cut them up as soon as they came in."
Rather than swipe your way into more debt, the guys recommend you carry cash. The guys also advise you only carry the money you budgeted for a particular activity to prevent overspending. You'll also likely be less inclined to impulse buy when you have to watch your wallet get smaller with each purchase.
4. Have a Financial Plan
According to the guys, "It's nearly impossible to achieve anything financially without a financial plan. That would be like driving to an unfamiliar destination without GPS or directions."
"It's nearly impossible to achieve anything financially without a financial plan."
Your financial plan is more than just how you're going to get out of debt, but should include other goals such as saving for retirement. You also shouldn't stop planning once you've reached your first goal. "We think you need to have short-, medium-, and long-term plans," explained John.
Once you've established your goals, determine how to get there — and then stick to the plan. "You should know what you want out of life, and you need to be buying and saving appropriately."
Targeting a Community through Their Website & Podcasts
While the average money blogger may work his or her way up to writing a book, it was the book that inspired the website — not the other way around. "We actually wrote Four Principles first," confirmed David. "We did it all backward."
For David and John, writing Four Principles was an 8-year adventure, one that turned into not just a published book, but the Debt Free Guys blog, three shorter e-books, and a popular Queer Money podcast, all dedicated to helping others make smarter financial decisions.
Unlike the books, though, the blog and podcast are geared more toward the guys' peers in the gay community. "We don't speak particularly to the gay audience in the book, and anyone can read and, we hope, relate to Four Principles," said John. "The purpose of the show, on the other hand, is to discuss the financial nuances specific to the queer community."
The blog posts and podcast episodes cover a variety of topics important to the community, including financial advice for gay couples with children and the intricacies of life insurance, and the library of content grows every week as the guys learn even more.
Coming Soon(ish) to a Bookstore Near You: The Debt Free Guys' Next Book
While Disney has definitively proven that monsters can be downright adorable, given the right animation, there is nothing cute about monstrous debt. Debt Monsters can be downright scary, but they can be slain — with a little helpful advice from an experienced monster slayer, like the Debt Free Guys.


David and John don't just rely on their past experiences, either. They are learning more every day, and passing that on to their community. "We're so surprised by how much we don't know," said David. In fact, the guys have big plans for all that new content they're creating. "We think, as we gain more knowledge and content, well — we foresee a Queer Money book coming out in the next year or two."
Advertiser Disclosure
BadCredit.org is a free online resource that offers valuable content and comparison services to users. To keep this resource 100% free for users, we receive advertising compensation from the financial products listed on this page. Along with key review factors, this compensation may impact how and where products appear on the page (including, for example, the order in which they appear). BadCredit.org does not include listings for all financial products.
Our Editorial Review Policy
Our site is committed to publishing independent, accurate content guided by strict editorial guidelines. Before articles and reviews are published on our site, they undergo a thorough review process performed by a team of independent editors and subject-matter experts to ensure the content's accuracy, timeliness, and impartiality. Our editorial team is separate and independent of our site's advertisers, and the opinions they express on our site are their own. To read more about our team members and their editorial backgrounds, please visit our site's About page.