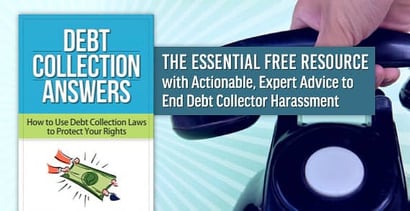 In a nutshell: Debt collection is the leading source of complaints reported to the CFPB, as many Americans struggle to repay debts and are burdened by unlawful bill collectors. Many are unaware that some collection agency tactics are illegal and preventable by understanding their debt collection rights. Finance and credit experts Gerri Detweiler and Mary Reed collaborated on the free, must-read eBook Debt Collection Answers: How to Use Debt Collection Laws to Protect Your Rights. The eBook and DebtCollectionAnswers have helped more than 10,000 people, offering free resources, actionable tips and legal leverage for dealing with debt collectors.
Are you being persistently called by debt collectors at inconvenient hours or your place of work when you've asked them not to?
If so, that is considered harassment and a violation of the Fair Debt Collection Practices Act (FDCPA), which was enacted in 1978 to protect consumers from unfair and abusive debt collectors.
This is just one example of how debt collectors can break the law, and you can find many more examples in Gerri Detweiler and Mary Reed's free eBook, Debt Collection Answers: How to Use Debt Collection Laws to Protect Your Rights.
The CFPB Received 88,300 Debt Collection Complaints in 2014
Debt Collection Answers is based on thousands of consumer questions regarding debts and the laws surrounding them. The Consumer Financial Protection Bureau (CFPB) handled 88,300 debt collection complaints last year, making debt collection the leading source of consumer complaints.
We spoke with co-author Gerri Detweiler about the inspiration behind the book.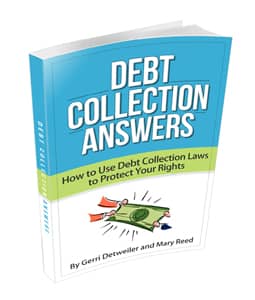 "One of the reasons we wrote the book is because consumers don't always know they have these rights and they figure 'well I have this debt so I'm stuck and there's nothing I can do about it.' While the federal law doesn't stop you from paying a debt, it does stop certain types of harassment and abuse from collectors," she told us.
Not every debt collector is engaging in harassment or illegal practices. However, Gerri explained that those who are lead consumers to feel like there's not a lot they can do, but there is a lot they can do.
"They can file a complaint with the FTC, or they can talk to a consumer law attorney who may be able to help them at no cost. They can also file a complaint with their state attorney general," she said.
Learn Your Protection Rights and Negotiating Strategies
Debt Collection Answers is designed to help you make more confident decisions when dealing with your debts by understanding your rights.
"This is the most practical, concise book I've seen on how to deal with debt collectors, who can be quite ruthless. The experts who wrote this book are nationally recognized consumer advocates who genuinely care about the plight of consumers trying to get back on their feet. Bottom line, this is a great publication that any consumer who is being contacted by debt collectors should have!" – Curtis Arnold, Consumer Advocate & Founder, CardRatings.com
Here's what you'll learn:
What debt collectors can and cannot do to collect money from you
What to do about old collection accounts
How debt collectors are paid and how that may affect what you owe
Options for responding to a debt collector's demands
Strategies for negotiating a settlement
The importance of keeping records when dealing with debt collectors
When to contact an attorney and how to find one for free or at low cost
Options for when a debt collector violates your legal rights
And much more
4 Chapters of Expert Guidance & Sample Plans of Action
The book may only have four chapters, but within those four chapters is a wealth of information spread out through 58 subsections, including special tips, advice and warnings in each that provide readers with further insight.
Find Tips, Advice and Warnings Throughout the Book for Each Topic
When there's an extra tid-bit of useful info the authors really want you to know, that information will be presented via bold text as a "Tip," "Warning" or "Advice."
Here are three examples from the book:
"Tip: If you receive other income besides Social Security payments, you may want to keep that income in a bank or credit union account that is separate from the account into which your Social Security checks are deposited. Doing so insures that it will be obvious which income is protected from collection actions."
---
"Advice: Writing a complaint letter can be effective if you have a legitimate complaint about a debt collector; but never rule out getting advice from a consumer law attorney if you believe that a debt collector has broken the law. A lawsuit can be even more effective!"
---
"Warning: Beware of debt collectors who act extremely friendly on the phone or who try to get you upset. They are hoping that you will let your guard down and share information about yourself or agree to pay your debt, even if you cannot afford to do so."
6 Sample Letters to Debt Collectors Included
You'll also find six sample letters for how to:
Request verification of a debt
Dispute a debt
Stop a debt collector from contacting you again
Stop a debt collector from contacting you about a debt you are disputing
Ask a collector not to contact you again when you can't afford to pay the debt
Tell the debt collector you only receive Social Security income
Regularly Updated With the Most Current Information
Debt Collection Answers is a completely free resource for the public and is regularly updated with new information. The book was originally written in 2007 and has been continually enhanced with additional information over the years.
"One of the reasons why we've made it a free eBook is that when something important happens, we're able to update it and get it out to consumers right away," Gerri said.
You can be notified whenever an updated version becomes available by signing up for email alerts on DebtCollectionAnswers. No email address is required to download your original copy of the book.
Additional Free Resources on DebtCollectionAnswers
Debt Collection Answers covers everything you could possibly need to know and more to confidently plead your case and regain control over troublesome collectors, but if there's still something else you need expert financial advice on, DebtCollectionAnswers offers even more free resources and is named one of Liz Weston's "Best Money Sites."
Access to 2,500 Questions & Answers
There are 2,500 additional questions answered on the site in the Q&A section. You can find answers to a vast range of topics such as what happens when a payday loan goes to collections, what to do when a financial downfall occurs and you're unable to make debt payments, wage garnishment, foreclosures — you name it. If your particular question isn't answered on the site, you can submit it via the comments on a similar topic, or you can ask a lawyer directly online from the site.
Gerri told us there are a lot of people who are dealing with debts left behind by loved ones and who don't know what their rights are, so one of the most popular topics on the site is "Debt & Death."
"A lot of times they're not responsible [for the debt], but the debt collector makes them feel like they are," she said. "Another really popular topic is medical collection accounts, which makes sense because over half of all collection accounts on credit reports are medical, so that's another big one."
Free Legal Help
Along with the free eBook and 2,500 questions and answers, consumers can also find free legal help on the site. You can find a consumer law attorney to see if you have a case or simply to receive some free legal advice.
DebtCollectionAnswers also partners with bankruptcy attorneys who can provide a free evaluation if you're considering filing for bankruptcy.
Free Debt Collection Worksheet
This is a two-page PDF that can help you keep track of debt collector calls, which the book stresses is very important. Use this sheet to record:
Date and time of calls
Name of the collection agency
What was discussed (in detail)
You can find the file under "Free Worksheet" in the Free Resources section of the site.
About the Authors: Gerri Detweiler & Mary Reed
Gerri and Mary have a combined 40+ years of experience in the finance space. Both are prolific writers whose works have been featured in major media news outlets across the country.
Gerri Detweiler
Gerri Detweiler is regarded as one of the leading experts on consumer credit. She is the co-author of five books, including The Ultimate Credit Handbook, which was featured in Money Magazine as one of the top five personal finance books of the year at the time of publication.
Gerri is the host of a live weekly radio program, Talk Credit Radio, and has appeared in more than 3,000 interviews by top media outlets such as The Today Show, Dateline NBC, The New York Times, USA Today and Reader's Digest.
She holds a master's degree in adult education and psychology from Norwich University and a bachelor's degree in international business and political affairs from Taylor University.
Mary Reed
Mary is a personal finance writer who has authored or ghostwritten a total of 21 books. Her work has been published in Good Housekeeping, Home Office Computing Magazine, Small Business Computing Magazine and more.
Mary is also the founder of public relations and marketing firm MR●PR, which plans and implements national public relations campaigns, marketing plans and brand creation, as well as site development, event planning and more. Prior to establishing her firm, Mary was the Vice President of Marketing for a national marketing research firm.
She holds a master's degree in business from Boston University and a Bachelor of Arts from Trinity University in Washington, D.C.
2 Ways to Get the Book: Online & By Mail
There are two versions of the book available:
1. Download the Free eBook
Visit DebtCollectionAnswers to download your free copy of Debt Collection Answers: How to Use Debt Collection Laws to Protect Your Rights, available in PDF, EPUB and MOBI formats.
2. Order a Printed Copy for $9.95
If you prefer a printed copy, send a check or money order for $9.95 (Florida residents add 7 percent sales tax totaling $10.64) to:
Ultimate Credit Solutions, Inc.
5317 Fruitville Road #122
Sarasota, FL 34232
Advertiser Disclosure
BadCredit.org is a free online resource that offers valuable content and comparison services to users. To keep this resource 100% free for users, we receive advertising compensation from the financial products listed on this page. Along with key review factors, this compensation may impact how and where products appear on the page (including, for example, the order in which they appear). BadCredit.org does not include listings for all financial products.
Our Editorial Review Policy
Our site is committed to publishing independent, accurate content guided by strict editorial guidelines. Before articles and reviews are published on our site, they undergo a thorough review process performed by a team of independent editors and subject-matter experts to ensure the content's accuracy, timeliness, and impartiality. Our editorial team is separate and independent of our site's advertisers, and the opinions they express on our site are their own. To read more about our team members and their editorial backgrounds, please visit our site's About page.