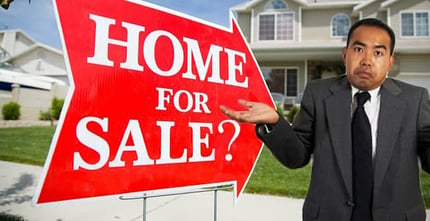 BadCredit.org publishes personal finance studies on the latest trends in the subprime marketplace. Our articles follow strict
editorial guidelines
.
A pair of real estate economists claim they've found a new quirk in the post-recession housing market — not knowing the price of their homes may have kept many homeowners from defaulting on their mortgages.
Rutgers Business School Professor Morris A. Davis and University of Wisconsin-Madison Associate Professor Erwan Quintin revealed their findings in their latest paper "Default When Current House Prices are Uncertain."
The tricky dynamics of real estate
As a majority of home prices tanked during the Great Recession, many homeowners faced a difficult dilemma — should I keep paying a mortgage that costs more than my home is worth, or should I just walk away and get a fresh financial start?
Leaving early and defaulting on your mortgage could wreak serious havoc on your credit score, making it drop "by at least 100 points," according to FICO Consumer Operations Manager Barry Paperno.
If you're a homeowner struggling with less-than-stellar credit, there are home loans that can help you finance your abode.
One of the biggest issues here, Davis and Quintin point out, is "anyone that owns a house knows they cannot state the current sales price with certainty." For this reason, Davis likened homes as an investment similar to both automobiles and art.
"The physical structure of the home is reproducible and should be easily valued based on replacement cost, like a car," Davis said. "And the land the home sits on is not reproducible and therefore harder to value (although there may be close substitutes), like art. Real estate prices sometimes look like car prices and sometimes look like art prices for this reason."
The perks of not knowing a home's value
Davis and Quintin explored data from 20 metropolitan areas between 2005 and 2011, assuming homeowners don't know the price of their homes until they sell. Although they may be able to estimate the value of their homes based on their neighbors' sale prices, the uncertainty remains.
"We estimate default rates would have been 25 percent higher in 2010 and 2011 for the mortgages in our sample if homeowners were able to perfectly always observe the current sale price," they write.
You'd think homeowners would want to keep tabs on the price of their homes at all times. However, even though they didn't, the idea of optionality comes into play.
"Optionality means that you are patient because the asset might pay off in the future," Davis said. "To understand default, it is therefore key to compute how much optionality homeowners current have. If homeowners are very far underwater, and do not default, they either really like their current home as compared to other available alternatives or believe their home's price will eventually recover. "
One might wonder if an appraisal can clear everything up. Not quite, Davis said.
"I don't think appraisals change whether or not a person sells," he said. "With Zillow, Trulia and the other web resources, appraisers have access to the same information that homeowners have. Any reasonably-minded homeowner should be able to get within 5 percent of an appraisal produced by an appraiser."
Rather, the real question, he said, is how the appraisals are made. For example, a large number of home sales made during housing busts tend to be foreclosures and "impatient sellers," and it's difficult to judge the real value of a home with extenuating circumstances such as these.
The takeaway
Davis said his and Quintin's findings should help policymakers take caution before trying to change the foreclosure process.
"What Professor Quintin and I show is that homeowners were not defaulting as frequently as many models predicted because (a), they were unsure of the value of their home, and (b), this uncertainty added 'option value' to their decision to stay and not default," he said. "The policy conclusion is we shouldn't rush into policies … when we don't fully understand all of the economic and social phenomenon underlying default."
Interested in learning more about your mortgage and homeownership? Check out real estate database Zillow's Mortgage Education Center.