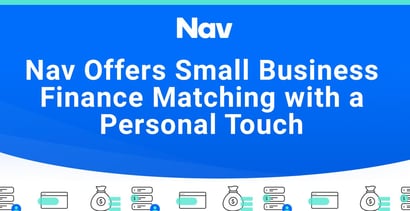 Experts share their tips and advice on BadCredit.org, with the goal of helping subprime consumers. Our articles follow strict
editorial guidelines
.
In a Nutshell: Many small businesses fail because they can't access credit and financial services to achieve self-sufficiency. Nav uses business, personal, and cash flow data to match SMBs with loans and services targeted to their unique needs. Customized recommendations from Nav's curated marketplace are more likely to result in sustained success compared to products from one-size-fits-all lenders.
Nav provides financing and credit cards to small businesses, but it's not a generic solution. As the largest SMB financing marketplace, Nav incorporates machine learning capabilities in its platform that allow it to filter products based on unique business data.
Nav can have a more positive impact on SMBs than traditional lenders by increasing available financing options and improving transparency around credit decisions. SMBs using NAV financing stand a better chance of success.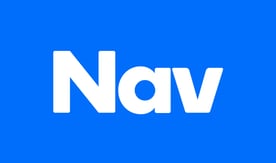 When it launched nearly a decade ago, Nav focused on providing access to business credit scores and information to help entrepreneurs understand the advantages of protecting their personal credit. Today, Nav partners with more than 65 lending institutions to connect SMBs to tailored financing options.
"We're making sure our customers see the options they're most likely to qualify for," said Babs Nelsen, Senior Content Strategist at Nav. "That saves time and effort and minimizes the number of hard inquiries on their accounts."
Smarter recommendations take the pressure off SMBs to know which loans work best for them. A content library and a unique financial health dashboard make the platform a success partner for thousands of small businesses.
Loans and lines of credit help SMBs purchase equipment and connect with invoice, merchant cash advance, and microloan solutions. Credit card solutions protect personal credit and provide financial flexibility.
The Nav dashboard displays financing options and credit and cash flow insights to customers. And the content library keeps up with current market needs to help small business owners find the answers they need promptly.
"Nav isn't just about financing options," Nelsen said. "It's a small business financial health platform."
Smart Loan Recommendations Based on Data
The typical Nav user is similar to the average small business owner in America. Most Nav customers are sole proprietors or owners with a handful of employees.
These business owners aren't often able to access funding options through traditional banks. Either they haven't been in business long enough, or their revenue isn't high enough. Nav provides solutions by leveraging machine learning.
"What's crucial for us is that our customers find funding that fits them, not the other way around," Nelsen said.
The first step is to create a free account, which all entrepreneurs are eligible to do. After a thorough identity-verification process, Nav asks for preliminary details about the business, including how long the company has operated and annual gross revenue.
Watch on
The info helps Nav understand the best financing options available so users don't waste time applying for the wrong type of funding. Business owners matched to financing options through Nav are 3.5 times more likely to get approved.
A personal credit score is a factor in some credit decisions on the platform, but most providers have products that don't consider those numbers. Personal credit is relevant only when business credit isn't developed enough to gauge risk.
New businesses entering the marketplace will need a viable personal score to start. But Nelsen said Nav recommends business credit whenever possible.
"We think business credit cards are the best way to separate business and personal finances," Nelsen said. "Because anything is possible, it's good to create that boundary for the safety of your personal finances and your business."
Educational Content Encourages Best Practices
All Nav customers receive access to a free financial health platform that provides business credit score summaries from several major bureaus, a personal score summary, credit alerts, and cash-flow alerts and insights. Depending on the product and your business data, you may access Nav's lending specialists who can guide you to your best option
Nav's Business Boost plan adds protections such as full-service identity restoration with dedicated identity specialists. With the Business Boost plan, Nav reports businesses' paid Nav accounts as tradelines, enabling a more granular view of credit use and the opportunity to build better scores over time.
Nav's extensive content library is another tool to help entrepreneurs think more creatively about business strategy and credit use. Nelsen is on the team that produces up to 16 new blog entries per week — and averages 60 per month. Nav also ensures content stays up to date by revising older entries to reflect changing market trends.


"We're trying to eliminate roadblocks that create friction, which can be very frustrating when you're starting out," Nelsen said.
The blog includes content on business credit cards for startups, businesses with bad credit, and businesses in the credit building stage. Content on business loans include a primer on the underwriting process and when to consider financing with no credit checks.
There's something for everyone in the Nav blog. Restaurant owners learn how to finance improvements. An article on recession-proof financing strategies was particularly timely as inflation ratcheted up in summer 2022. Owners can also learn basic skills, such as creating more effective websites or building a better business through a step-by-step approach.
"We're also educating business owners on how to improve their credit," Nelsen said. "They learn the difference between a small business credit score and a personal credit score and how they impact each other."
Nav: A Hub for Small Business Success
Nav's mission is to reduce the failure rate of small businesses. When every credit pull has the potential to negatively impact a credit score, it pays for entrepreneurs to connect with providers that can address their unique needs.
Lending institutions on the Nav platform offer more than 90 credit card options and more than 70 loan options, ensuring there's a fit for most, if not all, SMBs. And because Nav is an online lending space with a nationwide reach, economies of scale allow it to offer more favorable qualification terms than the average local lender.

"Running a small business is hard enough without the added challenge of overcoming a bad credit score," Nelsen said. "Nav is all about empowering small businesses by giving them access to better terms."
Nav's machine learning approach and commitment to best practices also helps owners by providing a consultative environment. Owners learn how to overcome credit setbacks and navigate day-to-day challenges, with Nav experts and content always ready to assist.
Nav works with some of the biggest names in the business to provide flexible and reasonable loan options. A summer 2022 blog entry lists some of the best options and includes providers that work directly with the U.S. Small Business Administration — also an excellent resource for SMB funding.
Anytime owners consult the Nav website, however, they'll see filterable options for the loan amount, APR, financing type, and need. Depending on where they are in their business and credit journey, some of these options will be appropriate for getting to the next level.
"We're always looking to serve the small business community by increasing available financing options and improving transparency around decisions that impact their success," Nelsen said.