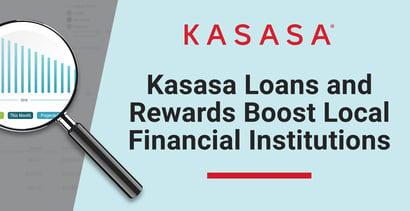 Experts share their tips and advice on BadCredit.org, with the goal of helping subprime consumers. Our articles follow strict
editorial guidelines
.
In a Nutshell: Consumers understand that community banks and credit unions offer more personalized service, but they may also assume that big banks have better products. Kasasa changes that with offerings that allow consumers to earn rewards and incentivize paying ahead on loans. Kasasa reward accounts and Kasasa Loans® with Take-Backs™ are available exclusively at local institutions and enable community financial institutions to compete with a unified product line.
Actor Jimmy Stewart's portrayal of community banker George Bailey in the classic movie "It's a Wonderful Life" cemented the public's perception of small banks and credit unions as fighting for the little guys.
Community financial institutions have earned a reputation for helping individual and business customers overcome challenges and thrive. But many consumers also think smaller financial institutions don't have the resources to offer the same modern services available at megabanks.
Kasasa proves that's not the case by upending conventional wisdom and enabling smaller community institutions to pool resources to provide products that can compete with megabanks without compromising their values.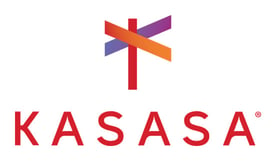 Community banks and credit unions can deploy Kasasa financial products to provide their customers with the latest tools while remaining inclusive and community-focused. Deposits stay at home where they can do the most good, and charitable giving and volunteerism from these institutions contribute additional support.
At a time when community financial institutions claim a smaller than ever share of the market, Kasasa handles development, provides marketing and data analytics services, and advances a national consumer brand that consumers recognize and trust.
"We want to build a sustainable way for community institutions to remain part of the way Americans bank," Kasasa CEO Gabe Krajicek said. "There's just no model going forward where that makes sense if they do it individually."
Kasasa's product and market know-how allow community institutions to speak with one voice in making their cases to consumers. Working together gives them a better chance to sustain themselves and increase their impact.
Loans with Take-Backs Incentivize Paying Ahead
Kasasa has a relatively long history as a fintech service provider in the community bank and credit union space. Regulatory modernization in 2021 enabled Kasasa to offer their products to the public at large through partner institutions.
Kasasa Loans are a big part of Kasasa's push to unify community institutions around a recognizable product line. They're the only auto and personal loans on the market that enable consumers to pay ahead to reduce their debt and interest while providing access to those extra funds.
It's a feature Kasasa calls Take-Backs, and it's a response to the company's research that revealed that consumers prefer flexible loan products. Take-Backs offers customers the ability to withdraw anything extra they have paid toward their loan amount at any time — no questions asked.
Customers use the Kasasa app to calculate payoff and interest improvements if they choose to increase their payments over the minimum.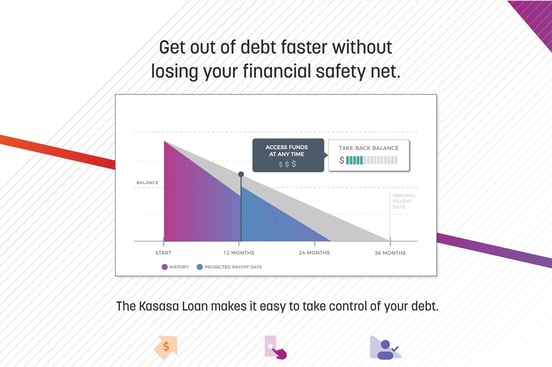 If the customer commits to paying more, the extra money accumulates in a Take-Back® balance, which acts like a rainy day fund they can access anytime for no fee and with no change in interest rate.
"Our research shows that a majority of loan consumers have the capacity to pay extra into their debt but choose not to because they fear a liquidity crunch down the road," Krajicek said. "They're doing something financially suboptimal simply to prepare for uncertainty they don't think they can handle."
Take-Backs reward customers for doing the right thing. But if there's ever a bump in the road, they're prepared.
"When consumers understand this, it gives them a ton of peace of mind," Krajicek said.
Products and Support for Local Partners
Kasasa brings more innovation to the table through its reward accounts, a suite of fee-free checking and savings products. The reward options bring premium banking experiences to community bank and credit union account holders.
Kasasa reward accounts have no minimum balances or monthly maintenance fees, and they all offer refunds on ATM withdrawal fees. Kasasa designs rewards structures that take into consideration qualifying customer behavior and fit institutional operating models. That's how it helps grow deposits, attract younger consumers, and deepen engagement.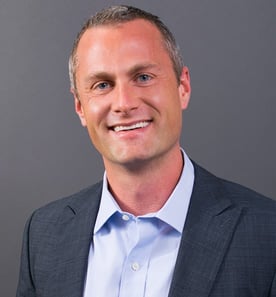 Beyond products, Kasasa works behind the scenes to make its partners more effective. Community banks and credit unions that connect to Kasasa's data analytics platform gain a broader view of market behavior and a more precise foundation for assessing patterns and anticipating trends.
The data pool at any individual institution is not large enough to be statistically significant. The sample sizes are too small to stage effective A/B testing across product concepts and segmentation models. But the Kasasa platform comprises an authoritative source of benchmarking and data comparison.
"We can take all of our clients' data — about 37 million accounts every night — and run marketing off it in a centralized way that replicates the scale and effectiveness of a megabank," Krajicek said.
Kasasa also helps individual institutions acquire and retain customers by refining marketing strategies and designing better customer experiences. Client success managers oversee the consultation process, and project managers and technical support engineers ensure smooth execution.
"We're finding ways to bring community financial institutions into a digital universe they can't enter individually," Krajicek said.
Kasasa: Empowering Community Institutions
Krajicek said he considered partnering with larger banks before the 2021 regulation change enabled Kasasa to open as a national brand and outsource partner.
On a visit with one prospective national client, he remembered Kasasa's true purpose when his hosts asked him if he wanted sparkling water.
"There was a sparkling tap, and it came out right there at the sink — I couldn't believe it," he said.
Krajicek decided against a deal with the bank because he couldn't reconcile it with his sense of duty to Kasasa's core mission of fighting for community banks and credit unions. Kasasa clients are far closer to the Bailey Building and Loan in "It's a Wonderful Life" than to the megabanks that claim the lion's share of today's financial services market.
Smaller financial institutions invest directly in their communities from a business and philanthropic perspective. Employees live in the communities in which they work, making the institutions more accessible.
"If you want to speak with the CEO, you can just walk in and ask," Krajicek said. "When consumers don't feel they have to make a tradeoff between product and service, I think they would invariably choose to retain that personal touch."
Kasasa Loans and other products and services help make that possible. Take-Backs protect consumers from misfortune as they strive to pay down debt more quickly. And Kasasa customers manage their money in a less stressful financial environment — as customer feedback stories attest.
"A woman with a 3-month-old baby wrote us because she had to move out of her home," Krajicek said. "Then she remembered she could use her Take-Back funds to put down a deposit on an apartment."