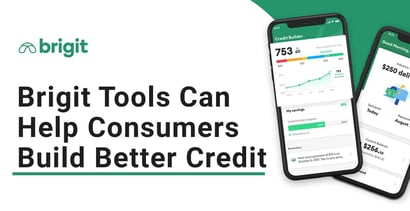 Experts share their tips and advice on BadCredit.org, with the goal of helping subprime consumers. Our articles follow strict
editorial guidelines
.
In a Nutshell: The Brigit mobile app offers affordable cash advances, credit builder loans, and financial literacy tools. Its products don't require a credit check for approval, and the app links directly to users' checking accounts to underwrite loans and deposit funds quickly. And borrowers can pay as little as $1 per month to satisfy their credit builder loan terms and experience real credit score gains.
More than two-thirds of Americans live paycheck to paycheck. For most of those individuals and families, an emergency could throw off their financial well-being for years to come.
Some consumers lean on cash advance loans or even intentionally overdraft their checking accounts because the fees and penalties are less expensive than the cost of taking out a payday loan.
That cycle leaves many households struggling financially and unable to get ahead. It also means purchasing a car or home — or even a necessary appliance — is nothing but a dream.
Brigit aims to help these consumers achieve a new financial reality. With backers that include actor Ashton Kutcher and perennial NBA All-Star Kevin Durant, the app-based cash-advance and credit-building tool can help consumers realize actual credit score gains over time.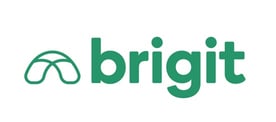 "We saw a really important need in the tens of millions of Americans who continue to live paycheck-to-paycheck and who do not have great options," said Mizel Djukic, Director of Product at Brigit. "Frankly, they have terrible options for getting from one paycheck to the next. And these folks are everyday Americans who are debating how they're going to use their remaining cash — whether it's going to be to pay for filling up their gas tank or to pay for groceries."
Brigit users can also access small cash advances to help them bridge the gap until their next paycheck. Advances range from $50 to $250 and don't require a credit check for approval.
Instead, Brigit links to an existing checking account to identify regular deposits, spending habits, and other activities. The app uses that information to determine eligibility.
The app's credit-builder loans also help users build, or rebuild, their credit scores through timely payments. In time, users may improve their credit rating enough to qualify for more traditional loans.
Credit Builder: A Loan For Rebuilding Your Credit Score
Brigit launched its Credit Builder product in July 2021, and the app arranges a 12- or 24-month personal loan for a flat monthly fee. It stores the borrowed funds in an FDIC-insured deposit account under the borrower's name, and borrowers can choose how much they want to contribute each month to repay the loan — starting as low as $1. If borrowers choose less than the minimum monthly payment, Brigit will use a portion of the loan funds to make up the gap.
Brigit schedules monthly payments and deducts the user's portion from the linked checking account on a predetermined day each month. The issuing bank reports those on-time payments to all three major credit bureaus to help build a positive credit history. When the loan is repaid, consumers may have a better credit score, and they get back all of the monthly payments they put in.
Users who have satisfied their credit builder loans reported seeing credit score increases of as much as 79 points from the process. Everyone will see different results and the improvement borrowers see in your credit score will depend on several factors — including your payment history on other debts while paying off your credit builder loan.
Djukic noted that the credit-building product enables Brigit to work with consumers who may struggle to understand and build their credit scores.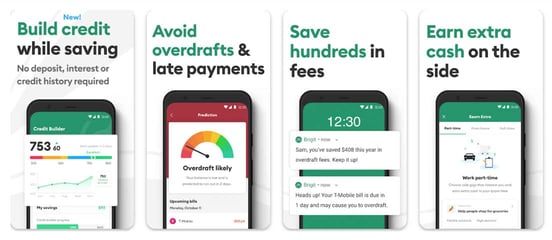 "We know that 45 million Americans have either no credit or so little credit that they aren't eligible for a credit score," he said. "One in every three Americans has subprime credit. That means they're left with expensive or downright terrible options when it comes to paying for everyday things."
Djukic added that he's witnessed customers move into prime credit territory and save hundreds, and sometimes thousands, of dollars on future loans.
"We see people who are coming in subprime or deep subprime. Credit scores under 600, or even in the 500s," he said. "We see a really big improvement for that cohort of folks, more so than than any others."
Credit Builder enrollees gain access to their credit score and credit report, and receive real-time alerts of changes to their credit report. It also includes a credit score simulator that allows users to adjust factors and see how specific actions may affect their credit score — either positively or negatively.
The Brigit team has seen that customers who take advantage of the company's full range of products are often the people who see the greatest benefit.
"We have folks coming in for cash advances," said Djukic. "If they use our credit builder tool as well, it is possible that they improve their credit score so much that they no longer require cash advances."
Cash Advances Allow Users to Avoid Overdrafts
Djukic noted that, despite the popularity of its newer credit builder tool, the cash advance feature remains the company's foundation.
This simple-to-use tool approves users for a small cash advance without submitting to a credit check. They can repay it with their next paycheck, and most users can reuse it once they satisfy the previous one.
Advance can range from $50 to $250, though not everyone will initially qualify for the largest amount. But, over time, you may receive more funds.
Watch on
Instead of requiring a credit check to qualify for an advance, Brigit links to an existing checking account. The automated system reviews account history to underwrite it.
"Everybody who comes into Brigit undergoes underwriting on a regular basis," Djukic said. "We take a look at their cash flows, income, expenses, and so forth. That gives a highly targeted cash advance amount that we're able to provide based on a ton of data that shows what amounts they can actually afford to pay back."
The Brigit app can even monitor the checking account and deposit an emergency cash advance if a user is about to overdraft and doesn't have an existing plan.
Brigit Marketplace Showcases Money-Saving Products
Brigit's newest feature is the Brigit Marketplace. This handy tool provides users with free access to partners who may offer discounted rates or services to help them stick to a budget.
It isn't just a place to find a coupon code for an item users want to purchase online. Instead, their Brigit account may help them qualify for discounted car insurance or other necessities that can quickly drain a monthly budget if someone is overpaying.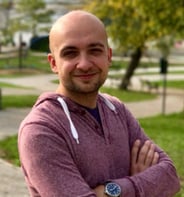 Users aren't required to work with partners and can simply browse the marketplace at their convenience to see if any offers may help them save money.
That addition, along with several others that are in the works, has helped Brigit become one of the fastest-growing financial apps in the marketplace. It can also help consumers graduate from subprime credit and realize healthier and happier financial futures.
While that may seem like it would cause Brigit to lose its customer base, Djukic noted that partnerships don't have to end once a consumer gets a fresh financial start.
"What I'm really excited about is the future and what the next step looks like for Brigit and Credit Builder," Djukic said. "Because I can imagine a world where those credit builder users have moved from one brand to the next, and now we can offer partnerships that really allow them to benefit from their better credit score."