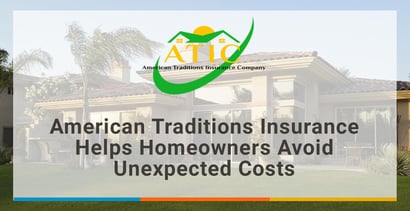 Experts share their tips and advice on BadCredit.org, with the goal of helping subprime consumers. Our articles follow strict
editorial guidelines
.
In a Nutshell: Insurance is a critical financial tool with which to protect a home investment, especially for mobile and manufactured homes in Florida. American Traditions Insurance specializes in insurance policies that provide peace of mind for those homeowners when disaster strikes. And those disasters may come in the form of an extreme weather event, including a hurricane or tornado, or simply water damage from leaky pipes. American Traditions prides itself on providing the necessary coverage and serving clients quickly when they make claims. It also plans to extend its services to flood insurance, ensuring its clients get the proper coverage at an affordable rate.
American Traditions Insurance isn't just a name. It truly is a tradition.
T. John Jerger's family got into the insurance business in Florida in 1946 when they started an agency. Later, the company grew into a managing general agency — a specialized agency or brokerage vested with underwriting authority by an insurer. By the 1980s, they had launched their own insurance company and grew both ventures side by side.
In 1999, Jerger's father and uncles sold those businesses, but he was still passionate about insurance. So he started his own managing general agency, West Point Underwriters, insuring homes and manufactured homes and operated it until the 2004 hurricane season brought widespread devastation to communities across Florida.
"I realized very quickly that there was an opportunity to start an insurance company and probably see a significant growth fairly quickly," Jerger said. "That led to myself and several others putting together about $7 million to start American Traditions Insurance company."

American Traditions Insurance specializes in mobile and manufactured homes, distinguishing it from the other agencies, especially in Florida. Those dwellings are popular in the state, but they also have the reputation of being especially vulnerable to damage from hurricanes and tornadoes.
A mobile or manufactured home, like any home, is one of the owner's most valuable financial assets. Insuring that asset is an essential component of protecting well-being and financial stability.
"The differentiator between us and everybody else is our understanding of manufactured homes. We know how to underwrite them a little bit differently than most of our competitors, so we protect the insurance. That keeps a good stable market that's not going to go away with the next big storm," Jerger said.
Insurance Helps Protect Investments and Properties
As with site-built homes, consumers must insure manufactured and mobile homes under a mortgage. Lenders leverage that stipulation to protect their investment and mitigate risk. However, those homes are significantly cheaper, so homeowners may not necessarily need a home loan to purchase one.
"Only about 25% of folks have a mortgage on manufactured homes," Jerger said. "I'm seeing more people look at manufactured homes as an affordable way of living, although you'd be shocked to see what the cost is now compared to the cost years ago. You can buy a manufactured home that's two stories now. It's come a long way from where it was."
No matter how much they pay for it, insurance is a crucial tool for protecting their investment, and that's especially true for larger, more elaborate models. Hurricanes are an annual hazard in Florida for any building, and tornadoes can crop up at any time of year.

Extreme weather events are especially dangerous for mobile homes, which don't have foundations, meaning they have less stability in high winds. But even for manufactured homes, which sit on foundations, high winds can cause severe damage and even destruction.
"If you don't have insurance, you don't have any help other than perhaps FEMA, and it becomes a lot more difficult," Jerger said. "The insurance company is there to give you additional living expenses so you can find a temporary home while your home is repaired or replaced. If you don't have that coverage, you're out that money. And now you have to figure out another way to deal with it."
Water Losses Are Common and Costly to Repair
Water damage is another significant danger for homes. It can come from severe storms, flooding in low-lying areas, or even old or faulty plumbing that springs a leak can cause it.
"At some point, you're going to have some type of water loss," Jerger said. "Make sure that you're ready for that."

Jerger recommends installing water detection devices, which activate a water flow cut-off to mitigate the damage to a home. Having protections such as that in place can also reduce the cost of home insurance because it diminishes the likelihood of severe damage and mitigates the risk insurance companies take on.
But even with such safeguards, water damage can still mean taking a loss. An insurance policy covering that damage will reduce the cost of minor and major repairs.
In addition to the initial damage, leaks also create conditions for mold to form and spread throughout the home. That presents a health hazard, and eliminating the growth can be costly.
"When you leave your home for an extended period, or even for a night, you can have significant damage in a very short time," Jerger said. "Protect your home against things that you can't see such as issues in the walls that can create months and months of disarray that you don't want to deal with."
Providing Proactive, Quality Service When Losses Occur
American Traditions Insurance emphasizes customer service that extends well beyond selling a policy that provides adequate coverage and security. Jerger also wants to ensure that policyholders have an ally in their corner when disaster strikes.
American Traditions Insurance clients filed more than 21,000 claims in the wake of Hurricane Irma in 2017. So it brought in adjusters from many different locations to handle the caseload as effectively and swiftly as possible.
"You're always going to have things that go wrong, but it's how you overcome those issues or obstacles that counts," Jerger said. "We always pay attention to customer service first. If a client is unhappy, we try to figure out how to make them happy. We want to put them back in the home that they were in before the loss as quickly and efficiently as possible."

Smaller events that cause loss, including spring storms, are easier to handle since they often have a small damage footprint. But more significant events, including hurricanes, cause more damage over a wider area, which requires more effort and efficiency from insurers.
American Traditions Insurance meets that challenge by economizing adjustor caseloads. If multiple clients are in the same community or area, the adjuster handles their cases all at once instead of addressing them on a first-come, first-served basis.
"It just depends on whether we're getting a lot of solicitations in geographic areas that had the loss," Jerger said. "We try to be proactive and get out and see the areas affected as quickly as possible."
Expanding to Flood Insurance to Better Serve Floridians
Florida is defined by its coastline, and most of the state's border is on either the Gulf of Mexico or the Atlantic Ocean. Its land is also dotted by lakes and crisscrossed by rivers and canals of all sizes. While that means plenty of waterfront property and lovely views, waterway access comes with the constant threat of flooding.
Flood insurance has traditionally been the purview of the National Flood Insurance Program, which FEMA manages. Many older homes have been grandfathered into the program at relatively low rates, making it difficult for private insurers to break into the market.
"They've historically been in the red because of how they held the premiums down across the country," Jerger said. "About 30% of policies are bought in Florida, and that's primarily because we have a lot of low-lying areas."
But recent changes have seen rates increase quickly. Jerger said he believes there's an emerging opportunity for private insurers to get involved in flood insurance. He said he sees the potential to leverage technology to determine eligible markets across a larger geographic area. That could help him offer rates below what the National Flood Insurance Program can provide.
"It fixes two problems. First, we're not putting it on US taxpayers when the NFIP is $30 billion in the hole, as it has been in the past," Jerger said. "It also takes FEMA out of the scenario in a lot of cases. Now, you're taking that risk and moving it to a worldwide risk rather than a countrywide risk. I think that's a good thing for the US and the private market to get involved in. So we're going to get involved in Florida and several other states with that product."