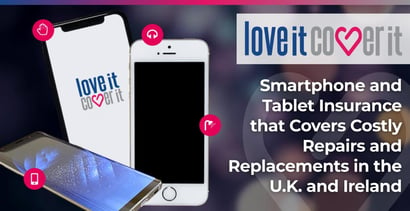 In a Nutshell: Smartphones and tablets represent significant investments today, so it only makes sense to protect them with insurance. That's why loveit coverit was founded to provide affordable coverage for devices in the U.K. and Ireland. Two policy tiers cover the unfortunate mishaps devices are prone to, including cracked screens and water damage. Enrollment, claims, repairs, and replacements are all handled in-house, streamlining the process for policyholders. In addition to insurance, loveit coverit also researches the role digital technology plays in society to help us better understand its effects on our personal lives.
Many of us have had that moment of horror when we step off the bus or the metro and realize we've left our phone or tablet sitting on the seat. Or, just as bad, getting out of the car to walk across the street and dropping our phone, shattering the screen.
Those scenarios may not be so terrible if your phone is a modestly priced model. But for more expensive, high-end devices, they can mean costly repairs or replacement. And regardless of the device's value, you run the risk of losing data — including photos, messages, passwords, and all the other information stored on your phone.
At moments like these, everyone wishes they'd sprung for the insurance policy offered at the time of purchase. Luckily, loveit coverit, one of the largest specialist insurers in the market, makes smartphone and tablet coverage available at any time.
"It's been relatively recently that gadget-focused insurance companies have come to the front," said Ben George, Senior Content Executive at loveit coverit. "People normally got insurance through their bank or through their network or other insurers that aren't primarily focused on gadgets or smartphones. The idea for loveit coverit was to have a strong customer-focused mentality that would provide a better product at a lower cost."
Established in the U.K. as part of Pier Insurance Managed Services Limited, loveit coverit boasts more than 30 years of experience in the insurance industry and has covered more than 1 million devices.
And as society becomes more dependent on smartphones and tablets, people are willing to pay an increasing amount of money for them. Today, many consider their digital devices investments, and it is worth a little extra to insure them — both financially and for peace of mind.
"You wouldn't buy a car and not get insurance for it. The same can be said for your smartphone," George said.
And the company is working to expand its coverage area to enable even more consumers to protect their device investments.
Device Insurance Protects More than Just Hardware
Device insurance is something many consumers presume — or at least sincerely hope — they won't need. Plenty of us assure ourselves that, because we're careful with our devices, we can protect them from any harm. That's why so many people decline to purchase insurance when they buy their digital devices.
"It's often seen as a frivolous purchase in most cases. Obviously, when you go and buy a new phone on contract, or you buy a new phone outright, you're often given the option by the network," George said. "It's often seen as quite an unnecessary payment, especially if you're quite careful."
But as almost all of us have learned at some point, we're not as careful as we think we are, and accidents are bound to happen. Even small accidents can lead to disastrous results for the bank accounts of consumers.
Watch on
New smartphones — especially high-end models at debut — can be quite expensive. As of April 2019, the iPhone SX Max — the latest in Apple's popular line — with 64 GB of storage cost $1,099. And that's the smallest one. The 512 GB model costs $1,449. For that price, you could buy a used car.
Beyond monetary value, digital devices have become integral to modern daily life. Back when mobile phones were less a part of daily life, you may have used them to make calls, send text messages, or take a few photos. But now, some two decades later, we use them for everything — coordinating social events, checking our email, working on the go, entertaining ourselves while we wait for the bus, and myriad other functions.
Insurance from loveit coverit provides consumers with the peace of mind that their lives won't be shattered just because their smartphone is.
Two Policy Tiers Give Consumers the Coverage They Need
Consumers can get a free loveit coverit insurance quote online by providing details on the device they want to insure, its specifications, and some basic personal information. They'll also need to provide the IMEI number, which is specific to each device and provides additional information to loveit coverit. Applicants will need to declare the place and date of purchase (which must be within the last 36 months), provide proof of ownership, and note any damage the device has previously sustained.
Based on that information, loveit coverit will return quotes for its Plus and Premium insurance tiers. Policies cover loss and theft of the device, and they also cover up to £10,000 (nearly $13,000 U.S.) in expenses for felonious calls, messages, and downloads. A Premium policy also includes coverage for cracked screens, damage incurred from liquids or accidents, and mechanical breakdown of device hardware.
All loveit coverit policies include unlimited claims and repairs at no additional charge and a 14-day money-back guarantee. No minimum contract is required, and policies include worldwide coverage for the insured device as well as accessories like headphones and protective cases.
However, loveit coverit policies do not cover manufacturer defects and faults. One example of this is the Samsung Galaxy Note 7's exploding battery epidemic of 2016. As TechRadar reported, the culprit was the phone's irregular-sized battery, which overheated, and additional manufacturing errors in replacement batteries.
In that case, Samsung stepped up and took responsibility for the defects, and similar issues are covered under other manufacturers' warranties. But for everything else, device users can rely on loveit coverit.
In-House Service Ensures Fast Repairs and Replacements
The company also makes filing a claim for a device simple, as the policyholder contacts the claims department, which assesses the situation. Upon claim approval, the policyholder sends the device to loveit coverit for repair or replacement.
The company does not make cash payouts to policyholders. If the repair team can fix the damage to the device, they will do so. Otherwise, loveit coverit will replace the phone or tablet with one of equal value. The repaired device or its replacement is then returned to the customer by mail.
"You can call with a concern, and we will deal with it, whereas a lot of other insurers — especially those who use third parties, as networks often do — will forward calls to some company you've never heard of." — Ben George, Senior Content Executive at loveit coverit
"We do our best to repair your phone, which I think is the best option that everyone wants," George said. "It's not just the technology and the case. It's everything on the phone as well. If you drop your phone in water, you don't want to lose all your photos and contacts and passwords."
To make the process as easy as possible, loveit coverit provides end-to-end service. Each question and claim is handled in-house; customer service tickets and repairs will never be passed along to a third-party company. Policyholders deal directly with loveit coverit throughout the process.
"You can call with a concern, and we will deal with it, whereas a lot of other insurers — especially those who use third parties, as networks often do — will forward calls to some company you've never heard of," George said. "Our call center is in-house, the repairs are in-house, the support team's all in-house as well."
Research Helps Mobile Users Understand the Social Impact of Technology
As part of its expansion into European markets outside the U.K., loveit coverit has partnered with AXA, a large Europe-based insurer. The partnership enhances the loveit coverit brand and expands its offerings to more potential customers.
"AXA is a quite well-known European insurer," George said. "It adds a bit of validity to our brand as well."
And loveit coverit is doing more than insuring mobile devices and helping people protect their investments. The company also spearheads research into how tablets and smartphones are changing the way we live in the modern, digital world.
"We're doing a lot of focused research and outreach, and we have an ongoing project that's looking at smartphone culture and how that affects different facets of our lives," George said.
One of these studies focuses on how smartphones affect children, education, and socialization. The company conducted independent surveys and consulted subject-area experts to gain perspective on both sides of the conversation.
"We're trying not to come at it from a biased point of view," George said. "In a lot of news publications, there's a bias there, whereas we want to give an informed argument for both sides to add to the debate."
Another loveit coverit study addresses how smartphones and tablets are changing the nature of relationships, and a study of smartphones' effects on online shopping is underway. This is especially timely in light of the decline of traditional retail as shoppers move overwhelmingly toward web or hybrid experiences with retailers like Amazon.
Whether we use our mobile devices for leisure, work, or both, they have fundamentally changed the way we live — and that is unlikely to change any time soon. But, no matter how you use your tablet or smartphone, insurance from loveit coverit can protect not only the device but also the information it holds.
Advertiser Disclosure
BadCredit.org is a free online resource that offers valuable content and comparison services to users. To keep this resource 100% free for users, we receive advertising compensation from the financial products listed on this page. Along with key review factors, this compensation may impact how and where products appear on the page (including, for example, the order in which they appear). BadCredit.org does not include listings for all financial products.
Our Editorial Review Policy
Our site is committed to publishing independent, accurate content guided by strict editorial guidelines. Before articles and reviews are published on our site, they undergo a thorough review process performed by a team of independent editors and subject-matter experts to ensure the content's accuracy, timeliness, and impartiality. Our editorial team is separate and independent of our site's advertisers, and the opinions they express on our site are their own. To read more about our team members and their editorial backgrounds, please visit our site's About page.