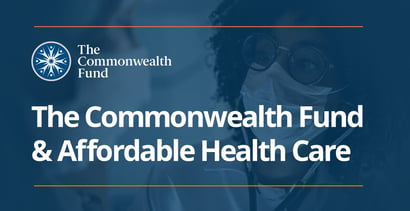 In a Nutshell: Medical debt can cripple household budgets, but organizations like the Commonwealth Fund are working to improve health care access and affordability. Founded in 1918, the fund today focuses primarily on funding policy research that is aimed at helping underserved and low-income populations gain access to health care coverage. We discussed the fund's biennial health insurance survey, which reveals some interesting data trends over time, such as rising deductibles. And, while the Affordable Care Act has gone a long way toward helping the uninsured and underinsured, the Commonwealth Fund's Munira Gunja addressed how it can go even further.
It only takes one unexpected medical expense to derail a budget and potentially send a household into a dangerous debt spiral. The burden of financial debt can not only lead to missed payments and low credit scores, but it can also contribute to stress that can deteriorate mental and physical fitness.
And nearly half the country is at risk for going further into debt should a medical emergency arise.


With the COVID-19 pandemic sweeping across the U.S., the medical debt crisis only stands to get worse. While medical professionals and scientists work to gain a better understanding of the novel coronavirus, it's clear that it can present a wide range of symptoms and leave long-lasting effects.
And reports are already illustrating how the virus is hitting many people hard when it comes to covering the costs of health care.
The COVID-19 pandemic has only emphasized weaknesses in the U.S. healthcare system that were already known to some. And it has led many to seek ways to improve the system.
In the meantime, organizations like the Commonwealth Fund are doing its part to help improve the current situation. The Commonwealth Fund was founded in 1918 by philanthropist Anna M. Harkness with a mission to enhance the common good.
The broad mandate has evolved into a focus on ways to help everyone gain access to quality, affordable health care.
Helping Underserved and Low-Income Populations Access High-Quality Health Care
"The Commonwealth Fund is a foundation that gives grants to support health policy research," said Munira Gunja, Commonwealth Fund's senior researcher in the Health Care Coverage and Access program. "We are mission-driven and our aim is to assure that people — especially those with low incomes and people of color — are able to get high quality, affordable health insurance coverage."
The fund supports independent research on a range of health care issues, and its grants go toward improving health care practice and policy.
The organization focuses on three main areas to carry out its mission, the first of which is health care coverage and access.
"The gains in health care coverage and access to care made under the Affordable Care Act have fundamentally changed the health insurance system," according to the fund website. "But reaching the millions of adults who are still without coverage is one big remaining challenge. Another is ensuring that those who are insured can afford their health plans and their health care."
The Commonwealth Fund also focuses on health care delivery reform because people with low income and people with high health care needs experience more problems with their health care than other groups.
"Improvements in care for these patients are possible through changes in the way health care is delivered and paid for — and may spur better performance across the entire health system," according to the organization.
Finally, the organization maintains an international program in health policy that is designed to stimulate innovative policies and practices in the United States and other industrialized countries.
"Benchmarking U.S. health system performance against other high-income nations, and highlighting best practices from around the world, can help the U.S. face the challenge of mounting pressure of lowering health care costs while maintaining access to the latest in medical technologies, improving quality and safety, and making the health system more responsive to patients' needs and preferences," according to the fund website.
A Biennial Health Insurance Survey Provides Unique Insights into the State of Coverage in the U.S.
Among the notable research conducted by the Commonwealth Fund is its biennial health insurance survey. Conducted in 2001, the survey is one the fund's longest-running projects.
"We're able to track health insurance trends over time, and the aim is to really understand what's going on with people's coverage," Gunja said. "Is it affordable? Is it high quality? What happens to people who don't have health insurance coverage?"
The survey also looks at factors like whether those without coverage are able to obtain care, and for those with coverage, whether deductibles and high out-of-pocket costs are preventing them from seeking care, she said.
The last survey was conducted in 2018, and the fund's most recent survey is based on data collected this year.
"We conducted a good portion of the interviews before the pandemic started," Gunja said. "We didn't see a significant change between interviews that were conducted before the pandemic and during the pandemic, but, of course, this may change."
Gunja said the Urban Institute predicts that an additional 3.5 million people may become uninsured by the end of the year due to people losing their jobs or being furloughed.
"So, this may increase medical debt and medical bill problems; we just don't know what will happen," she said. "But we are definitely going to keep our eyes and ears open."
Gunja said one of the consistent findings of the surveys that always surprises her is the number of people who have medical bill or debt problems.
"About 37% of working-age adults have some sort of medical bill or debt problem," she said. "And it only increases among people who we consider underinsured — those are people who have insurance for the full year, but they have high out-of-pocket costs and deductibles relative to their income, or people who are uninsured."
Another surprising finding includes the trend of rising deductibles.
"The majority of people in this country have insurance through their employer," Gunja said. "We need to really make sure that we're protecting people by providing adequate coverage, and that we're able to make it so that employers can provide coverage with lower deductibles."
How the Affordable Care Act has Helped Americans
While the U.S. healthcare system has plenty of room for improvement, Gunja discussed how the Affordable Care Act has helped Americans in recent years. The ACA, as it is commonly referred to, was signed into law in 2010 by President Barack Obama.
By 2017, the uninsured rate in the U.S. had been nearly cut in half.
"The ACA has been really essential for millions of people," she said. "And there are so many reforms that it has undertaken to really make it so that, especially low-income people, have access to high-quality care."
Watch on
Gunja said that Medicaid expansion has also been incredibly important in helping the underinsured. There are 12 states remaining that have yet to expand Medicaid, she explained, but it's essential that they go through with the expansion. Plenty of research shows the positive impact of expanding Medicaid and how it allows significant numbers of people to get quality care.
"Within the ACA marketplaces themselves, people who earn below 250% of poverty, they're able to get a subsidy or a reduction on the amount they pay toward their deductibles," Gunja said. "So the ACA has been really impactful for people, especially those who qualify for these subsidies and for people who qualify for Medicaid."
And those who earn less than 400% of the poverty level gain access to premium subsidies under the ACA, she said.
Gunja said that, despite all the positive impacts, plenty of work still needs to be done.
"We can expand the threshold for who gets the ACA premium subsidies, so expanding that beyond 400% of poverty so that more people are able to have affordable premiums," she said. "And, again, expanding Medicaid in all the states. But it's been a really great start to making sure that people are able to get high-quality care."
Gearing up for a New Survey
While the biennial health insurance survey is one of the Commonwealth Fund's longest-running projects, the organization conducts numerous other surveys and research throughout the year.
"At the end of September we'll be releasing another survey really looking at the impact of COVID on health insurance, and people's view of, when it comes to the (presidential) election, which candidate will really help provide affordable health insurance coverage when it comes to COVID," she said.
The forthcoming report is the latest in a series of surveys the fund has been conducting since February.
Advertiser Disclosure
BadCredit.org is a free online resource that offers valuable content and comparison services to users. To keep this resource 100% free for users, we receive advertising compensation from the financial products listed on this page. Along with key review factors, this compensation may impact how and where products appear on the page (including, for example, the order in which they appear). BadCredit.org does not include listings for all financial products.
Our Editorial Review Policy
Our site is committed to publishing independent, accurate content guided by strict editorial guidelines. Before articles and reviews are published on our site, they undergo a thorough review process performed by a team of independent editors and subject-matter experts to ensure the content's accuracy, timeliness, and impartiality. Our editorial team is separate and independent of our site's advertisers, and the opinions they express on our site are their own. To read more about our team members and their editorial backgrounds, please visit our site's About page.