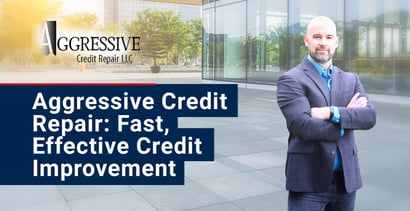 In a Nutshell: Consumers can clean up their credit reports and improve their credit scores on their own, but it often takes a tremendous amount of effort. That's why many seek help from Aggressive Credit Repair, a reputable, experienced service that works on their behalf. Aggressive Credit Repair focuses on paying down past debt and Founder Lorin Hanks works directly with clients. The process begins with a consultation and moves on to a three-point action plan utilize accounts in a manner to facilitate a strengthening score, clear up inaccuracies & resolve past due debt. This, combined with an emphasis on customer education, is essential for future financial wellness, especially for homebuyers in such a competitive market.
Removing negative marks from a credit report can help improve credit scores. Consumers should regularly check their reports for negative marks, contest them, and try to have them removed if they can.
Negative marks can be removed if they're false, but the only way to deal with legitimate ones is through consistent on-time payments and patience. One woman who recently sought help from Aggressive Credit Repair found herself in that situation.
"What we're going to do with her is focus on the other areas of her credit," said Lorin Hanks, Owner and Mortgage Loan Officer at Aggressive Credit Repair. "She has a collection she needs to pay so that she's not sued for it. Later, we can even try to get it removed. She has maxed-out credit cards that need to be reduced. Also, she just opened a new card that we can close to reduce her card utilization and reduce her average length of open accounts history. The bottom line, credit repair is not just about getting accounts removed. It's unrealistic to expect all negative info to magically go away. There are many ways to improve credit."

Even if consumers feel they have no choice but to wait for certain aspects of their credit score to improve, Aggressive Credit Repair offers plenty of steps they can take to clean up their credit now. That may also help them get better rates on loans and qualify for other beneficial financial products.
Consumers can accomplish these tasks independently, but the assistance of professionals like Hanks can expedite the process and ease the workload. It also requires a commitment to becoming debt-free.
"It's called 'Aggressive' Credit Repair because the most aggressive approach to cleaning is to resolve past due debts," Hanks said. "In fact, that's the prerequisite to get into my program. You must possess the desire and ability to settle past due debts. It is my belief it's the only true way to fix credit. By not settling past due debt, it's bound to come back to haunt you later in the form of debt being sold to other creditors and/or being sued or even garnished."
An Approach to Credit Repair that Lives Up to Its Name
Intent is one significant factor that sets Aggressive Credit Repair clients apart from those who use other services. That's because it is geared toward borrowers who are committed to conscientiously settling their debts.
"All my competition will take anybody with a heartbeat and a credit card to get them into their programs. I'm different. I want you to be a good candidate for this," Hanks said. "And if you're not now, I'm going to explain how you can be, so that when we start my program you're poised for success."
That demonstrates another way that Aggressive Credit Repair stands apart: Hanks takes a direct approach with clients and potential clients.
"I'm a lot different than everyone else," Hanks said. "The difference is I'm the owner, and I work directly with my clients."
Over his 17 years in business, Hanks has worked with nearly 9,000 clients who have a variety of financial situations and goals. And Aggressive Credit Repair's positive feedback, including a 5-star rating on Google, reflects its commitment to clients.
"Everybody fits in the demographic I'm looking for if they have the desire and ability to settle a past-due debt," Hanks said. "So it's a mixture of making sure everything's accurate on the report and fixing credit, for the long term, with an emphasis on resolving past-due debt."
Careful Analysis Pinpoints Crucial Steps to Recovery
Aggressive Credit Repair offers service in 48 states. However, most of its clients come from Hanks' home state of Utah.  At all of its locations, a consultation begins by analyzing the client's credit report.
"I give them a video screencast of me going over their reports and every single line," Hanks said. "I tell them what's helping them, what's hurting them, and give a brief explanation of the credit score and what they can do to help themselves. Finally, I say,' If you join my program, this is what I can do for you.' I usually leave them with ways to help themselves if they want free advice."
Some people take that free advice, successfully clean up their credit reports, and improve their scores on their own. Others seek professional, specialized assistance and guidance through the Aggressive Credit Repair process. And Hanks is always upfront and transparent with his clients.
Watch on
"With my expertise, they can expect certain results," Hanks said. "And I'll explain those results. I allow them to determine if they need this or not because I'm trying only to have clients join this program who really want it."
Following the initial credit score analysis, Hanks provides a three-step process that charts a course to settling existing debts. Part of that is compiling a list of accounts to dispute. Another aspect is preparing a list of accounts that the client must settle.
"I encourage resolving all past due debts, however, often there are cases of ID theft. Obviously, I'm not going to have a customer pay something that's not theirs," Hanks said.
Strong Financial Standing is Critical for Homeownership
Most clients have bigger, long-term goals for the credit repair process aside from paying off debt and improving their scores. Often, that goal is buying a house, and a strong credit score is essential because it enables the borrower to get a better interest rate on their mortgage. And sometimes, a slight difference in score can make a huge difference in savings.
"It's important," Hanks said. "For example, the last loan I closed was with a best friend of mine. His score was 699. He wasn't in my credit repair program; I just helped him separately. And his rate was 3.23%. I knew if we could get him up one more point, his rate would have dropped at least a quarter of a point because it was over the 700 mark."
Even if consumers don't manage to get the best possible score when buying a home, they can always keep improving it to prepare for refinancing.
"If you just want to get the best rate possible, then you want to go in with a 700 or 720 score," Hanks said. "It's important to make sure your score is as high as it can be."
In the post–COVID 19 economy, having a high score is more important than ever. The number of homes on the market is low, while the cost of materials and labor is high. That means homebuyers need high credit scores to get the best possible deal on their mortgages.
"There are times when real estate goes down a little bit, but it doesn't last. That's what I've seen since I've been in this business," Hanks said. "You need cash in addition to a good score. It's harder than ever to go out and buy a house right now."
Aggressive Credit Repair: A Realistic Path to Better Scores
Aside from saving money, buying a home is one of the biggest wealth-building opportunities people in the United States have. It's an important goal to strive for, but just as importantly, one must keep their expectations — and time frame — realistic.
"I enjoy the process of cleaning up people's credit," Hanks said. "There is an immense satisfaction at the end when somebody refinances their car into a better rate and saves $100 a month or refinances their house into a better rate, saving $200 a month, or gets their first home."
Likewise, credit repair clients must also be prepared to be open and honest about their financial situations and the amount of debt they're carrying. Only by facing the problem head-on can they hope to achieve their goals.
"Credit itself is a sensitive subject to people," Hanks said. "Once you get that looking good, they go from vulnerable and ashamed of their credit to proud."
For credit repair to work, clients must first put themselves on the right footing to begin the journey. That was the case with the woman who recently sought Hanks' help. And she did not initially qualify for his program.
"All she had to do was fit a couple more criteria and save a little bit of money. She came back and became a customer," Hanks said. "So if you're not a great candidate now, you can be just with a couple of simple pointers."
Making small changes can be the first step on the path to better credit and improved financial stability. Seemingly minor financial adjustments can have a huge impact later on when clients refinance auto loans or buy their first home.
"There's this huge sense of accomplishment that I help facilitate," Hanks said.
Advertiser Disclosure
BadCredit.org is a free online resource that offers valuable content and comparison services to users. To keep this resource 100% free for users, we receive advertising compensation from the financial products listed on this page. Along with key review factors, this compensation may impact how and where products appear on the page (including, for example, the order in which they appear). BadCredit.org does not include listings for all financial products.
Our Editorial Review Policy
Our site is committed to publishing independent, accurate content guided by strict editorial guidelines. Before articles and reviews are published on our site, they undergo a thorough review process performed by a team of independent editors and subject-matter experts to ensure the content's accuracy, timeliness, and impartiality. Our editorial team is separate and independent of our site's advertisers, and the opinions they express on our site are their own. To read more about our team members and their editorial backgrounds, please visit our site's About page.