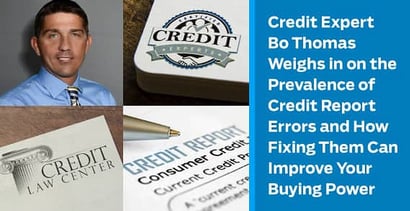 Many Americans underestimate the importance of a good credit score. Even relatively small increases can have a major effect on how much you'll pay on important financial products, such as mortgages, car loans, and credit cards.
What's even more alarming is that a lot of people have mistakes on their credit reports that can make or break their chances of achieving significant life accomplishments like buying a home. A 2012 study by the Federal Trade Commission found that 5% of consumers had at least one error on one of the three major credit reports they're judged on.
Fortunately, consumers can improve their situations by diligently paying attention to what's on these credit reports. Those who find a mistake on one of their credit reports can turn to reputable credit repair agencies to dispute these issues and get the more favorable score they deserve.
We recently spoke with Bo Thomas, CEO of Kansas City-based Credit Law Center, to find out more about the credit repair process and the important role credit scores play in our daily lives.
Thomas spent over a decade in the mortgage industry, where he oversaw more than $1 billion in mortgage origination before leaving to start Certified Credit Experts in 2009 in response to a major shift in the importance of credit scores in determining homeownership qualifications.
He later founded Credit Law Center, which charges no upfront fees and goes beyond traditional credit repair agencies by legally disputing mistakes and suing debt collectors and credit reporting agencies to help consumers see faster results on their credit reports.
How important is a healthy credit score to building a healthy financial life?
It's a hugely important part of everyone's financial lives. Most people don't realize how many aspects of their lives are affected by credit scores. From what they pay when they finance something, how much they pay for insurance, whether they get hired, and whether they're approved for advancements in employment, it impacts so many different aspects.
A lot of times, 40 to 60 points on a credit score is the difference between buying the house you want and buying the house you can afford. A cleaner credit profile can lower the rates you pay so you can buy more house or get better terms on a car. And interest rates on a car can determine whether you're going to be upside down on that car in three years or not.
When should people seek out credit repair services?
Once they find out there is a need, I think they should reach out. I know that seems like a silly answer to that question, but I think everyone should take a look at their credit report and know what it is, what's on it, and whether it's accurate or not. And, if it's not accurate, that's when they should seek out a reputable credit repair company.
Even if they have an accurate credit report, they can also reach out to get an education on what they can do to maximize that credit score. Often, the first part of the credit repair process is letting the consumer know what they can do themselves to improve their credit profile to help improve their buying power, and a lot of times that doesn't even cost any money. Most good credit repair companies are going to give them advice on the things they can do for free to help themselves.
How important is access to educational resources and services for people with financial trouble?
Knowledge is power, and the more power you have, the better off you'll be, regardless of what you're struggling with. Having that information readily available in a user-friendly format is vitally important because if the consumers don't understand it, it doesn't matter how much information is out there.
And, unfortunately, with the credit scoring system, common sense doesn't always apply to good credit sense. So what you're doing might seem to be good from a common sense standpoint, but it isn't always going to score well with your credit report. Having a good understanding of that, knowing all the facts, and not making assumptions are all really important.
How can your company specifically help people solve their credit issues?
Our company approaches it differently than the majority of credit repair companies. We don't have any first work fees, upfront fees, or audit fees. We're 100% transparent with consumers, and we're performance-based.
The first step in our process is to get a copy of someone's credit report and go over it with the consumer. Then, we educate the consumer first about what they can do to improve their situation, whether that be paying down some debt or increasing some limits or sometimes even just establishing credit. That's a big thing that most people don't realize; you have to have credit in order for you to score well.
So once we've advised the client on the things they can do, we then audit the credit report to try to identify mistakes. If we can do that, then that consumer is more than likely a good client for us. We walk them through the process of what we can do and how we go about it, and then we explain what the cost would be if we're successful. If we're not successful in removing an item from the credit report, the consumer doesn't owe any money. And, in our industry, I really think that's unheard of.
Most companies charge an upfront fee or first work fee and then a monthly subscription. And since we're performance-based, we're motivated just as much as the client is to get the items corrected and removed from the credit report as quickly as possible because it makes our company more profitable and gives us a better service to provide to the clients. In return, the clients aren't risking hundreds or thousands of dollars upfront before something is done that will actually benefit them.
How does the credit repair process work for new clients?
Many of our clients come in, and they're facing collections. We identify errors on their credit reports and use them as leverage. Typically, we will dispute them on the consumer's behalf.
And we're a bit different than other credit repair companies in that we're actually a law firm. As a firm, we go directly to the creditor or the debt collector reporting the information and ask for a debt validation. Then, they answer our questions, and we compare the answers to our questions to the response from the credit reporting agencies and try to find a discrepancy.
If we find a discrepancy, that's typically a violation of the law. We then use that violation as leverage to negotiate a deletion from the credit report and issue a cease and desist. And our clients feel the relief immediately when those items are deleted. If a creditor is unwilling to remove a mistake from a credit report, it goes to one of our attorneys who does nothing but sue debt collectors and credit reporting agencies each and every day.
The secret sauce is transparency. It's on our website: Our process is explained all the way through our website. Anybody in the world could copy us; we just haven't had anybody do it yet. We only charge for the items we get deleted after they're deleted, and our legal process makes the credit repair process really fast.
How much can people improve their credit scores going through a reputable credit repair company?
We've never gone back and tracked that. It's kind of a sexy number to throw out there, but the intake process of your clients dictates that rather than your success.
We've helped over 30,000 consumers improve their buying power since 2011. That's the number we try to promote because if we have somebody who comes in with a 710 credit score but has an account on their credit report that's preventing them from getting a mortgage, and we can get that account removed and the score goes up 10 points, that's a win-win for everybody, and you've made someone a homeowner.
Other times, we have people who come in and they've got a 500 credit score, and we get them to a 680. Now, that's a 180-point increase, but maybe they're still unable to buy a house. So we don't really measure our success based on the increase in points; we measure our success on the improvement of the consumer's buying power. Whatever financial goal they're coming to us for, we work to help get them to that because a lot of the lending world is score driven, but that is not the only deciding factor.
What kind of feedback do you get from former clients?
I think we've got over 100 reviews on our Facebook page, and there are some reviews on our website. And I'm sure all companies say this, but we air it all out there. We don't hide reviews, and we've never paid for a review. So there are good ones out there, and there are even a few bad ones. But I think our reviews speak for themselves.
We've got a live feed on our website that, just as soon as a review comes on, regardless of what it says, it's there. So we really stress and preach transparency. We have a lot of happy clients, and the difference between our model and most is the majority of our business is referrals. We don't spend a ton of money on the internet or pay-per-click ads or advertising. Most of our business comes from loan officers who continually refer us business. So the fact that our referral partners just continue to grow speaks volumes to the success we've had.
Advertiser Disclosure
BadCredit.org is a free online resource that offers valuable content and comparison services to users. To keep this resource 100% free for users, we receive advertising compensation from the financial products listed on this page. Along with key review factors, this compensation may impact how and where products appear on the page (including, for example, the order in which they appear). BadCredit.org does not include listings for all financial products.
Our Editorial Review Policy
Our site is committed to publishing independent, accurate content guided by strict editorial guidelines. Before articles and reviews are published on our site, they undergo a thorough review process performed by a team of independent editors and subject-matter experts to ensure the content's accuracy, timeliness, and impartiality. Our editorial team is separate and independent of our site's advertisers, and the opinions they express on our site are their own. To read more about our team members and their editorial backgrounds, please visit our site's About page.