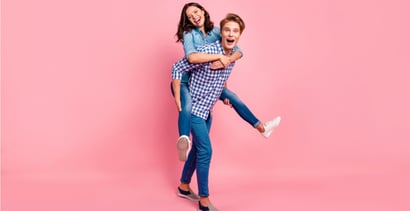 If you haven't established a credit history or your credit scores are low due to past credit problems, getting a great credit card in your name can be a challenge. Roughly 26 million US adults have so little on their credit reports that they are credit invisible, according to a 2020 Consumer Financial Protection Bureau study. 
And 2021 data from the credit bureau Experian found that nearly a third of US consumers have subprime credit. Yet without a positive pattern of borrowing and repaying on your credit report, you can't build a credit rating. 
To deal with this dilemma, you may want to hitch a ride on someone else's credit account. Here's what credit card piggybacking is and how it can help your credit. 
"Piggybacking" Is More Commonly Referred to as Becoming an Authorized User
The formal term for credit card piggybacking is becoming an authorized user. It is when an account owner contacts the credit card issuer to let them know you have legal permission to use the account. 
The account owner provides the credit card issuer with your personal details, including your name and mailing address, and you will soon receive a credit card with your name on it that you can use. Because the owner is letting you "piggyback" on the account, you have the right to make charges.
When you piggyback on someone else's credit card, you are a guest on the account. Ownership doesn't change, so you do not have any obligation to the issuer to pay the bill or settle any outstanding debt. 
The primary account holder may be able to lessen the authorized user's credit limit, depending on the card. For example, while the owner may be able to charge up to $5,000, the authorized user may only have access to $500. 
How Piggybacking Can Help Your Credit
Almost all credit card issuers furnish the three major credit bureaus  (TransUnion, Equifax, and Experian) with information on the account's activity. It will appear on the credit reports of each of the cardholders, including authorized users. 
The new credit card account will show up in the tradelines section of your credit reports. It will detail the date the primary account holder opened the account, the current balance, the available credit limit, and the monthly payment history. 
An account that shows a steady stream of on-time payments and zero or very low revolving debt compared to the available credit limit can significantly boost your credit scores That's because these are the two most important credit scoring factors.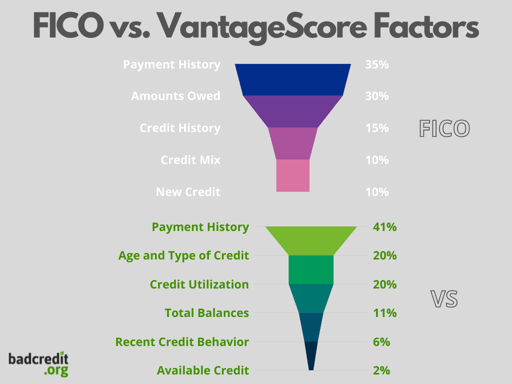 If you don't have anything or much on your credit reports right now, even one well-managed account can add enough credit history to jump-start or repair your scores. 
If you have negative information on your credit reports, a credit card that shows a long history of timely payments and low debt won't erase those issues, but it does indicate that you are associated with a responsibly managed account. 
You can't remove accurate negative information from your credit reports before the term set by law (seven years for most derogatory notations, except for Chapter 7 bankruptcy, which will stay put for 10 years). But recent activity carries more weight than something that happened many years ago. 
Piggybacking Age Restrictions
Each credit card issuer is free to set its own policy regarding who can become an authorized user. Here are the ages for the major credit card issuers:
American Express: 13
Bank of America: no minimum age restrictions
Barclays: 13
Capital One: no minimum age restrictions
Citi: no minimum age restrictions
Chase: no minimum age restrictions
Discover: 15
U.S. Bank: 16
Wells Fargo: no minimum age restrictions
In fact, one of the advantages of a minor piggybacking on an adult's credit card account is that it will start the minor's credit history early. Once they reach 18, they may have enough information on their credit reports to get their own card with less trouble than if their credit reports were blank. 
A disadvantage, though, is giving access to a young person who may be unprepared for the responsibilities of using a credit card. Having access to a large credit line can be tempting for an adult to manage, but an inexperienced youth can have an even harder time refraining from impulse purchases. 
Authorized Users vs. Joint Account Holders
Understanding the difference between credit card piggybacking as an authorized user and owning an account with somebody else as a joint account holder is important.
Your credit history is never used to determine qualification as an authorized user, and you will not see a hard inquiry appear on your credit reports. If the account goes delinquent, the issuer cannot turn to you for payment. That will always be the responsibility of the account owner.
On the other hand, as a joint account holder, you are one of the owners. You apply for the account with the other person. The issuer will analyze both of your financial statements and credit reports to determine qualification and set the terms. Because you must be an adult to sign such a contract, you have to be 18 years old to become a joint account holder.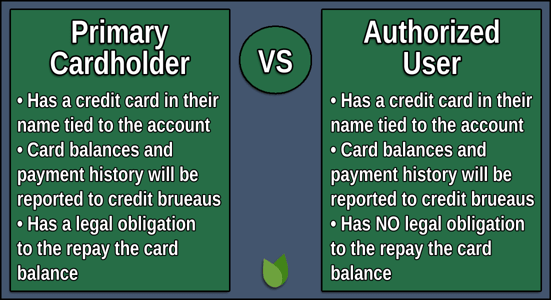 It is much more common for credit card issuers to allow authorized users on the account than it is to offer co-ownership as equal partners. Of all the major issuers, only Bank of America currently allows joint credit card ownership. 
The Risks of Piggybacking Someone Else's Credit
Although piggybacking can help you create or rebuild a good credit history, there are a few potential problems you should know first:
Bad credit management. If the primary account holder misses a payment or maxes out the credit limit, that information will go onto your credit report and can hurt your credit. 
Communication complications. Because at least two people will be using the account for transactions, you have to communicate to make sure there is enough available credit left on the credit line before making a purchase. If one person charges up to the limit, the other will be unable to complete their purchase. 
Relationship damage. The account owner is stuck with the bill if you run up the card balance. The person who allowed you to piggyback will almost certainly be upset if you don't pay them back unless you have an agreement in place.
It is very important to establish rules before you obtain and start using the card. You should mutually agree on where, how, and in what increment you can use the card — and write the rules down. 
For instance, the agreement may be that you can only use the card for groceries and gas or for up to a fixed amount each month. Or maybe you can use the card more liberally, but you have to pay the account owner for all the charges you make. 
Jumping Off the Card Owner's Account
One of the greatest advantages of piggybacking on somebody else's credit card account is that it's temporary. If you are a joint cardholder, the account is both of yours until it is closed entirely with no balance due. And if the other person mismanages the account, you're stuck with it. 
But as an authorized user, you can have yourself removed from the card at any time. Contact the credit card issuer and explain that you no longer wish to be an authorized user. The account owner can also remove you at will. 

If the account you are associated with as an authorized user is being mismanaged, you will probably want to be removed from it. You may not have access to the credit card statements unless the account owner shows them to you, so keep an eye on your credit report. You can end the arrangement if you see problems occurring, after which the credit card will no longer show up on your credit reports, including the negative information. 
Another reason to stop piggybacking on someone else's account is if you no longer need to. If the account has helped you build your credit so you can become eligible for a good account on your own, apply and wait to be accepted. After that, you can feel free to jump off the account owner's card. 
Your credit score may decline once it has been expunged from your credit report, but you will have your own account to use and manage. Handle the new account well, and your scores will recover. 
Piggybacking Is a Privilege
When given the opportunity to piggyback on somebody else's credit card account, you are being offered a special gift. You can use the account owner's credit card to make safe and secure transactions, and each month that the issuer sends information about the account to the credit bureaus, more data is fed to your credit reports and scores. 
Take pains to follow the rules — and don't forget to say thank you during and after the arrangement. 
Advertiser Disclosure
BadCredit.org is a free online resource that offers valuable content and comparison services to users. To keep this resource 100% free for users, we receive advertising compensation from the financial products listed on this page. Along with key review factors, this compensation may impact how and where products appear on the page (including, for example, the order in which they appear). BadCredit.org does not include listings for all financial products.
Our Editorial Review Policy
Our site is committed to publishing independent, accurate content guided by strict editorial guidelines. Before articles and reviews are published on our site, they undergo a thorough review process performed by a team of independent editors and subject-matter experts to ensure the content's accuracy, timeliness, and impartiality. Our editorial team is separate and independent of our site's advertisers, and the opinions they express on our site are their own. To read more about our team members and their editorial backgrounds, please visit our site's About page.