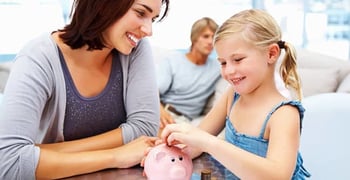 Experts share their tips and advice on BadCredit.org, with the goal of helping subprime consumers. Our articles follow strict
editorial guidelines
.
It makes sense that most of what we learn early in life about credit and financial dealings comes directly from our parents.
Their financial habits and relationship with debt influences our own behavior through our observations of their behavior.
But there are ways our parents' bad credit can hurt us that we may not even be aware of.
First, it is important to understand the credit reporting bureaus don't ever combine credit reports, even those of close family members.
Your credit history can be directly impacted by your parents only when your name appears on an account with them.
It is in more subtle ways their bad credit can have a negative impact on us.  For example:
1. Loans for higher education.
These often rely on the credit history of the parents.
For the student applying, this could mean the difference between receiving a loan or not. It could also mean limitations to the amount or the interest rate of any loan that is received.
2. Building your credit history can be negatively impacted by a parent.
This is because new laws enacted in the past few years almost always require a parent to cosign a credit card application if the applicant is under 21 years of age.
This could mean the credit card application gets denied, or it could mean a much higher interest rate assigned to the card.
"We build our habits based upon

what we see our parents doing."
3. Opportunity costs.
It can be as simple as them not being able to cosign for a car loan or not having the ability to get a loan or use a credit card for a school trip abroad.
Opportunity costs can also mean a child has to get an after-school job to help with expenses.
4. Instilling a less than positive attitude toward financial obligations.
As I said in the beginning, we build our habits based upon what we see our parents doing. By modeling behavior that leads to bad credit, they are instilling in us a potential lifetime of following in their footsteps.
There are things a parent can do to avoid negatively affecting their children through their own bad credit.
The first and most important thing is to begin rebuilding your credit and improving your standing with the credit rating bureaus.
Next, talk openly with your children about credit, finances and the importance of healthy financial behavior.
Finally, model this new behavior so your children can see the positive financial impact that turning things around will bring.
That is the best gift a parent can give to a child.
Photo source: sheknows.com.