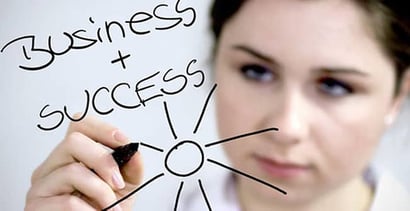 From big names to up-and-comers, BadCredit.org experts share their picks for the top resources in the personal finance industry.
Women have smashed through the glass ceiling and are now flexing their entrepreneurial spirit in a bold new world.
Our 10 Best Blogs for Female Entrepreneurs were selected for the value resources they provide to professional women at all levels, whether running an online boutique or an international commodities market.
Female Entrepreneur Association
femaleentrepreneurassociation.com


Bragging Rights: a cheerful and serious spot for business
Female Entrepreneur Association is designed to offer women leaders true perspective on running a business. In posts like "3 Quick Tricks for Converting Readers Into Cash Customers," they offer real-world resources, while the regular segment of "Motivation Monday" looks at inspiring true stories of dreamers who made it big.
Social Clout: 115,000+ likes, 5,132+ followers
URL: http://femaleentrepreneurassociation.com/
She Owns It
sheownsit.com


Bragging Rights: supporting women entrepreneurs
At She Owns It, contributors from around the globe address the many concerns facing women as business owners. The realities of being second-guessed in a senior role are examined, as well as ways different leaders win over supporters. They look at branding, accounting, marketing and expanding, with confidence-building articles at each turn.
Social Clout: 70,800+ followers, 2,981+ likes
URL: http://sheownsit.com/
Go Girl Finance
gogirlfinance.com


Bragging Rights: helping women gain confidence with money
Go Girl Finance wants women to know they aren't alone in the business world, with posts and topics designed to empower and encourage. The content deals with more technical matters, like budgeting and insuring yourself, but also fun stuff like "Side Hustles," where earning extra income can be a blast.
Social Clout: 9,257+ followers, 3,731+ likes
URL: http://gogirlfinance.com/
Entrepreneur the Arts
blog.entrepreneurthearts.com


Bragging Rights: offers on-site education
Entrepreneur the Arts profiles modern and creative entrepreneurial thinking and leadership skills, as demonstrated by some of the best women in the marketplace. Topics often deal with understanding success and staying ahead of the curve. Avoiding those early startup mistakes is also given close scrutiny.
Social Clout: 48,444+ likes
URL: http://blog.entrepreneurthearts.com/
In Her Shoes
inhershoesblog.com


Bragging Rights: where the fly female entrepreneur shines
In Her Shoes is a bold and brash site that is loaded with great content and wonderful profiles of some serious business heavyweights. Beyond just the boardroom, topics explore enjoying your vacation time and balancing work life with family. Bonus: Fashion sense for the business-savvy woman is offered, as well as quotes to live by.
Social Clout: 6,741+ followers, 4,603+ likes
URL: http://www.inhershoesblog.com/
Young Female Entrepreneurs
youngfemaleentrepreneurs.com


Bragging Rights: connecting women of all ages
With a daily 15-minute webcast for women entrepreneurs, Young Female Entrepreneurs looks at the challenges and thrills involved with building a business from a female perspective. Articles deal with improving organization, understanding the mechanics of networking and utilizing online opportunities.
Social Clout: 6,338+ likes, 4,975+ followers
URL: http://youngfemaleentrepreneurs.com/
Andrea Genevieve
andreagenevieve.com


Bragging Rights: from a tech nerd and social media expert
Andrea Genevieve's site is a great destination for business owners looking to better understand social media and ways to connect with customers online. Meanwhile, posts like "In Life You Can Have More Than One Title" look at wearing different hats when it's called for.
Social Clout: 4,337+ followers
URL: http://andreagenevieve.com/
Women Entrepreneurs Grow Global
womenentrepreneursgrowglobal.org


Bragging Rights: impressive section of active resources
Women Entrepreneurs Grow Global's one mission is bringing global opportunity to the many women-owned businesses worldwide. Launched in 2008, the site caters to the nearly 200-million female entrepreneurs out there, shaking up those global markets. WEGG specializes in content and resources of genuine worth, with clear and current perspective from real leaders.
Social Clout: 3,002+ followers
URL: http://womenentrepreneursgrowglobal.org
Stilettos on the Glass Ceiling
stilettosontheglassceiling.com


Bragging Rights: women transcending barriers to success
Marney Reid is the brainchild behind Stilettos on the Glass Ceiling, where empowerment is celebrated and success is earned. Tired of seeing her female friends play the "Alpha Male Game" of business, she offers help to these surgeons, lawyers and vice presidents looking to be heard. They needed a strategy, which drove her to launch the site.
Social Clout: 470+ likes, 142+ followers
URL: http://stilettosontheglassceiling.com/
Women Presidents' Organization
womenpresidentsorg.wordpress.com


Bragging Rights: reaching further together
At Women Presidents' Organization, connections are king, or more accurately queen. The site's goal is to connect top women entrepreneurs with similar international counterparts. With many local chapters around the globe, it is both an online and in-person resource. Posts like "Advancing the State of Your Empire" look at serious expansion options.
URL: http://womenpresidentsorg.wordpress.com/
Photo source: damselinsuccess.com