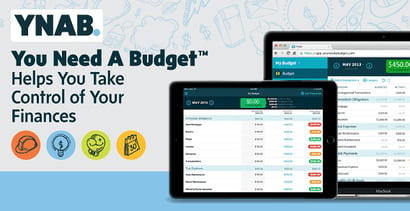 In a Nutshell: Does it make sense for a budget to stay the same without any flexibility from month to month? It's easy to overspend for the month if a friend comes to visit or your child has a birthday, but you shouldn't feel guilty — life happens. YNAB (You Need A Budget) wants you to always feel in control of your finances by planning for the inevitable moment when circumstances change, which is the founding principle behind the budgeting software. Built on four straightforward rules for managing money, YNAB (pronounced "why-nab") helps its clients save an average of $200 within the first month of use and $3,300 by month nine.
Between tuition, textbooks, rent, food, and everything in between, making sense of personal finances is a tall order for any college student. Add the cost of a wedding to an already tight budget, and finances can easily become overwhelming. That's how college students Jessie and Julie, who were married in 2003, found themselves suddenly up to their eyeballs in bill after bill as they were planning their lives together.
An accounting major, Jesse decided to create a spreadsheet based on a few new budgeting "rules" he and his wife set for themselves to help keep their numbers organized. Armed with the ability to know where every dollar was and the discipline to live by the rules, Jesse and Julie finally began to feel in control of their financial destiny.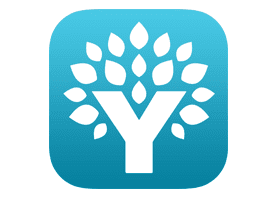 That feeling — the one where you're finally in charge of your money and spending — is what set Jesse's mind ablaze with possibilities. What if he could help others take control of their finances? Within a year of implementing the rules that guided his and his wife's financial decisions, Jesse created YNAB (short for You Need A Budget) as the answer to that very question.
YNAB was built on the philosophy Jesse and Julie had developed from their rules, and their spreadsheet became a rich budgeting application based on that philosophy.
More than a decade later, YNAB, pronounced "why-nab," is helping its clients save an average of $200 within the first month of use and $3,300 by month nine. The web-app-based budgeting software is available online, plus it syncs with companion apps for Android and iOS mobile devices, including Apple Watch.
But as Lindsey Burgess, YNAB's Director of Marketing, puts it, "We really just want people to learn how to get control of their money, so even if you don't use our software, we still consider it a win."
We spoke with Lindsey recently to learn more about YNAB and how its users are transforming their finances, and she walked us through both the philosophy and programming powering YNAB.
YNAB Focuses First on Educating Clients & Those Who Need Budgeting Help
Lindsey says YNAB devotes heavy resources to education, including hiring team members dedicated to teaching and coaching users. Whether you use the software or any of the free resources YNAB develops, Lindsey says ensuring users understand key concepts comes first.
New members can test drive the full version of YNAB for 34 days — long enough to see how it really works at the beginning and end of any month — for free. It's also free for college students, but the cost is also relatively affordable with two pricing models: $5 per month or $50 per year, depending on how you prefer to pay.
The 4-Rule Philosophy of YNAB
"What makes it so powerful is it isn't just our software but our philosophy based on the four rules," she says.
Give Every Dollar A Job — Simply put, this rule helps you ensure there's always money allotted to the big things, like bills, and the little things, like date night.
Embrace Your True Expenses — Lindsey gave us a great example by explaining that if you always overspend around the holidays by $1,200, add it into your budget like a monthly bill, $100/month, so you have the money when the time comes.
Roll With The Punches — This rule is important for keeping users on track because it removes the guilt of having an off-month in budgeting. If you overspend, take the money out from somewhere else in your budget and move on. Budgets are flexible.
Age Your Money — Finally, aging money aims to break the paycheck-to-paycheck lifestyle by encouraging you use last month's funds.
These core concepts are based on the same rules Jesse and Julie lived by, which helped them take back control when they were first starting out. YNAB has edited the core concepts into mini-mission statements applicable to any financial situation.
Free Resources Help Clients & Others Seeking Financial Guidance
On the YNAB website, users can find several detailed guides that help explain both the rules and the software, including how to get started and how to deal with debt the YNAB way.
"We offer free online classes every day, we have a very active blog, we post weekly videos on Wednesdays, and we have a podcast that runs every Monday," says Lindsey. "You could learn how to budget and completely turn your life around using just our free resources."
The blog details success stories and helps readers reconcile with the feelings surrounding personal finance. A lot of the posts try to get to the core of how you will feel using your money to pay off debt or save for retirement. YNAB wants readers to approach personal finance with honesty and account for when — not if — the numbers change.
Watch on
The free daily classes are taught by trained instructors, and range from workshops on saving to dealing with credit card debt. "Whiteboard Wednesdays," the weekly videos uploaded to YNAB's YouTube channel, review topics similar to what you would see on the blog in segments that last about five minutes.
YNAB Software Instantly Syncs with Companion Apps for On-The-Go Budgeting
From fancy spreadsheet to evolved web-based platform, when we tested the YNAB software, its speed was the first feature that impressed us. The site loads quickly, and it instantly syncs input between the website and any of the YNAB apps you use to accompany it.
"For instance, I just went on and updated my budget on my computer, and if my husband looks on his phone right now, he's looking at accurate numbers," Lindsey explains of YNAB's instant syncing.
When we tested the YNAB Android app, we were pleased to see that any changes we made — on the web or on the app — appeared accurately at all times wherever we checked it.
YNAB believes you have to set up your budget according to your specific needs and what is most important to you. However, every time you start a new budget on the site, YNAB auto-creates categories like "Immediate Obligations" (for rent and groceries) as well as "Just for Fun" and "Quality of Life" categories (for gym memberships and dining out). You can always adjust or remove these options, but we found it helpful to have a starting place (plus it gave us some ideas for items we may have left out otherwise).
Once you enter your expenses or at least the categories and items you'd like to budget, you can then begin to link different accounts like checking and credit cards. You can even add PayPal and investment accounts to track all of your financial data.
The biggest takeaway for using the software is understanding that it isn't a forecasting tool, but instead functions like a "zero-sum" budget, which begins each monthly budget at $0 then allocates funds based on necessity and what you currently have in your accounts. From your current funds, you assign where every dollar goes until your next influx of cash, rather than counting backwards from how much you anticipate to have in your accounts that month, which ties in well with the YNAB rules.
Over the Years, Increased Development Has Grown a Personal Spreadsheet into a National Brand
When the rules and spreadsheet helped Jesse and his wife with their budgeting, he thought it could help others, too. All he wanted was to sell enough copies of their spreadsheet-based system to make a dent in their $500-a-month rent payment, and YNAB has since helped thousands of people take control of their finances.


Jesse now spends time as one of the faces of the YNAB instructional videos in addition to serving as the leader of the company's culture and helping dream up the next big thing for the company.
Lindsey says that YNAB, in recent years, has shifted to put a larger focus on the educational aspect of budgeting and finance, including nearly doubling its staff in teachers, support team members, and coaches.
"Our support team isn't just technical support, so you can say, 'I'm trying to get out of debt and I don't know if I should save more or pay down my debt faster,' and they'll help you with those kinds of questions," Lindsey explains.
As Lindsey tells us about the future of YNAB, we could hear the excitement in her voice, "Our biggest focus is mobile — we just hired a couple of new developers — because our apps are more like companion apps, and we want to offer an end-to-end mobile budgeting solution."
By iterating to accommodate how users want to use the software — for example, starting a new budget directly within mobile, which will be part of that new solution — YNAB can help keep users accountable and prepared for whatever life throws at them.
Advertiser Disclosure
BadCredit.org is a free online resource that offers valuable content and comparison services to users. To keep this resource 100% free for users, we receive advertising compensation from the financial products listed on this page. Along with key review factors, this compensation may impact how and where products appear on the page (including, for example, the order in which they appear). BadCredit.org does not include listings for all financial products.
Our Editorial Review Policy
Our site is committed to publishing independent, accurate content guided by strict editorial guidelines. Before articles and reviews are published on our site, they undergo a thorough review process performed by a team of independent editors and subject-matter experts to ensure the content's accuracy, timeliness, and impartiality. Our editorial team is separate and independent of our site's advertisers, and the opinions they express on our site are their own. To read more about our team members and their editorial backgrounds, please visit our site's About page.