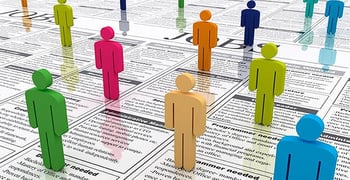 Experts share their tips and advice on BadCredit.org, with the goal of helping subprime consumers. Our articles follow strict
editorial guidelines
.
With employment credit checks increasingly becoming the norm, having bad credit could mean you are no longer eligible for hire.
Here are some things you need to know about credit checks before conducting your next job search:
Is it legal for employers to check your credit?

Currently, federal law does not prohibit employers from using an applicant's credit history in making hiring decisions, although there are a hand full of states and the city of Chicago that do ban or restrict them.
Employers who utilize credit checks must comply with the notice and disclosure requirements of the Fair Credit Reporting Act (FCRA). Under the FCRA, employers must inform and obtain written consent before seeking a prospective or current employee's credit report.
If a decision is made not to hire or promote someone based on information found in their credit report, a copy of that report and an explanation of their right to dispute and challenge any incorrect information on that report must be provided to them.
What types of jobs require credit checks?
Any employer who resides in a state allowing employment credit checks may review an applicant's credit. Approximately 50 percent of U.S. companies currently do so.
The most common jobs receiving credit checks are:
Jobs that need to be bonded or will have financial responsibility, such as those who work in banking, accounting, brokerage and government
Retail and sales positions or any job that will be handling large sums of cash
Positions that travel frequently using company credit cards
Jobs that have access to confidential information, such as technology or administrative services
Anyone who will have access to people's homes and property, such as police officers, firefighters, paramedics or home health care providers
People who are applying for jobs working at airports, mail terminals and other locations where there could be a security or terrorist risk
Senior executive positions where credit checks are used to judge competency in decision making and budgeting ability
What credit activity do companies consider unacceptable?

Foreclosures, liens, especially tax liens, and outstanding lawsuits by creditors are considered the worst offenses. Excessive late payments and 100 percent credit card utilization are red flags, but medical debt is usually overlooked.
Legally, bankruptcy cannot be considered. Section 525(b) of the bankruptcy code prohibits employers from discriminating against potential employees on the basis of their credit.
Most employers get around this law by focusing on other negative activity that occurred before the applicant filed for bankruptcy.
"Ask why the credit check is

needed and what it will be used for."
What can you do to increase your chances of getting hired?
1. Make sure your credit report is accurate.
Before beginning a job search, review your credit report. You can download a free copy of your report from all three of the major credit reporting agencies once every 12 months.
If you find errors or discrepancies, immediately dispute them in writing via certified mail.
2. Be upfront with the employer.
Explain any special circumstances that occurred, such as identity theft, prolonged unemployment or medical bills, that could help the employer better understand your situation.
3. Let them know what you are doing to improve your credit.
Inform them of payment plans you have agreed to and improvements you have made.  You want to prove you are responsible despite past mistakes.
4. Do not lie.
Whatever you do, do not lie. If you were not a victim of identity theft, do not tell them you were. Dishonesty, if discovered, is much worse than having bad credit.
One final note:

If you would like employment checks to be banned in your area, contact the U.S. senators for your state or the representative for your congressional district to urge passage of federal legislation specifically targeting employer credit checks.
Photo source: lerablog.org