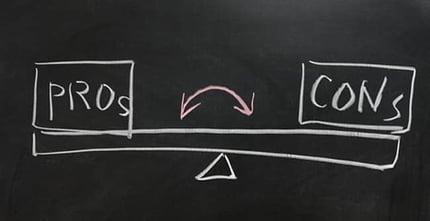 Experts share their tips and advice on BadCredit.org, with the goal of helping subprime consumers. Our articles follow strict
editorial guidelines
.
Credit cards can get you into serious trouble if you don't use them responsibly.
Spiraling into thousands of dollars worth of consumer debt is frighteningly common, leaving people struggling just to cover minimum payments on increasingly accumulating interest and debt for years on end.
While I recommend those who struggle with credit to stick to cash, credit cards can be a powerful ally when used responsibly.
If you consistently pay off the full balance of each billing cycle, here's how credit cards can work for you:
1. Leverage your purchasing power
Credit cards are a great resource to have when your money is "in between" places. For instance, while you're waiting for your latest paycheck to clear or a transfer to go through from savings to checking.
Cards allow you to continue spending regularly without being held up by administrative tasks and mandatory wait times. It's an interest-free grace period. Just make sure the cash is in place when it's time to pay your bill.
 "It pays to be a

responsible credit user."
2. Build credit
Excellent credit card use contributes to an excellent credit score. Length of credit history, debt-to-credit ratio and dependable bill payment can all be calculated from credit card use.
If you've proved yourself to be a responsible credit user with a credit card, you'll be rewarded with a high credit score, which can lead to great interest rates on loans and mortgages, saving you lots of money in the long run.
3. Rewards
Rewards cards are a great perk for pro credit users. These cards are offered as a way to incentivize and increase lending to all, including those who are less credit savvy and wind up paying late fees and interest.
The people carrying around huge balances with astronomical interest rates are essentially paying for your responsible money management.
I charge everything I possibly can to my credit card. Sure, I have the cash or I could pay from my debit account, but that would be giving up free cash back or miles or other rewards points.
In short, it pays to be a responsible credit user.
Photo source: texasmoving.co