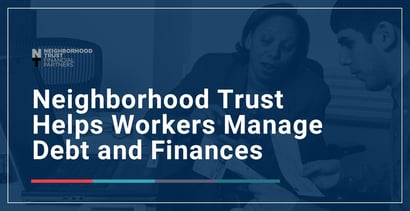 In a Nutshell: TrustPlus is a service of Neighborhood Trust financial partners that helps low-income workers make the most of their money through one-on-one financial coaching. Neighborhood Trust began operating within a credit union in Washington Heights but quickly expanded to offer services to the city of New York and then the nation at large. It began TrustPlus to help workers nationwide achieve better financial health. TrustPlus works with clients to manage their income and benefits and with employers to create a better workplace experience that leads to financial health for all employees. The program is extremely flexible, allowing clients to choose their coaches and meet with them on a variety of virtual platforms. Together, they're able to strengthen credit, build and track budgets, pay off and negotiate debt, and work toward a future that's debt-free and financially stable.
In some form or another, everyone in the United States has felt the financial impact of the COVID-19 pandemic. But out of all the ramifications and groups affected, among the earliest and hardest-hit has surely been our hospitality workers.
The Wall Street Journal confirms that, over the course of a year, the nation's hotels, restaurants, and other social spaces have suffered some of the greatest financial duress. Lockdowns and massive cessation of travel forced many establishments to reduce operations or close outright.

From February 2020 to February 2021, nearly 4 million workers lost jobs in the leisure and hospitality sector, which equals about a quarter of its workforce. And 15.9% of the industry's previous workers were still unemployed as of January 2021, a rate higher than any other industry, according to the Bureau of Labor Statistics.
All of these employees have faced difficult times in the past year, and a large percentage of them expect the situation to continue for the foreseeable future. For them and others in similar situations, Neighborhood Trust offers valuable guidance to stabilize their finances and prepare for a stronger future through TrustPlus.
"Success for us is not only helping somebody overcome … what could be a short-term crisis but also asking "How do you actually build resilience over time?" said Kate Griffin, President of TrustPlus. "Success in the long term is not only helping them get over that [but also] setting them up for success in the future so that they're able to weather the next financial shock. And that has to include working with the employer to ensure the benefits and services they provide ensure their employee's long-term financial health."
"
Scaling Services to Meet National Needs
Neighborhood Trust, as a nonprofit organization, has its roots in Neighborhood Trust Federal Credit Union in the Washington Heights neighborhood of New York City. After working with members of the credit union, it began offering its programs to all residents of Washington Heights to improve the community's overall wellness.
"Having the credit union alongside allowed us to really marry financial products with the financial advice and guidance that we were giving," Griffin said. "Quickly, this work of the nonprofit began growing and eventually became a separate nonprofit entity outside of the local credit union."
Neighborhood Trust first established itself as a contractor with the City of New York's Financial Empowerment Centers. Residents were able to come in and receive financial advice and guidance from qualified counselors. But the organization's purview was not yet done expanding.
"From there, we really started circling around this notion that, for workers in America, there's so much happening right now," Griffin said, "and so little of the financial system is really designed to serve them well."
Neighborhood Trust is still based in its original Washington Heights neighborhood. But its definition of neighborhood has outstripped its geography.
"The way that financial services and products are designed — or even benefits packages, and particularly the financial advice and guidance field — works well for people above a certain income level," Griffin said. "We felt like there was enormous opportunity to structure a valuable service for workers who are at the lower ends of the income spectrum and really help them in terms of overcoming financial hardship and achieving financial security in the long term. And that's really how the idea of TrustPlus was born."
Financial Wellness Benefits Workers and Employers
"We can have tremendous impact for the people that we work with, the individuals who are using our service," Griffin said. "But there's also a real value to the companies and organizations who are paying us to bring that to their employees."
TrustPlus often starts by helping people reduce their debt and improve their credit scores. Both of these steps will help people to save money in the long term by mitigating how much is going toward interest. This allows consumers to put funds toward future planning and long-term goals.
"Because less of it is going to pay off these debts or towards higher fines and fees, we're also more likely to see people participating in workplace benefits like the HSA or the retirement plan benefits," Griffin said.
But the benefits within the workplace also extend to the employer.
"When the employees have less financial stress, they are likely to be more productive and engaged at work," Griffin said. "So you get higher rates of productivity, and we're starting to see some more evidence that it's also helping in terms of retention, leading to lower rates of turnover, which has obviously a financial benefit to the companies themselves."
This can lead to growth, but at the very least, it contributes to stability. This means that all employees, at every level of the hierarchy, can have fewer concerns about the security of income and benefits.
"HR specialists are latching on to this notion of not only providing a suite of health and wellness benefits, but a financial health and wellness benefit," Griffin said. "And we, in turn, provide value to the employer by being able to show them what is happening across their workforce and how they can be more supportive."
Virtual Counseling Provides Targeted and Holistic Solutions
Coaching with TrustPlus is conducted virtually. Clients receive log-in information from their employer. After setting up an account, clients will be able to customize their experience to fit their capabilities and schedules.
"One of the first things that they'll do is pick a coach and set an appointment time," Griffin said. "You can make a choice whether you want it to be on the phone, on Google Meet, on Zoom, on Skype. We use any platform that feels right."
During the first session, clients will provide some basic information and give permission for their coach to review their credit report. This allows the coach to get a general picture of the client's financial situation and begin setting goals and devising an action plan.
"The approach we use is holistic financial coaching," Griffin said. "Our coaches are trained to be very action-oriented, to get to very specific action steps and plans. Both in subsequent sessions that we have with our clients and in terms of the digital experience, we're also holding our clients accountable to making progress against those goals."
Many of those goals involve improving credit and managing their debt. They achieve this through budgeting and meticulous money management, which allows clients to see where their funds are being allocated and identify places where they can put their money to the best use according to their goals.
These tactics serve as the foundation for other, more advanced goals. Some clients focus on saving money to make a down payment on a home or to build an emergency fund. But with TrustPlus, they're able to do so without sacrificing things that are valuable along the way.
"The approach we always take is one that is client-driven and with a lack of value judgment," Griffin said. "Everyone has different things that are important and valuable to them. We really respect that. And so our coaches are trained to keep that front of mind."
Neighborhood Trust: Building Relationships to Advance Financial Success
"We do a lot of work with our coaches around how to build that relationship," Griffin said. "This sense of connection that you build, and the trust that you need with someone, is really at the core of our service."
Part of that connection involves linking financial consciousness to the individual circumstances — that is, the everyday lived experience. Finance may be represented in numbers, but its effects are felt by people — their emotions, attitudes, and states of mind that consumers experience. Correlating the mathematical and the emotional is a powerful means of measuring progress and reinforcing positive financial behaviors.
"I believe those subjective indicators are actually really critical to look at alongside the other kind of hard data metrics," Griffin said. "Being able to marry both what's happening financially for people with what's happening subjectively, in their experience of that, is really powerful for us."
Griffin said the greatest success stories come from clients who commit themselves to the program and continually return to sessions. Financial improvement is a strong motivator. But another major component is the relationship they develop with their coach. And that relationship is a two-way street.
"Our coaches tell us about the relationships they built with their clients, and their relationships are often rooted in celebrating successes," Griffin said. "You should see our Slack channel lighting up — my clients paid off their student loan debt, or this creditor said yes to the negotiations. We have a lot of that kind of spirit about the work that we're doing."
Advertiser Disclosure
BadCredit.org is a free online resource that offers valuable content and comparison services to users. To keep this resource 100% free for users, we receive advertising compensation from the financial products listed on this page. Along with key review factors, this compensation may impact how and where products appear on the page (including, for example, the order in which they appear). BadCredit.org does not include listings for all financial products.
Our Editorial Review Policy
Our site is committed to publishing independent, accurate content guided by strict editorial guidelines. Before articles and reviews are published on our site, they undergo a thorough review process performed by a team of independent editors and subject-matter experts to ensure the content's accuracy, timeliness, and impartiality. Our editorial team is separate and independent of our site's advertisers, and the opinions they express on our site are their own. To read more about our team members and their editorial backgrounds, please visit our site's About page.