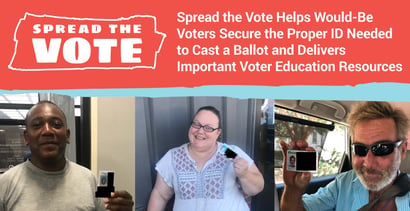 In a Nutshell: Many people who are eligible to vote in the U.S. don't make it to the polls, in many cases due to strict voter ID laws in certain states. Spread the Vote focuses on remedying this issue by helping eligible voters obtain the proper ID to vote in their state. Project ID is the nonprofit's program that currently works in 12 states to achieve this goal. Voter education is another large component of Spread the Vote's mission, and, through its Voter Ed program, the organization delivers valuable tools and resources to potential voters. As a nonprofit, Spread the Vote welcomes volunteers to help it accomplish its mission of boosting voter turnout.
The 2016 U.S. presidential election will likely go down as one of the most memorable elections in recent history. Despite being vastly underestimated by many polls, Donald Trump pulled out a victory over Hillary Clinton, to the dismay of millions of Democrats and independent voters.
The remarkable circumstances surrounding the 2016 presidential election continue to play a part in conversations three years later.
Between theories of election tampering — whether from internal or external sources — or Trump's frequently controversial outbursts from an elected position that most of his predecessors treated with more import, the 2016 election has spawned tumultuous years.
While juicy stories about collusion with Russia or the latest presidential tweet dominated headlines, another story was playing out that was just as important if not more so for the U.S. democratic system — the erosion of rights to protect voters.


The roots of that particular story go back to 2013, according to Kat Calvin, Founder of Spread the Vote, a nonprofit aimed at helping eligible to voters get to the polls with all the tools and information they need. That was the year the Supreme Court struck down the heart of the Voting Rights Act in the Shelby County v. Holder ruling.
"All of a sudden, a lot of things happened — within hours. Texas and Alabama started working to pass voter ID laws and other states quickly followed," she said. "That's why things like voter purges and other actions started happening because we no longer had the protections provided by the Voting Rights Act."
Calvin pointed out that the 2016 election was the first national election in which voters were not protected by the Voting Rights Act since its inception in 1965.
"We saw a lot of effects of that, both in the presidential election and in state and local races across the country because you have to suppress far fewer votes in state and local elections since victory margins are so much smaller," Calvin said.
As more and more states began setting up voter ID requirements, Calvin recognized how these laws kept many registered voters away from the polls.
"There wasn't anybody just helping people get IDs, so I started Spread the Vote as a way to help people get government-issued photo IDs," she said. "People use them to vote but also for jobs, housing, medical care — all of these things that you need an ID for in life."
How Laws and an Array of Other Factors Can Keep Voters Away from the Polls
"We had this huge blow-up of voter ID states," Calvin said. "Now, 34 states in the country are voter ID states, and it quickly became that they weren't going away using new judicial or legislative attempts."
She said Pennsylvania is the only state that has successfully fought off voter ID laws. And voter ID laws in Texas have been struck down by the courts five times, and they remain on the books.
"It's just not something that's easy to fight or shut down," Calvin said.
And laws aren't the only thing that keeps voters from casting their ballots on election days. Circumstances often keep voters away from the polls as well.
"The largest population of voters in America is people who are registered to vote, but don't turn out at the polls," according to Spread the Vote. "Why not? Challenges with transportation, childcare, voter education, and more keep people from showing up on election day."
Calvin explained some of the reasons potential voters may not make it to the polls on Election Day.
She said each state has different laws about whether an employer must give their employees time off from work to vote. And if so, how much time?
"If you work an hourly job somewhere and say, 'Hey, I want to go vote,' and your boss tells you that if you leave, then you're fired — what can you do? Hire a lawyer?" Calvin said. "The reality is that, for a lot of people, it's not actually feasible to be able to go vote because they may lose their jobs."
Additionally, people with kids or others in their care may not be able to easily make it to the polls. And transportation is a challenge for many.
"Also, your polling place is by your house and not your job. And, depending on where you live, that can be a really long commute," Calvin said.
Another major challenge is education. Calvin said that, while people may be registered to vote, if they don't feel like they are informed on the candidates or are not engaged in the issues, they may find it easier to just stay home.
Project ID Helps Eligible Voters in Voter ID States Obtain Required Identification
Spread the Vote's main focus is helping obtain IDs for registered voters who do not have the proper photo ID necessary to vote in their state. And Project ID is the nonprofit's primary program that works to implement these actions.
While obtaining an ID may not seem like a big deal for those who have a steady income and live in more affluent parts of their communities, there are huge populations in the U.S. for whom getting a photo is not a simple thing.
"They're expensive, they're tough to get — you have to walk in with a big stack of documents," Calvin said.
The reasons an eligible or registered voter may not have a proper ID are countless. Numerous articles can be found online that illustrate this point, including how homeless people and people with very little income often can't afford to replace a lost or stolen ID.
"Most of us take IDs for granted, but without one, life becomes a series of challenges. Without ID, it is almost impossible to obtain legal employment, to find housing, or even needed medical care," according to the Project ID website. "At Project ID, we work every day to help the most vulnerable members of our communities obtain the little card that changes lives."
Spread the Vote even pays for the fees associated with obtaining IDs for those who use the nonprofit's services.
Those in need of a proper photo ID can visit the Spread the Vote website or the Project ID website and select the state they live in. Spread the Vote currently works in 12 states, but people can contact Spread the Vote if their state is not on the list, and the organization will try to put them in touch with someone in their state who can help them.
Voter Ed is the Organization's Civic and Voter Education Program, Represented by Ed the Mascot
Education is an extremely important factor when it comes to helping people obtain IDs, getting to polls, registering to vote, and knowing the candidates and issues.
Spread the Vote's Voter Ed program is focused on delivering this information to those who may not have access to the tools and resources they need to understand the importance of voting or in getting to the polls. In doing so, the program can help close the gap between registered voters and voter turnout.
"Voter Ed is designed to address the lack of resources for adults who want to be civically engaged but need to learn the fundamentals of voting and the democratic process," according to the Spread the Vote website. "We're working with partners around the country to make Ed available to everyone."
Those who partner with the Voter Ed program will receive monthly voter education packages to help disseminate valuable information to individuals in their communities. The packages include 20- to 30-minute lesson plans, presentations, handouts, and social media content.
The program also adopted a relatable mascot named Voter Ed to help spread the word. Ed is short for Edwina, who is a 25-year-old IT worker.
"Like many people in the U.S., she was registered and voted in presidential elections, but wasn't really involved beyond that until 2017," according to Ed's story. "As people around the country began to pay more attention to what was happening in government, Ed wanted to get more involved."
As Ed learned more about the voting and political processes, she became frustrated by the lack of resources for certain populations and now works to spread the word.
Carson said another component of voter education includes informing potential voters about how important state and local elections are.
"We try to change the focus of elections. The electoral college can be confusing, and if someone says, 'Oh, I don't think my vote for president really matters,' that's a legitimate concern," she said. "But when you talk to them about local elections — sheriff and mayor — and margin victories, it can really resonate."
Welcoming Volunteers to Help Spread the Vote and Reach Even More Potential Voters
As a nonprofit, Spread the Vote relies on help from those who support the organization through donations and volunteer efforts. Carson said anyone interested in volunteering in one of Spread the Vote's 12 states can visit the volunteer page to learn more.
"We train everyone," she said. "We have an online training, and we get everybody set up. We pay for all of the documents and everything, and are even working on making sure we have tech available. So, if you want to volunteer and don't have a laptop, we can provide one."
The idea is that anyone can volunteer no matter what their financial situation may be, Carson said.
And, even for those who don't volunteer directly with Spread the Vote, Carson encourages people to get involved in disseminating voter education information through local community organizations such as churches or neighborhood committees.
Advertiser Disclosure
BadCredit.org is a free online resource that offers valuable content and comparison services to users. To keep this resource 100% free for users, we receive advertising compensation from the financial products listed on this page. Along with key review factors, this compensation may impact how and where products appear on the page (including, for example, the order in which they appear). BadCredit.org does not include listings for all financial products.
Our Editorial Review Policy
Our site is committed to publishing independent, accurate content guided by strict editorial guidelines. Before articles and reviews are published on our site, they undergo a thorough review process performed by a team of independent editors and subject-matter experts to ensure the content's accuracy, timeliness, and impartiality. Our editorial team is separate and independent of our site's advertisers, and the opinions they express on our site are their own. To read more about our team members and their editorial backgrounds, please visit our site's About page.